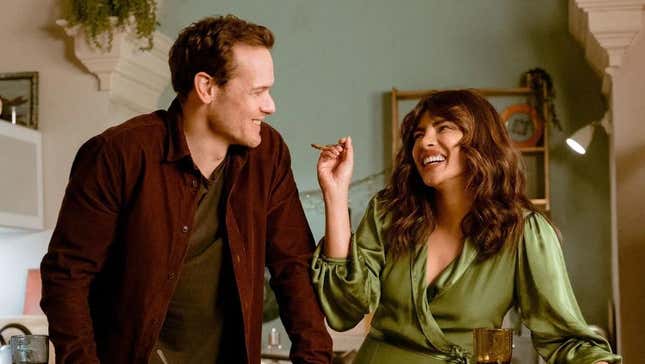 "Andor" star Adria Arjona on Bix Caleen's Journey
There are a number of positive things that can be said about Love Again. It is always in focus. Bucking the current trend toward cinematic bloat, it manages to keep its running time below an hour and 45 minutes (albeit just barely). And it's not consistently dull. There! Three positive things. Unfortunately, that's about as far as it goes. This putative romantic comedy is so bland that it's already dribbling away from my memory.
Priyanka Chopra Jonas stars as Mira Ray, a successful children's book author, who has achieved some fame for her series about Bhoomi the Stubborn Caterpillar. (It appears that Bhoomi, offended by all the praise heaped upon butterflies, refuses to turn into one ... whatever that means.). Mira is madly in love with her boyfriend, John (Arinzé Kene). We see them at a cafe making goo goo eyes at each other until John leaves, we hear a car crash, and watch Mira's shock. We're not three minutes in, and John is (to use the traditional phrase) as dead as a doornail. (although even alive he was about as interesting as a doornail.)
Two years later, Mira is living in the countryside, still grieving, but her sister Suzy (Sofia Barclay) convinces her to move back to New York and get on with her life. Suzy is a bundle of energy and wants to get her sis back out in the dating world. In an act of fraternal overreach, she signs Mira up on a dating app. Mira starts expressing her grief by sending lovelorn text messages to John at his old cell number. Meanwhile, Rob Burns (Sam Heughan), pop music critic at the New York Chronicle, has been given a new work-only cell phone, and guess whose number he's inherited.
That's the "meet cute" that forms the basis of the story. It's an updated variation of the old "anonymous pen pals" routine that powered Ernst Lubitsch's wonderful 1940 The Shop Around The Corner with James Stewart and Margaret Sullavan (itself remade with Tom Hanks and Meg Ryan as You've Got Mail), but with a dead boyfriend to lighten things up. (For the record, Love Again is a remake of a 2016 German film, SMS Für Dich, which doesn't appear to have been released in the U.S., so comparisons are impossible.)

Rob is fascinated by this apparent cyberstalker and wrestles with whether to text her back. When Mira texts dead John that she's meeting someone from a dating app for drinks, Rob decides to go to the bar and figure out who she is. (Mira's blind date is played by the actress' real life husband, Nick Jonas.) Rob contrives to meet her again, and these two wacky kids immediately sense a deep attraction. They start seeing each other, and everything is going swimmingly, but the longer Rob puts off telling her the truth about how he's been reading her texts, the likelier—the more utterly predictable—it is that her reaction will not be good. So basically: boy meets girl, boy loses girl, and, as sure as night follows day, boy will get girl again. This is after all a romantic comedy, not a romantic tragedy, though you might not realize it since it's almost devoid of humor.
Given the weakness of the script, written by director James Strouse of Netflix's well-received The Incredible Jessica James, this project may have been conceived entirely as a commercial for singer Celine Dion, who co-produced and plays herself. See, Rob—shortly after he starts receiving, and being distracted by, Mira's texts—is supposed to be doing an interview with Dion for her upcoming American tour. But because he's a distracted mess, she more or less ends up interviewing him and takes on the role of Love Advisor. She not only helps him move forward with Mira, but the experience shows Rob that there is Profound Emotional Truth behind the music that he, a snobby New York journalist, has always considered sentimental pabulum.
Yes, true love helps him appreciate Dion's genius.
Ms. Dion unsurprisingly has a certain degree of star presence, though it's hard to assess how good a job she's doing at portraying herself. Given that the film ends with the usual boilerplate disclaimer—"The story, all names, characters, and incidents portrayed in this production are fictitious; no identification with actual persons, living or deceased, places, buildings, and products is intended or should be inferred"—it's possible that Dion is playing some other "fictional" Celine Dion, whose career and music, by staggering coincidence, maps exactly with Dion's own. Much like Love Again maps exactly with every below average romcom that winds up 10 menu pages deep on Netflix.
---
Love Again opens in theaters on May 5, 2023