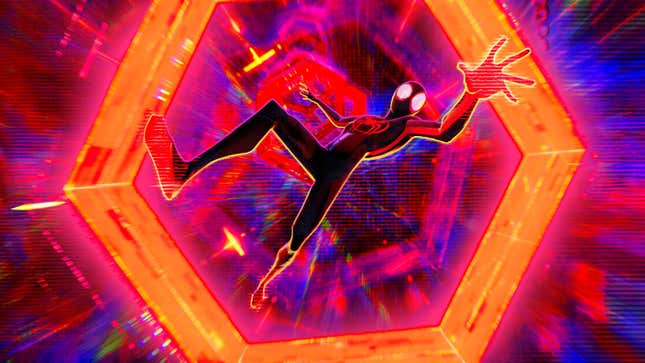 2023 is turning out to be a very good year for animation at the box office, as Deadline reports that Spider-Man: Across The Spider-Verse is smashing through expectations at the box office—including clocking an opening day of $51 million, the biggest one that the US has seen all year.
Sam Raimi on finding his place in the MCU
That puts the film on track to make something like $113 million for the weekend (with the soothsayers who produce these numbers from the ether anticipating a bit of drop-off as the weekend continues). And while that won't put Miles Morales and his universe-shifting friends ahead of The Super Mario Bros. Movie, which brought in $146 million domestic in its opening weekend (and a bit more than that if you take into account the Easter holiday), it's still a massive improvement over the performance of the first film, which brought in a meager $35 million when it released in theaters back in December of 2018. Of course, the new film has one potent advertising force the original didn't: The existence of Into The Spider-Verse, which is about as good a sales pitch for infinite sequels for a new franchise as you could hope to have.
All of which means that the two biggest openers of 2023 to date are both about to be animated movies, which have a tendency to trail behind live-action at the box office. (Of course, neither movie is going to touch Avatar: The Way Of Water's run at the at the start of the year, but that movie opened in late 2022, so it's not part of the "biggest openings of the year" conversation.) Interestingly, one box office pundit, quoted by Deadline, claims Spider-Verse could have done even better if not for its slightly odd hybrid nature: "It's an animated film, it's not an animated film, and it's a Marvel film, it's not a Marvel film," they said, citing part of why there's been such uncertainty over predictions about the film's box office performance.