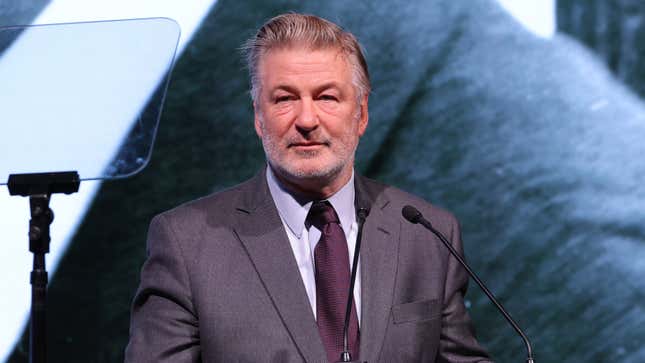 Alec Baldwin will face charges in the death of cinematographer Halyna Hutchins, the Santa Fe District Attorney's Office announced Thursday morning, according to Deadline. In October 2021, Hutchins died after Baldwin accidentally discharged a prop weapon during Rust filming—Hutchins was the project's director of photography.
Alec Baldwin and "Rust" producers reach a settlement
In a statement from District Attorney Mary Carmack-Altwies and Special Prosecutor Andrea Reeb, they also shared that "other members of the Rust film crew" will also face charges.
"On my watch, no one is above the law, and everyone deserves justice," Carmack-Altwie says. Both Baldwin and set armorer Hannah Gutierrez Reed will face charges of involuntary manslaughter. Dave Halls, assistant director on the film, already pled guilty to charges of "negligent use of a deadly weapon," and will receive six months of probation, according to Variety.
Before the announcement, office spokesperson Heather Brewer said the decision was "made in a manner keeping with the office's commitment to upholding the integrity of the judicial process and respecting the victim's family."

The Santa Fe Sheriff's office first filed an FBI-assisted report in October of last year— even before that, Carmack-Altwies had sought extra funds for a potential prosecution that could involve Baldwin. As reported by Deadline, her office had sought $635,000 from the state to prosecute as many as four individuals (she was granted $317,750, just over half).
Also in October 2022, Baldwin and Rust's producers settled a wrongful death lawsuit from Hutchins' estate under the agreement that the Western period drama would get finished, and Hutchins' husband Matt Hutchins would become an executive producer. After departing their original New Mexico set amid civil lawsuits, the production was reportedly eyeing locations in and around California to complete filming.