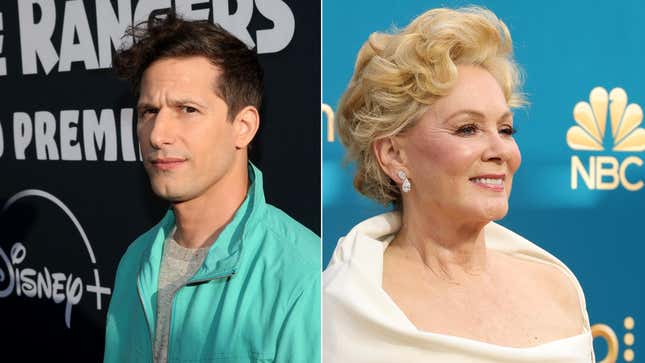 After doing the Groundhog Day thing with Palm Springs in 2020, Andy Samberg has signed on to another high-concept romantic comedy movie. Titled 42.6 years, the movie stars Samberg as a man who had to be cryogenically frozen in an experimental procedure in order to save his life, and he wakes up nearly 43 years later to discover that everything from his old life is gone… except for his ex-girlfriend, who is now physically older than him (by about 42 years or so). With no one else to turn to, the two will (presumably) get back together in a way that is both romantic and comedic. Jean Smart will play the ex-girlfriend.
The Hollywood Reporter describes this as a "unique May-December romantic comedy," with Craig Gillespie, who previously made I,Tonya and Cruella, directing. Samberg apparently came up with the idea himself and co-wrote the story with Seth Reiss, who recently worked on the similarly concept-y black comedy The Menu. Reiss' script for 42.6 was also included on the 2022 Black List of the best unproduced screenplays.
Samberg is now a few years out from the end of his Fox/NBC sitcom Brooklyn Nine-Nine, having only done voices in stuff like Hotel Transylvania 4 and Chip 'N Dale: Rescue Rangers since then (so it'll be nice to see his face again). Smart had a memorable role in HBO's Watchmen and popped up in Damien Chazelle's divisive Babylon, but her most high-profile role lately has been on HBO's hit Hacks (which she won multiple Emmys for).
42.6 is currently in development at Amazon Studios, so it will probably be on Prime Video at some point in the future. Maybe, like, more than 40 years but fewer than 45 years? Some nice middle ground?