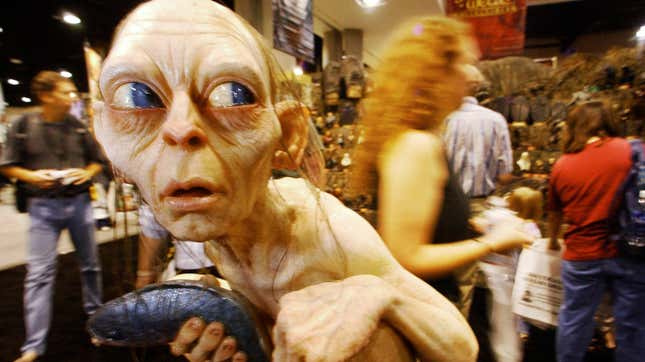 "The world is changed. I feel it in the water. We feel it in the earth. We smell it in the air. Much that once was is lost, for none now live who remember it."
Why Christian Bale would love to be friends with Burt Berendsen
As Warner Bros. Discovery and New Line Cinema began excavating the legendarium of J.R.R. Tolkien, we now know Galadriel was talking about the original Lord Of The Rings trilogy. Seeing as it's been a terrifying decade since the last Hobbit movie, and less than a year after the premiere of The Rings Of Power, rights holders are clutching their precious tight, waiting for the right project to reboot Middle-earth and sate their dragon sickness.
But at least one key player is itching to get back to the Misty Mountains. Always ready to throw on some spandex and an assortment of ping-pong balls, Andy Serkis has tossed his digital hat in the ring [pun unintentional] for another stab at throttling those tricksy hobbitses.
"I adore those guys and they are a second family to me," Serkis told The Hollywood Reporter. "I've spent so many years making films with them. I love their sensibility and their take; it's filmmaking on a different kind of level. You live and breathe it. And so, yes, if some opportunity were to come up, it would be an amazing thing."

Serkis has mentioned he's open to returning in the past. Two months ago, he told Variety he'd return if writer/director Peter Jackson and co-writers Fran Walsh and Philippa Boyens were making them. "If they're doing them, I would, of course, jump at the chance to have that relationship rekindled… Middle-earth has never left me."

Thankfully, those three Ring War veterans seem open to returning. Upon the initial announcement of the films, Jackson, Walsh, and Boyens said they have been kept "in the loop every step of the way." Even more promising, they claimed to "look forward to speaking with [New Line] further to hear their vision for the franchise moving forward." Ok, so maybe that's not really anything. However, Elijah Wood, our Frodo, was a little more in line with the general audience's reaction to the news, saying that he hopes "it's good."
"I'm surprised," Wood told GQ. "I don't know why I'm surprised because, of course there would be more movies." Wood brings up a good point: We don't know why any of this is surprising.