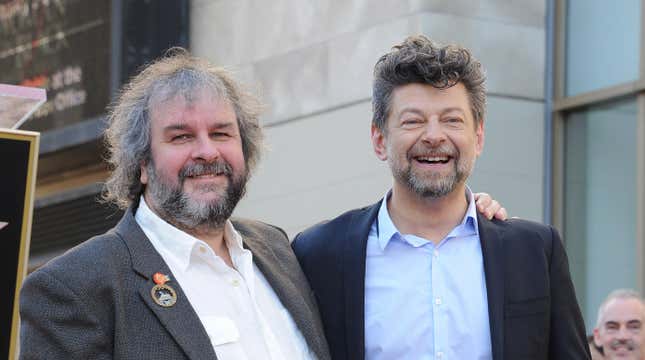 Back in late February, the call came out from Mount Doom—a.k.a. the office of Warner Bros. Discovery CEO David Zaslav—that the studio was gearing up to reboot its Lord Of The Rings film franchise. This raised an orc-load of questions, obviously, the most immediate ones being staff related (by which we mean people, and not magical wizard sticks). I.e.: Who, if anyone, from the original Lord Of The Rings film trilogy, from series mastermind Peter Jackson on down, would be returning to participate in the retread?
Judy Garland's previously missing Wizard of Oz dress to be auctioned off
We've now got at least one answer on that score, courtesy of Andy Serkis, one of the few people besides Jackson (and co-writers Fran Walsh and Philippa Boyens) who might be said to be most closely associated with the films. Serkis' star was massively elevated by his appearance as potato-loathing cave-dweller Gollum, obviously; meanwhile, the films benefited mightily from a performer capable of imbuing the CGI character with both life and unexpected sympathy. Per Variety, Serkis fielded a question about the new movies during a recent appearance on BroBible's Post-Credit Podcast, saying he'd "jump at the chance" to come back—on one condition.
"Look," Serkis said, "Peter Jackson, Fran Walsh, Philippa Boyens are sort of a second family that I have become part of and have gone on to make so many films with. And — let me tell you — they are the best and most incredible people to work with. I think that there are so many other potential Middle-earth projects which could come about, and if they're doing them, I would, of course, jump at the chance to have that relationship rekindled… Middle-earth has never left me." In other words: No dice if Jackson, Walsh, and Boyens aren't involved.
For their part, the trio have been their typically diplomatic selves about the reboot so far, issuing a statement in which they said the studio has "kept us in the loop every step of the way," and asserting that, "We look forward to speaking with [the studio] further to hear their vision for the franchise moving forward." (They were similarly nice about Amazon's unrelated Rings Of Power TV show, after some confusion about whether the producers of that series had tried to involve Jackson in their plans at some point during development.)
All that diplomacy amounts, of course, to precisely nothing in practical terms, but it at least sketches out what the negotiations for bringing in old stars to cameo on the new series might look like. It also illustrates that Warner Bros. is going to be fighting The Jackson Problem pretty much every step of the way on this, at least until they find a way to get a genuine endorsement out of him and his co-writers. At the risk of indulging in rank auteurism, the modern Lord Of The Rings movies simply never would have happened without Jackson and his teammates—they were a wildly ambitious passion project that paid off thanks largely to the trio throwing themselves at them with all their might, with a famously close-knit cast to boot—and so getting him, Walsh, and Boyens on board is going to be key to how these movies end up being perceived.