Each week, Big Issues focuses on newly released comic books of significance. This week, they're The Astonishing Ant-Man #1 by writer Nick Spencer (Morning Glories, Sam Wilson: Captain America), artist Ramon Rosanas (Night Of The Living Deadpool, Spider-Man 1602) and colorist Jordan Boyd (God Hates Astronauts, Invisible Republic), and The Paybacks #2 by writers Donny Cates (Buzzkill, The Ghost Fleet) and Eliot Rahal (Buzzkill, Archer & Armstrong), artist Geoff Shaw (Buzzkill, A Town Called Dragon), and colorist Lauren Affe (Buzzkill, Five Ghosts). These two comics find comedy in the business side of the costumed vigilante lifestyle, finding fresh approaches for superhero narratives by exploring how these characters fund their exploits. (Note: This review reveals major plot points.)
Crime doesn't pay, but neither does being a superhero. Unless they've inherited a huge sum of money, superheroes need to have jobs if they want to make a living, and those with business savvy find ways to turn their crimefighting into cash. Peter Parker and Clark Kent use their superpowers to advance their journalism careers, Danny Rand and Luke Cage offer their vigilante services for a price as Heroes For Hire, and Booster Gold willingly embraces corporate sponsorship and uses his costume as advertising space. Marvel's The Astonishing Ant-Man #1 and Dark Horse's The Paybacks #2 are two new comics that spotlight the financial struggle of superheroes from very different angles, but both creative teams use these economic woes to mine humor from the characters' situations.
Writer Nick Spencer, artist Ramon Rosanas, and colorist Jordan Boyd have revitalized Scott Lang's solo superhero career by making him the owner of Ant-Man Security Solutions, a Miami-based private security company that employs former villains to help protect people's assets. The new debut issue is an accessible entry point for any fans of this summer's Ant-Man film who want to learn more about the lead hero. Instead of detailing the financial growth of a single hero, The Paybacks—by writers Donny Cates and Eliot Rahal, artist Geoff Shaw, and colorist Lauren Affe—features a team of individuals paying off their debt to the mysterious benefactor who lent them the money to build their superhero enterprises. They work as a crew of repo men who take back all the nice things bought with Mr. Pierce's capital.
In a superhero comics industry that prefers status quo-shattering events over smaller, more personal narratives, it's refreshing to see series that focus on a topic as relatable as financial stability. Whether you're a child annoyed that a 20-page Ant-Man comic takes $4 of your allowance or an adult who understands the stress of bills and taxes and making a living wage, money woes are a part of your life. At their cores, The Astonishing Ant-Man and The Paybacks have very grounded concepts, but they interpret them in fantastic contexts that open up opportunities for unconventional workplace comedy and dynamic superhero action.
G/O Media may get a commission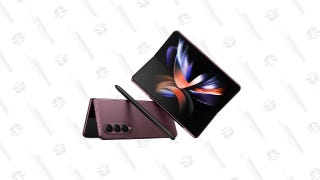 Save Up to $300
Galaxy Z Fold4
Spencer's idea for The Astonishing Ant-Man is heavily influenced by the character's big-screen interpretation that debuted this past summer. The series is set in Miami, deals with Scott Lang's strained relationship with his daughter and ex-wife, features a revived Darren Cross as the central protagonist, and casts the hero as a down-on-his-luck ex-con trying to redeem himself by using the skills he honed as a thief to protect others. The clean, detailed artwork by Rosanas and Boyd's sunny pastel palette give the book a sleek, vibrant look that is a great fit for the Miami environment. Rosanas' nuanced characterizations emphasize the emotional beats of Spencer's script. He's not the flashiest artist, but that modesty works well for Lang's down-to-earth character.
Unlike the movie, the Ant-Man comic boasts the rich history of the Marvel Universe, which Spencer forcefully embraces in his script. Scott's two employees are reformed villains Grizzly and Technosmith, and his "kinda-sorta boss" is Ms. Mary Morgenstern, a Golden Age Marvel character who fought crime as Miss Patriot and now runs a retirement community to senior superheroes. Much like Spencer's exceptional The Superior Foes Of Spider-Man, Ant-Man is steeped in Marvel history, but readers don't need extensive prior knowledge to enjoy the story. All they need to know is the brief recap Spencer provides at the start of the issue: "Scott Lang is a Miami-area small business owner with a teenage daughter and an ex-wife. Oh, and he's ANT-MAN!"
The tone of Ant-Man is also heavily reminiscent of Superior Foes; the book doesn't take itself too seriously, and the creative team keeps things relatively light even as Scott Lang's circumstances get bleaker. When Ant-Man and Grizzly run a virtual simulation of a robbery, the burglars break into a striptease as Technosmith spices things up with a shout-out to this summer's other big Miami-based blockbuster. Cursed with uncontrollable size-changing abilities after stealing the heart of Scott's daughter Cassie, Darren Cross gets his head stuck in the ceiling in a fit of rage. And after getting attacked by supervillain Whirlwind during an interview with a potential client, Scott receives an e-mail from the app Hench asking him to rate the difficulty of his encounter.
That last bit is the cleverest element of this issue, which introduces a new character called The Power Broker who provides villains with an app that hires superpowered henchmen to do their dirty work. It's a smart way of taking a real-world threat to small businesses—technology and the convenience it provides consumers—and adjusting it to pose a problem for a superhero small business owner. It's not quite the same as a local bookstore losing money because customers are buying things through Amazon Prime and having it delivered within the hour. But for a superhero trying to establish himself as a private security provider, an app that picks the optimal henchmen for a job and employs them with a few swipes (and a hefty user fee) is a significant concern. Especially when the job is killing Ant-Man, as Whirlwind tries to do in this issue, costing Scott a client that would have been a sure thing if a supervillain didn't show up and cause major property damage.
The creative team of The Paybacks proved that they have a valuable perspective on superhero genre with their 2013 miniseries Buzzkill, turning a drug addict's path to recovery into a brutal superpowered spectacle. The Paybacks is a spin-off of that series, significantly expanding on this original superhero universe with a concept that allows the creators to incorporate new characters and settings at any time. That concept is also what sets the series apart from the wide variety of superhero team comics. The Paybacks aren't interested in saving the world, helping their communities, or making connections with other extraordinary individuals. They're debtors paying off what they owe by offering their services as repo men and women, and the main action they see is from other heroes angry about the seizure of their stuff.
There's inherent humor in the idea of disgruntled superheroes forced to work as a team to pay off their debts, using their incredible abilities to take away the resources that allow others to do good. The creative team leans into the comedy, and the cover for The Paybacks #2 shows team leader Emory Rains and Miss Adventure repossessing the red-and-gold mechanical suit of a character that looks a lot like Tony Stark, leaving him standing outside holding a bottle of whiskey, wearing only torn socks and chili pepper boxers. It's not an image that projects heroism, but it sets the tone well for the rest of the issue, which has The Paybacks storming the underwater headquarters of a high-powered team in the vein of The Avengers or Justice League.
Tony Stark isn't the only cameo by an established hero in this issue, and artist Geoff Shaw litters the book with Easter Eggs referencing other properties. Image's Savage Dragon, Marvel's Elektra, and Final Fantasy VII's Cloud Strife are all waiting in line at the Acquisitions Office, and The Paybacks' storage facility of seized items contains Galactus' helm, the Infinity Gauntlet, and the TARDIS alongside other notable artifacts of nerd culture. (All with different color schemes from Lauren Affe to avoid any potential copyright issues.) These Easter Eggs pay homage to the stories that influenced these creators, but they also draw attention to how different this series is from those past works, much like how Alan Moore and Gene Ha's Top 10 used recognizable superhero imagery as a humorous point of contrast for its gritty cop procedural narrative. The Paybacks is the book that shows these characters when they're waiting in line for new equipment, and when an object with the potential to destroy the world appears in these pages, it's gathering dust in a storage space full of similarly dangerous items repossessed from people who couldn't pay for them.
Both of these series have a strong sense of humor, but that doesn't come at the expense of character drama. Scott's security company adventures with Grizzly and Technosmith are the main source of Ant-Man's charm, but his relationship with his family is the book's heart. Scott's removed himself from his daughter's life in an effort to protect her (a plot that, while reasonable, is one of the most oft-used in superhero comics). While he hasn't missed a single basketball game or doctor's appointment or parent-teacher night, he's attended them all at ant-size so his wife and daughter don't know he's there. Scott Lang has always been a flawed character, and his current approach to his relationship with his daughter is very problematic. To start, it's a pretty big invasion of privacy to eavesdrop on private conversations between a daughter and mother, like Scott does when he hides in his ex-wife's car, and making himself listen to his daughter's unfiltered disdain for him is pure masochism. This self-destructive behavior might help explain why the issue ends with a cliffhanger revealing Scott back in prison.
The relationships in The Paybacks are still in the early stages of development, but Cates and Rahal lay firm groundwork for the series by establishing the characters' personalities and how they blend together in a team dynamic. Emory Rains is the reluctant leader that makes it her duty to deflate the hopes and expectation of her teammates, reminding Miss Adventure that its best not to view her coworkers as friends because they have a tendency of dying on the job. That doesn't stop Bloodpouch, Skisquatch, and The Soviet Nunchuck from fraternizing, though, and their camaraderie suggests a certain level of comfort with the work that Miss America and new recruit Night Knight don't have. They're the employees that have been there so long that they've found ways to make their job fun, which mostly involve them beating up the debtors that get in their way with their oversized guns (Bloodpouch), snowboards (Skisquatch), and hammer-and-sickle nunchucks (The Soviet Nunchuck, obviously).
While Rosanas' linework on Ant-Man is fairly subdued, Shaw's art on The Paybacks is exaggerated in a way that gives the book a more cartoonish atmosphere. The characters are very animated, whether they're having a conversation around the kitchen table or kicking ass in an underwater base, and the range of their facial expressions and body language helps reinforce the individual personalities being built in the dialogue. Lauren Affe embraces this heightened aesthetic by filling the book with vivid colors, and she intensifies the contrast of warm and cool tones on the page during particularly dramatic moments like Emory and Miss Adventure's bleak conversation in the morgue and the big showdown between The Paybacks and The Command. Both The Astonishing Ant-Man and The Paybacks use a wide spectrum of bright colors to create a playful mood, and the colorists have an invaluable role in turning these characters' financial hardships into superhero comedy.