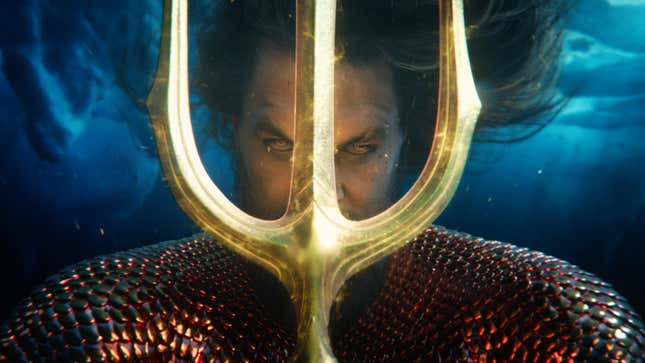 When we last saw Jason Momoa's Aquaman, he was… drunkenly falling asleep in a puddle with Barry Allen at the end of The Flash. In this trailer for Aquaman And The Lost Kingdom, the sequel (sea-quel!) to his surprisingly big hit solo movie from 2018, he's looking a little more dignified. Oh sure, he's changing his Aqua-baby's diapers and letting his Aqua-pants dry on a clothesline, but he's still a damn king and he's still going to remind everyone why that first movie was such a surprisingly big hit in the first place.
Unfortunately, Yahya Abdul-Mateen II's Black Manta has leveled up since he last stopped by, and in addition to his cool underwater super-suit with its laser eyes and big, wide helmet, he now possess an evil magic trident that seems to give him untold evil magic powers that threaten to destroy the whole undersea world (and probably the oversea world as well). So who does Aquaman turn to? Not Amber Heard's Mera, for reasons that have nothing to do with anything, but his (formerly?) evil brother Orm, the Ocean Master, played by a buff and bearded Patrick Wilson—at least until he shaves and puts on a shirt. Then he's still Patrick Wilson, but just a… more recognizable version of him.
We regret to inform you that Jason Momoa has shaved his head
Aquaman And The Lost Kingdom is apparently the final film of the old DC movie universe, and one that has been tossed around through development for quite a while. It's now supposed to open on December 20, which is relatively soon for us to just be getting a trailer now, but the ongoing WGA and SAG-AFTRA strikes have obviously impacted Warner Bros. Discovery's promotional plans to some extent. In addition to the aforementioned stars, Aquaman: The Lost Kingdom will also feature Temuera Morrison and Nicole Kidman as Aquaman's mom and dad, and Dolph Lundgren as Mera's father.