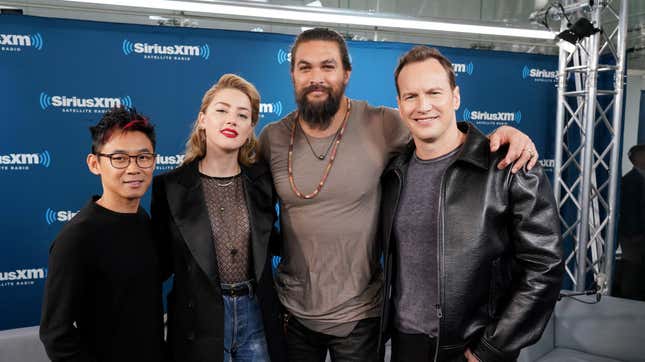 Director James Wan—whose 2018 superhero film Aquaman is still, five years later, the only bona fide billion-dollar box office winner in Warner Bros.' entire DCEU stable of films—is pushing back on rumors of trouble with the film's upcoming sequel. That includes (gently) disputing assertions made by series star Amber Heard, claiming that, counter to what Heard stated in her defamation trial against ex-husband Johnny Depp last year, her part in Aquaman And The Lost Kingdom was not "pared down" per studio demand, but was always supposed to be smaller than in the first movie.
Every Disney attraction that became a movie — and more that are in development
Talking to Entertainment Weekly this week, Wan addressed the Heard situation somewhat delicately, sidestepping accusations of studio influence by simply stating that, "I always pitched this to everyone from the get-go. The first Aquaman was Arthur and Mera's journey. The second movie was always going to be Arthur and [his half-brother] Orm. So, the first was a romance action-adventure movie, the second one is a bromance action-adventure movie. We'll leave it at that."
During the defamation trial, Heard testified that she was told that a "lack of chemistry" with series star Jason Momoa led to her part being cut back; she also called an expert witness, "entertainment industry consultant" Kathryn Arnold, who testified that Heard was cut from promotional work for the upcoming sequel (including DC's online FanDome event). Arnold also testified that it was only because Wan and Momoa fought for Heard that she was kept in the movie at all.
Wan, for his part, is doing his best to make it clear to everyone that Aquaman 2 was actually a very nice shoot, thank you very much; he also spends part of the EW profile squashing rumors that the film underwent more than its fair share of reshoots:
We have big actors in this movie, and everyone's schedule is really hard. So, we had to break up our shooting schedule into sections. We'll shoot a bit here now, because this actor's available, and then we'll do another shoot now, because this guy's available. People are like, "Oh, they're doing a whole bunch of different shoots!" No. If we actually combined them all together, it's actually not that many number of days at all.
Hilariously, the otherwise-diplomatic Wan does get in one absolutely killer hit in at his corporate overlords' expense: After noting the "tricky" aspect of making the movie without knowing whether it would end up coming out before or after Andy Muschietti's The Flash, Wan put it as bluntly as a bludgeon to the head: "At the end of the day, the best thing I would say about this movie is that it is not connected in any way to any of those films."