Yesterday, we cleared the lowest bar possible for investigative journalism by making a couple of accounts—one for a "straight man" and one for a "straight woman," the only two available options—on the new, Trump-supporters-only dating site Trump.dating and telling you what we found there. (Fake accounts, mostly.) As of yesterday, the front page of the site was emblazoned with the image of two smiling caucasians in MAGA hats, a red one for the straight man and a pink one for the straight woman, as dictated by natural law. Strangely, though, today those smiling caucasians have been replaced by two different smiling caucasians, this time sans hats:
That may be thanks to the rabble-rousing influence of the FAKE NEWS MEDIA at North Carolina's own WRAL, which not only discovered the identities of the faces of Trump.dating—Barrett and Jodi Riddleberger, a married couple and co-founders of the "Tea Party-inspired" group C4GC, Conservatives for Guilford County—but uncovered an inconvenient truth about ol' Barrett: He was convicted on charges of indecent liberties with a minor after videotaping himself having sex with a 15-year-old girl in 1995. He was 25 at the time.

This all came to light after the Riddlebergers were named as co-plaintiffs in a defamation lawsuit against a local political blogger back in 2014. The suit, filed by the Riddlebergers and another married couple in C4GC with financial stakes in a local strip club, sought more than $10,000 in damages from the blogger, who goes by the screen name Fecund Stench, for mocking them in what the Greensboro News & Record calls "satirical blog posts" pointing out the irony of a sex offender and two strip-club owners lecturing their fellow citizens on morality. That suit was settled before it went to court, presumably as soon as the plaintiffs realized what a "discovery period" is.
Even the attorney quoted in the News & Record's article can't help but poke fun at the Riddlebergers, saying that "in the process of [their] suit, they end up drawing more media attention to certain allegations and to certain things they say are defamatory." Similarly, WRAL throws this exquisite little tidbit of journalistic shade in its article on Riddleberger's past:
Barrett Riddleberger said in a text message Monday that the marital status issue [Trump.dating doesn't allow LGBTQ people, but it does allow adulterers -ed.] was a mistake and was being fixed by a programmer. Just what role he and his wife have in the site is unclear. He offered to discuss the site with WRAL News, but only if the station promised to write about "the present, not the past."
WRAL News would not agree to that.
And are we really surprised? This is the party of Roy Moore that we're talking about here, whose only guiding moral principle at this point is that they are allowed to do whatever they want, to whomever they want, whenever they want, without any repercussions. Because God, or whatever. Stop asking questions.
G/O Media may get a commission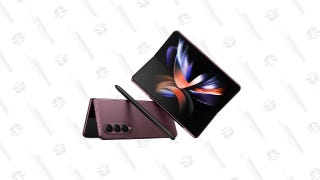 Save Up to $300
Galaxy Z Fold4
Trump.dating is part of a chain of dating sites called WhiteBoxDating owned by a company called Friends Worldwide. On its website, WhiteBoxDating touts itself as a simple, one-stop platform on which you can build a private-label dating site "built around a diverse variety of 100+ verticals including professions, lifestyles, ethnicities, appearance, sexual orientations, interests, activities, and much more." It's a mercenary operation that doesn't give a flying fuck about "conservative values" and would provide the template for a Maoist dating site if the price was right, in other words.
Memberships cost $24.99 a month, or $101.94 for six months.