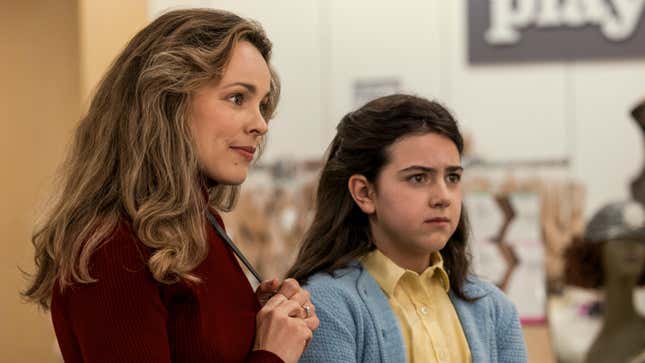 Are You There God? It's Me, Margaret is one of the holy grails of children's literature, an emotionally complex story about faith and puberty, told from the perspective of an 11-year-old girl for an audience of her peers, that doesn't patronize or pull punches. A film adaptation would necessarily require a deft hand, which makes writer-director Kelly Fremon Craig of Edge Of Seventeen acclaim the perfect match for this material, resulting in a film that understands Judy Blume's 1970 novel through both an adult and a child's lens, bridging the gap between the stages of its characters' lives with tenderness, charm, and humor.

Daymond John really wanted to ask Gwyneth Paltrow about "Shallow Hal"
Margaret (Abby Ryder Fortson) is a girl in 1970 whose parents, Barbara and Herb (Rachel McAdams and Benny Safdie), decide to move from New York City to the suburbs of New Jersey, upending Margaret's social life and forcing her to start over. She falls in with her puberty-obsessed neighbor Nancy (Elle Graham), raising anxious questions in her mind about when exactly she's going to grow breasts or start her period. Purposely raised without religion by her mixed-faith parents, Margaret spontaneously turns to God for answers, asking him to help her grow up fast so she won't be left behind by her friends.
Blume's episodic story is a challenge of adaptation but Fremon Craig has an explicit understanding of adolescent femininity that allows her to replicate the author's trick of communicating universal feelings through specific experiences. You may never have pumped your arms and screamed at the top of your lungs to increase your bust, but the film's sense of the mystery that enshrouds puberty and its crowdsourced search for understanding still carries you along.
This is facilitated in no small part by a wealth of excellent performances. Abby Ryder Fortson is a compelling lead, portraying Margaret's internal strife with a subtlety and grace beyond her years. On the adult side, Rachel McAdams carries most of the film's dramatic weight with characteristic charm. However, while the moments where mother and daughter connect over shared experiences of womanhood are often touching and hilarious, a subplot regarding Barbara's transition from urban art teacher to suburban housewife either should have been further developed or, perhaps, cut entirely. Yet it's Kathy Bates who ultimately steals the show as Margaret's Jewish grandmother, Sylvia. Her eccentricity, which makes it easy to understand why a child would cherish her friendship, never fully tips over into patronizing caricature.
In fact, that balancing act extends to the film's themes of religious inquiry, which follow in the novel's footsteps by admirably avoiding definitive conclusions. God, in this context, is a stand-in for a child grasping for the unknown and the seemingly unknowable. And while the film accurately reflects the tension between Jewish self-preservation and Christian proselytization, there is little judgment regarding Margaret's freedom to choose and pursue a spiritual awakening. Nor is there a dogmatic declaration of her chosen side. For as much as the film is about a formative year of growing up, Margaret understands that growing up is a process that doesn't stop and start with the arbitrary limits of a calendar or a film's runtime.
Are You There God? It's Me, Margaret is an astounding adaptation of a beloved book, capturing the essence of what made Judy Blume such a phenomenon while speaking in a voice that resonates whether you were Margaret's age in 1970 or are a child in the here and now. While there are certainly qualities that could be nitpicked—for example, the subplot concerning Margaret's Christian grandparents fails to resolve as concretely as in the source material—any adverse criticisms to be lobbed at Kelly Fremon Craig's film are ultimately minor. This is a funny, sweet, heartfelt exploration of pubescent self-discovery that lives up to its namesake.
Are You There God? It's Me, Margaret opens theatrically on April 28, 2023