Every year-end holiday season brings a flurry of best-of-the-past-year lists. But what about all the neglected art from every other year? What older films, books, games, TV shows, artists, etc. did you experience for the first time, or come around to loving for the first time, in 2011? (Here, for example, is our 2010 list of the best non-2010 entertainment we discovered that year.)
Tasha Robinson
I read a lot of older books in 2011, but almost none of them held me like Patrick Ness' Chaos Walking trilogy, The Knife Of Never Letting Go, The Ask And The Answer, and Monsters Of Men. They're fairly recent books, published from 2008 to 2010, and they're very much in the spirit of current dystopian YA fiction like the contemporaneously published Hunger Games series. They start off in a world where the women are all dead from a virulent disease, which also causes the men and surviving animals to continuously telepathically broadcast their every waking thought. And then a lot of the book's basic parameters quickly change, in ways it'd be unfair to reveal. But it essentially turns into a long chase, and a series about morality, and decision-making, and loyalty, and responsibility, and in a pretty noticeable way, modern politics. The writing style sometimes drove me crazy, but the story is just as compelling and breath-catching as the Hunger Games books, and I went through all three massive novels in no time flat.
Ryan McGee
I watch an ungodly amount of television. More than might be considered healthy, if suggestions to that effect from friends and family are accurate. But it always feels like as much, if not much more, quality programming escapes my view. In early 2011, I chose to tackle one of the biggest holes in my TV bucket list: Friday Night Lights. Over two months, I fired up Netflix Streaming after my nightly reviews to catch up on the entire series. This technique let me savor the show's emotional storytelling while quickly moving past its more problematic aspects. (I blitzed through season two in only two sittings.) I still feel bad that I missed these seasons during their initial run, but I had clear (albeit tear-stained) eyes and a full heart by the end of my marathon.
Kenny Herzog
My wife, Colleen, and I were watching football at a friend's apartment when she spotted a bold, charming silkscreen of a sailboat at sea. Our host explained that it was a Marüshka, which sounded more like a Yiddish epithet than a line of art. Both of us were surprised and a bit embarrassed that we'd never come across the naturalistic prints of former Michigan teacher-turned-designer Richard Sweet. Not that the brand is a common sophisticated touchstone, but that's exactly the point. If anything, Marüshkas' watercolor-like depictions of simple landscapes and still-lifes (picture Bob Ross mentoring Peter Max) are the sort of simplified '70s psychedelia that would have hung above both our childhood beds. Now, a Marüshka sunset does hang above our bed, along with two more of Sweet's illustrations on the surrounding walls, and on football Sundays, Colleen can usually be found in her Marüshka hoodie, dotted with—of course—sailboats.
Sam Adams
One of the major perks of writing about popular culture is the opportunity to give yourself assignments to catch up on things you've missed, like Tintin comics or The Good Wife. Sometimes they simply drop into your lap; I didn't go to The Descendants expecting to learn anything about Hawaiian music, but the film and its excellent soundtrack album provide a wonderful introduction, especially to the late slack-key master Gabby Pahinui. In 2011, I finally caught up with that Hunger Games trilogy everyone keeps talking about, muscling through the slow parts of Mockingjay to the book's shattering, genuinely subversive conclusion. But for sheer long-overdueness, it's hard to beat the fact that 2011 was the year I finally caught up with The Wire. Turns out it's almost as good as its most fervent acolytes would have it, perhaps not the greatest thing to ever grace the small screen, but definitely a monument to coherent long-form storytelling. I even landed myself on a team for a Wire-themed pub quiz, coming in a distant but respectable second, and supplying the team moniker: Some Shameful Shit. Not bad for a newbie.
G/O Media may get a commission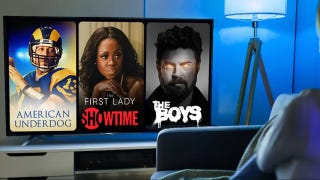 UNDER $1
99¢ Prime Video Channels
Claire Zulkey
Up until earlier this year, I tended not to read fiction very much. Truth is more interesting, I figured, so typically, I leaned toward memoir, historical biography, and creative non-fiction. But I'm trying to sell another novel, and thus realized that if I wanted to write good fiction I absolutely needed to read good fiction. I'd heard so many good things about Jennifer Egan's A Visit From The Goon Squad from 2010, I gave it a shot. I really wasn't prepared for the kind of book it was. Egan basically scrambled up typical plot and timeline structure like some eggs, then threw it on the floor. It's a hard book to describe, since each chapter is so different from the others, but it was a pleasure figuring out how each section and character fit together as the book moved back and forth through several decades. I was tempted to diagram the damn thing, just for fun. Egan's book reminded me how thrilling fiction can be, and since I read it, I've been much more inclined to read fiction.
Genevieve Koski
Like pretty much everyone else who rides the train to work with me, apparently, I was inspired by HBO's Game Of Thrones to dive into the A Song Of Ice And Fire book series, if only because I didn't want to wait until this year to find out what happens next in the story. It took several months of lugging 700-plus-page hardcovers—loaned to me by Tasha, thanks Tasha!—along on my train commute every day to get caught up through A Dance With Dragons, but I'm proud to say I'm now qualified to bitch about how long it's taking George R.R. Martin to finish The Winds Of Winter. (I'm also more determined than ever to buy a damn e-reader this year.) Though truthfully, I'm relieved to have a bit of a break from the series: 4,100 pages—roughly 3,000 of which are dedicated to describing sigils and armor and feasts in exhausting detail—was enough to test this epic-fantasy-non-reader's tolerance for epic fantasy… especially when HBO is going to deliver it, beautifully rendered and full of nudity, into my living room in a few months. That said, I'm glad I caught up: Re-watching GOT after reading the book revealed a lot that I had missed the first time through, and I'm looking forward to going into the second season as an expert instead of a newbie.
Kyle Ryan
I wouldn't say I've "come around to loving" Harvey Pekar's American Splendor, but I did check it out for the first time last year with the book that collects the first two anthologies. I knew Pekar as a chronicler of the workingman's everyday world, but I didn't fully grasp the mundanity of it—in his introduction, Robert Crumb calls Pekar's work "so staggeringly mundane, it verges on the exotic." I expected the stories to have some kind of point or insight, but plenty of them lack either. They're just a snapshot of something, told in a straightforward manner, the end. Tasha suggested I check out Our Movie Year because it has more of a focus (the making of the great film adaptation of American Splendor), but it still has its share of "Well, that barely qualifies as an anecdote, Harvey" moments. Pekar's a really interesting person, though, and even if a given story doesn't have much to say, I'm still intrigued by his perspective and impressed by his intellect. At the very least, I'll give Our Cancer Year a shot.
Keith Phipps
I'd heard a bit of soul singer Syl Johnson before 2011, and had even purchased a greatest-hits album. But it was so badly mastered—apparently just recorded from a scratchy old LP—I couldn't even listen to it. But I liked what I heard enough to be curious when the great reissue label Numero Group put out the box set Syl Johnson: The Complete Mythology last year. A massive assemblage of Johnson's 1960s and early 1970s work for labels like Chicago's Twinight, it might seem excessive at six LPs and four CDs. But it's pretty much essential from start to finish, spanning well-known tracks like "Is It Because I'm Black?" and "Dresses Too Short" to a series of songs about a woman named Annie, and her hot pants. Johnson has had a bit of a renaissance thanks to hip-hop samples (and some lawsuits stemming from some that weren't cleared), but the set makes a strong case for his work in its original form being his real legacy.
Marcus Gilmer
The beauty of Netflix—that whole service mess aside—is being able to catch up with shows I not only missed the first time around, but was never exposed to in the first place. Such is the case with the great British sitcom The IT Crowd. Following the exploits of the three members of the IT department at a large corporation—the exasperated Roy (Chris O'Dowd, most recently of Bridesmaids), geeky Moss (the brilliant Richard Ayoade), and Jen (Katherine Parkinson)—the comedy gets off to a tepid start, but quickly picks up steam as it unfolds and the crew stumbles awkwardly from one situation to the next, be it Roy and Moss trying to act like "real" men or the classic episode where the guys convince Jen that the Internet is really just a small box. Written by Graham Lineham (of other notable UK programs, like Black Books and Father Ted), the series is stuffed with plenty of fun, tech-y references, and it sidesteps the main failure of most television shows—treating the tech-head characters with derision—while still letting those characters get into horrendously awkward situations (like being the get-away drivers for bank robbers). Hopping on the Ayoade bandwagon also led me to Garth Marenghi's Darkplace, the single-series show he did with Matthew Holness, a brilliant homage/send-up of low-budget science-fiction/horror shows. While that one isn't available on Netflix, the whole series is available to stream (in lower-quality video) on YouTube.
Phil Nugent
I wasn't exactly a Laurel and Hardy virgin when 2011 began. I'd seen Way Out West and March Of The Wooden Soldiers, and even a couple of the deracinated features they made after leaving the nurturing bosom of Hal Roach, and of course I'd seen their routines excerpted in umpteen TV specials and comedy omnibus films. But I'd never had the chance to just wallow in their best work until this past year, when Turner Classic Movies devoted a month to showcasing the output of Hal Roach Studios, after which the lollapalooza 10-disc DVD set hit the stores. Finally seeing the full body of work they did in their prime made for a sobering lesson in just how wrong an impression you can have of two people who you think you've known your whole life, in part because your aunt owned a cookie jar made in their likeness. The countless imitators and appropriators of their image—and the fact that I'd seen so many of their best bits shorn of their original context—had left me thinking of Laurel and Hardy as a couple of proper Victorian gents, sexless and stately, even if they did occasionally whack each other with two-by-fours. The balletic precision of their slapstick is legendary, but that popular image doesn't allow for the concussion-courting nature of the brutality that goes with it, which is what makes the precision so funny. And what I'd never remotely guessed before is how solidly much of their comedy was rooted in a domestic, masculine fantasy world where the mayhem is the unintended consequence of wanting to get the hell away from the wife to spend a few hours throwing back a cold one with the guys and flirting with the barmaid. These guys were the Ralph Kramden and Ed Norton of their day, and also the Jackie Chan, all rolled into two.
Vadim Rizov
The movie I least expected me to knock me out in 2011 was Rock 'N' Roll High School; nominally directed by Allan Arkush (now a TV producer with executive-producer status on Heroes, among other shows), it's a genial effort in which everyone on the Roger Corman lot was invited to pitch in. (The Zucker brothers contributed exactly one gag—the paper-airplane bit—while Joe Dante shot three scenes on the last day.) The feeling of collective resourcefulness triumphing over paltry, uninspiring settings applies both to the filmmakers and the high-schoolers who just want to rock to the Ramones, whose Road To Ruin gets an awful lot of plugs. From the opening scene—"Sheena Is A Punk Rocker" on the intercom, dancing in the hallways, anarchy in the classrooms—the kids are reclaiming their space with Singin' In The Rain fervor, and it sent chills down my spine. The unflagging comic inventiveness is great, but the good-natured all-in-it-together vibe is what really got me. This is an awesome movie; Ramones cult devotion entirely optional. (I'm agnostic on that.)
Will Harris
It's pretty easy for me to offer up non-2011 pop culture that I discovered last year, since I have a longstanding tendency to eschew new releases in favor of exploring things I've heard or read about but never actually checked out before. As such, I was thrilled to get a chance to check out the first-ever DVD release of the show I'm Dickens… He's Fenster, a 1962 sitcom about a couple of carpenters which teamed a pre-Addams Family John Astin with Marty Ingels, who—I realized as soon as I heard his voice in the first episode—used to do the voice of Pac-Man in the videogame icon's Saturday-morning series in the '80s. The show was created and produced by comedy legend Leonard Stern, who wrote films for Abbott & Costello and Ma & Pa Kettle, and worked on The Honeymooners, The Phil Silvers Show, Get Smart, McMillan And Wife, and—yes!—Holmes & Yo-yo. I wouldn't go so far as to say that I'm Dickens… He's Fenster comes close to any of those iconic shows, but it's consistently amusing, thanks to the great chemistry between Astin and Ingles, and the DVD set is such a labor of love that I can't help but call myself a fan at this point.
Josh Modell
Watching the uneven but intriguing We Need To Talk About Kevin got me thinking about how much I loved Lynne Ramsay's last movie, 2002's Morvern Callar. That led to a discussion with Mr. Scott Tobias about Ramsay's debut feature, 1999's Ratcatcher, which I hadn't seen. It wasn't exactly the tonic I need toward the end of 2011—a.k.a. the year every critically acclaimed movie was a huge downer—but it was nonetheless excellent. The film takes place during a garbage collectors' strike in Scotland in the early '70s, and it begins with the drowning death of a young boy. Whee! It doesn't get a lot brighter from there, but it was still fantastic, touching, and rough. And hey, is that Chibs from Sons Of Anarchy playing the drunken lout of a dad? Indeed it is.
Nathan Rabin
The great thing about writing for The A.V Club is that it's damn near impossible to out-geek your colleagues, no matter how nerdy your tastes might be. While researching a coffee-table book I'm writing for "Weird Al" Yankovic, I wound up listening to one of Yankovic's formative influences, Allan Sherman, for the first time. I cannot for the life of me imagine why it took me so long to get around to one of our preeminent comic songwriters, but listening to Sherman in preparation for the Yankovic book, I felt like I'd been living with his music all my life. (In a way, I have: His music and ethos live on in acolytes and descendants like Yankovic.) Sherman's oeuvre felt safe. It felt familiar. It felt like home. More than anything, it felt Jewish in a way that reconnected me to my roots religiously and culturally. And oy vey, is it ever amusing! Such nachas you'll receive from listening to Sherman! For me, finding Allan Sherman felt less like a discovery than a homecoming.