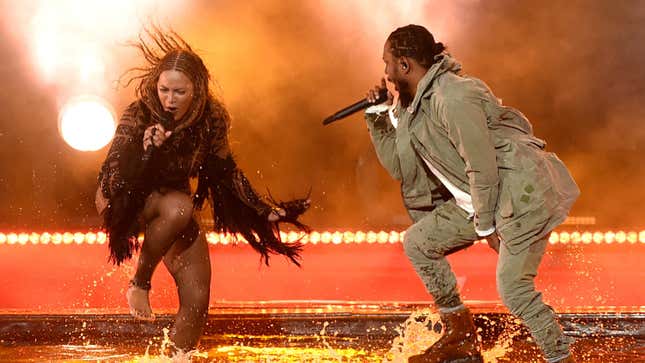 Beyoncé got up to her old tricks once again tonight, performing a surprise release of a new remix off of her 2022 album Renaissance to keep all of us pop culture news writers (and the Beyhive in general) on their toes. Specifically—per Billboard—the artist dropped a remix of "America Has A Problem" on the internet's collective head, prominently featuring a new verse from her old Lemonade collaborator Kendrick Lamar. The new remix is available for purchase on Beyoncé's web site; you can also give it a listen on YouTube, where the album art appears to be an evocative image of an American flag made out of red, white, and blue bullets.
(Despite the art, and the song's title, "America Has A Problem" isn't really a political anthem in either of its forms; America's problem, per the song's lyrics, is mostly that it's way too addicted to Beyoncé, with her declaring "you can't get no higher than this" and comparing herself to a drug dealer whose primary product is Beyoncé.)
Apparently Kanye West has been a Hitler fan for quite some time
Beyoncé and Lamar previously collaborated on "Freedom" off of Lemonade, with Lamar popping up at numerous installments of her tours to perform the song. (He also appeared on her Lion King-themed soundtrack album, The Gift.) Lamar's new verse kicks off the "America" remix with as much energy as we've ever heard in a rap that also talks about doing sudoku, declaring himself "honorary Beyhive." Per Variety, "America Has A Problem" has been surging in popularity since the kick-off of the Renaissance tour earlier this month, with the song's choreography attracting numerous fans and imitators on TikTok.
The Renaissance World Tour kicked off on May 10; it's slated to run, in Europe and North America, through September of this year.