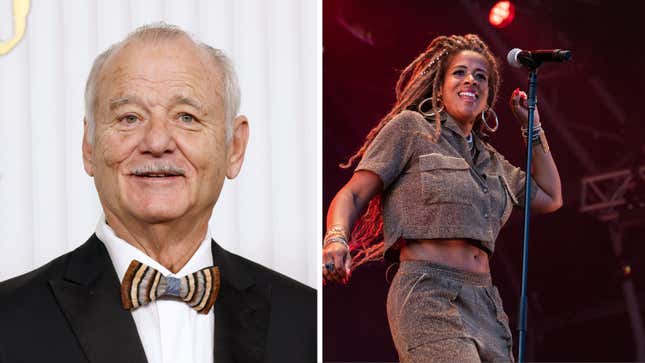 Today, in "Information we have seemingly no way to stop ourselves from receiving" news: Bill Murray and singer-songwriter Kelis (best known for her massive hit single "Milkshake") are reportedly dating. The internet has received this apparent fact—despite the fact that it was originally sourced from the U.S. version of notorious U.K. tabloid The Sun—with its typical mixture of consternation and resigned acceptance, because, as it turns out, it's very hard for reality to get much weirder, or less believable, than it already is at this point.
Bill Murray and Kelis break up. Love as a concept presumed dead.
Per TMZ, this news comes after Murray, 72, was seen backstage at one of Kelis' gigs in London, apparently celebrating with the 43-year-old singer. And thus were a million jokes about Bill Murray being drawn to a yard by various ice-cream beverages launched, as we, as a society, attempt to wrap our heads around this particular eclectic set of nouns and verbs.
Of course, as in all things, there's sad and depressing subtext here: Kelis—who has released six albums over her multi-decade career, and who is also, we literally just learned, a Cordon Bleu-trained chef—is only a year out from the death of her second husband, Mike Mora, who died of cancer in 2022. The TMZ report, which quotes an unnamed "friend," suggests that she and Murray bonded over shared grief.
More pointed, and less somber, is the fact that Murray has, for a lot of people, lost much of his luster as a sort of all-purpose symbol of fun in recent years. Most recently, he was fired from the film Being Mortal for alleged misconduct toward a female staffer, which ultimately caused the film to be shuttered. There's also been continued focus on his divorce from previous wife Jennifer Butler, who alleged both infidelity and domestic abuse when she filed for divorce from Murray in 2008, casting a pall over the actor's reputation.