In the first few days of 2011, virtually unknown avant-garde pop group Braids released their debut album, Native Speaker. Since then, the four high school best friends from Calgary have set off on an international tour, bringing their experimental sound to life with a set that's best described as an ethereal jam session. Braids' expertise is the kind of evocative music that sounds more complex with each listen; dreamy but not sleepy, yet at times unexpectedly shrill and intense, which gives a glimpse of the true vulnerability on which the record is built. It's precisely that delicate, melancholy passion that garner Braids the most praise, but also what makes them hard to define or classify without using terms like "avant-garde" and "experimental." Before Sunday's show at the Magic Stick, lead singer Raphaelle Standell-Preston talked with The A.V. Club about misconceptions about the band, lyrical interpretation, and exactly how to tell a Braids tune from a dirty rap song.
The A.V. Club: Do you feel like the four of you growing up in Canada influenced your sound at all? It sounds kind of icy.
Raphaelle Standell-Preston: I think that environment in general affects anything you make, especially art. I think Native Speaker is kind of a cold sound, as you were putting it. There is a lot of solitude in wintertime, and it can kind of feel like that, and there's a lot of pensiveness and being reclusive, and I think Native Speaker definitely has moments of that. Especially when you grow up in Alberta, the closest major city to you is eight hours away and it's not even that big of a city.
AVC: I've heard you mention other experimental pop artists, such as Animal Collective, as influences. Do you draw influence from outside of the music scene?
RSP: Oh definitely. Yeah, I, in particular, do. I'm really inspired by a lot of writers and poets. I read a lot of books. Definitely, like Tolstoy, Sylvia Plath, James Joyce. John Steinbeck is a really big influence for me. But yeah, forming my poems and how I want to sing the words is definitely influenced a lot by the novels I read.
G/O Media may get a commission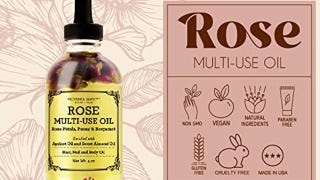 Provence Beauty Rose Multi-Use Oil
AVC: Some of the lyrics on Native Speaker are rather graphic—such as the use of "fuck" as a verb, images of sleeping around, etc.
RSP: Why not?
AVC: Do you find that people react to that in a certain way, since the music is so beautiful, but the lyrics are kind of raw?
RSP: Big time. I think that it's also because I was a younger girl—and actually, that is probably the most important part of why people are really shocked or take a really vulgar stance on it. Whereas I feel like the "f" word is used in daily language all the time and with writers like Jack Kerouac, and like all the beat poets, the "f" word is very common. But I don't know, I don't really think too much about that part of Native Speaker. It really is just like a figure of speech.
I do know that a lot of people have been getting the lyrics really, really wrong, which is why I'm going to make sure that everybody understands the lyrics by doing an official lyrics release. I thought it was kind of cool that people were coming to their own assumptions about the lyrics, but some of the meanings that people find are so astray, and I feel like the integrity of the song is being lost. Like a lot of people think that I'm saying [on debut single "Lemonade"], "Have you fucked all those stray kids yet," but it's, "Have you fucked all those dragons yet." I used to work at this café in Calgary and there was this guy who was named Dragon, and basically from behind the counter I saw him convert a couple of local women into being like these kind of weird "shoulder candies" for him, and that's what the song is about—whereas I think a lot of people hearing Native Speaker kind of think it's like a dirty, sexy album, when it's actually a comment on how sexuality, especially in your early ages, can be kind of fleeting and impersonal, like when you're going to parties and you're making out and you're actually giving a really large part of yourself when you're engaging in those sexual acts, but you're not really seeing the importance of it. So that's kind of like what I think Native Speaker speaks about in terms of sexuality, like it touches on a whole bunch of other things. But yeah, I think it's time to do the album lyrics release.
AVC: It's interesting to hear you say that, because the lyrics are definitely kind of angst-y.
RVS: Yeah, I was like 17 and 18 when I wrote it, which is an angst-y time in everybody's life.
AVC: And it does have that sort of sexual undertone, but like you said, it doesn't really seem as blatant or vulgar as some people might interpret it.
RVS: Yeah, it's not like a rap song, like, "Baby I wanna do you from behind in my Cadillac," you know? That's like unfortunate sex lyrics.
AVC: The name "Braids" comes from the interconnectedness you feel as a foursome. Has being on tour for so long strengthened that bond, or are you getting sick of each other?
RVS: It really varies. Like sometimes, we really love each other and we have a terrific time with each other, and sometimes we find each other's little faults to be a lot bigger than they are. And we definitely have to just try to find a balance with that. Like in any relationship you have to spend a lot of time in, you definitely try to work on it, but I think generally we love each other, honestly. It's kind of like a marriage, like a good one, not one where there's cheating or anything like that. Like a really good marriage between the four of us.
AVC: Do you ever do anything crazy on the road to keep it spiced up?
RVS: We're going to try to find a water park when we head over west to California. We all really want to go to a water park. We passed by Ronald Reagan's birthplace today, and it was like 14 miles down the road and we didn't have time. In the future, I would really like to go see things like that. It would be really exciting.
AVC: Will you be playing any new material at your show?
RVS: Hell yeah. We're playing three new songs—actually, four. Two brand-new ones that we didn't play on any of the other tours, and then the other ones are not on the record. They definitely offer a new kind of life to the set. It's exciting.
AVC: Does that mean you have plans for a new album, then?
RVS: We sure do. We're just trying to get our bearings in terms of writing the next record. We've already started, but we haven't really officially started—like we haven't sat down in a studio—but I definitely think we have at least three new songs that could potentially be on the next record. We'll definitely have a new record at some point in 2012.
AVC: Native Speaker is on the short list for the 2011 Polaris Music Prize next to indie staples like Arcade Fire. How's it feel?
RVS: Terrific. It's very surprising. None of us were expecting the record to receive that kind of attention. We were like, "Maybe we could make the long list," but we definitely didn't expect to be shortlisted. It's a very good feeling, and we're very excited to go to the gala.
AVC: The winner is announced on Monday. Any big plans if it's you?
RVS: I have no idea. I'm not even thinking of that option at this point. I'd be floored. I might fall over.
AVC: Maybe you can fast-track your trip to the water park if you win.
RVS: Yeah, we'll just fly there. I'm kidding, but maybe we'll get some champagne.