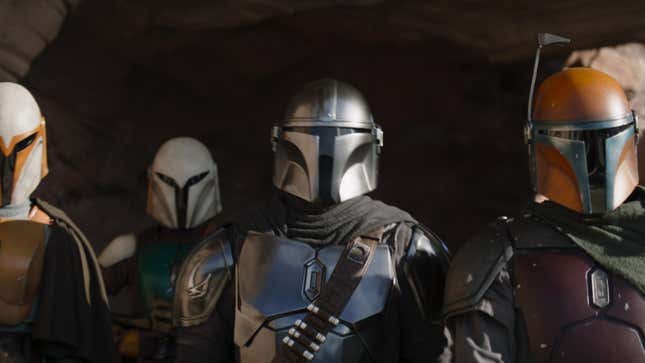 We live in a bad world where horrible people rarely face any consequences for the horrible things they do, but it has been a nice couple of days for seeing assholes get punished for being assholes. First, the Dilbert guy felt such an overwhelming compulsion to say racist stuff online that he detonated what must've been a very lucrative and very easy job ("Okay, uh, in this comic, Dilbert doesn't want to work, and then the boss says he has to work."), and now executive producers Rick Famuyiwa and Dave Filoni from The Mandalorian have effectively confirmed to Deadline that Gina Carano's Cara Dune will never be returning to the show after the offensive comments she made in 2021 about Nazi Germany.
Carano was fired from the show two years ago, and a spin-off she was going to star in got canceled a few months later, so it seemed pretty obvious that she was done, but Famuyiwa and Filoni are now saying ahead of the show's third season (premiering this week) that there's really no reason for them to go back to Cara Dune. They said that the creative team "took the time to think about" how to address the character's absense, since she was a "big part" of the show early on, but they ultimately decided that "the heart of the show" was always Din Djarin and Grogu, so they decided to focus more on them instead of wasting time on Cara Dune.
Filoni says that the character is still out there somewhere, noting that "it's a big galaxy and we have many characters in it" who are "fighting for their screen time," so it doesn't seem like they're willing to go as far as killing her off offscreen (she doesn't even deserve to get that), but part of this season is apparently going to involve seeing if Din Djarin has "evolved beyond" the characters that seemed important to him in the beginning. Ergo: Nobody needs Cara Dune anymore. The show is called The Mandalorian, the show is about the Mandalorian (and his little green baby). Maybe someday there will be some bad EU novel that explains what happens to Cara Dune, but don't count on it.