Catastrophe falls into a nice rhythm in its third episode, focusing more on Sharon and Rob apart than together. While "Episode 2" established the couple without each other, "Episode 3" makes it a point to send both Rob and Sharon on their own separate journeys, although they are both essentially doing the same thing: cheating. It's not adultery, but they are certainly stepping out on each other, keeping the other one in the dark about each other's activities.
Sharon already has a life in London. She has family, friends, and co-workers. Rob is consistently the outsider with no home base. By default, Sharon gets to be the more fully-formed character because we get to see more of her and who she is, including her classroom and her students. She, especially in "Episode 3," gets to have a history as well. But Rob doesn't have that, although the show is establishing that backstory by showing Rob at work (or at least trying to work).
He also get a friend! This time in the form of Chris (Mark Bonnar), Fran's nicotine addled husband who seems to dislike Fran (a perfectly awful Ashley Jenkins) just as much as everyone else. Their budding friendship greatly reminded me of the lovely little movie The Overnight, with Jason Schwartzman and Adam Scott. The movie is advertised as a sex romp, but it's really about how hard it is to make friends as an adult. It was a situation that was greatly mirrored (although minus the nudity) in Rob and Chris' relationship. Just like Rob and Sharon, there are awkward bumps along the way. Their bonding may be a bit odd (comparing hormonal partners, "I'm not kidding, she finished off a plate of stew while I was inside her") but Rob needs another character to show who he is without Sharon, and Chris is serving that purpose.
Sharon is going through something that I think a lot of soon-to-be mothers experience (I'm not a mom so this is anecdotal from friends and watching a lot of movies) that I hope they continue to explore. And, no, it's not her crazy hormones, although that was dealt with in a rather unexpected, and quite funny way ("Y'know, because Italian people talk with their hands?"). She's figured out that having a baby is going to limit her. These aspirations she put on hold — namely becoming a writer — would be considerably harder once she gives birth (she had a letter in the Times that someone responded to once, she was that good). Going half-assed on something before — her Ph.D — wasn't a problem when there was endless possibilities to explore. Without even knowing it, she cuts off Rob's chances of exploring his aborted passions as well when he brings up the possibility of returning to his studies as a large animal vet (but then, y'know, his cousin was in advertising and "pretty soon he had a Ferrari and was dating a figure skater.")
G/O Media may get a commission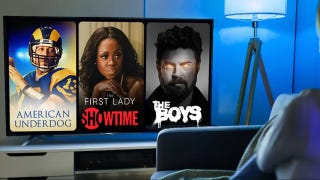 UNDER $1
99¢ Prime Video Channels
Sharon's possibilities will not come to a close once she has a kid, but they'll certainly become more difficult to realize once someone else is counting on her all the time. Her frustration about her supposed wasted life eventually transfers over to seeing her ex. He's insufferable but she still wants him to find her desirable, because that's yet another aspect of her life — being single, having the ability to sleep with anyone she wants — that has been taken away from her. "I wanted him to still like me though. Is that sad?" she asks Rob after confessing her pseudo-date. "No, I have a Facebook page," he replies. It's not about stepping out on Rob, it's about recapturing a self that had endless possibilities when her current self seems to have none.
Stray observations
The American accents in this show consistently crack me up.
"One of the partners had a stroke." "And they still made him do the call?"

I would like to see The Emancipation of Flybert Crisp.

"We don't really have meth here." "You will one day!"