The "behind-the-scenes" world of Childrens Hospital has come a long way since season two's "The End Of The Middle." At the time, that first instance of Newsreaders felt like a great one-off bit about the world in which Childrens Hospital supposedly exists. Plus, as we all know, few things are more culturally significant than Louis La Fonda's sit-down interview with Kate Walsh. Since then, every subsequent peek behind that imaginary curtain has found a way to keep the magic alive and build quite the fascinating world. For a show that very much plays by its own rules when it comes to continuity and what it considers canon, these episodes of Childrens Hospital manage to stand on their own as something special, almost completely separate from the rest of the series.
That magic is what allows "Through The Eyes Of A Falcon" to go back and maintain the "behind-the-scenes" soap opera that season four's "Behind The Scenes" really introduced into this specific continuity. In regular "behind-the-scenes" fashion, the glimpses we see of Childrens Hospital before the lights go off and the world turns black-and-white are the show at its hackiest and quite possibly strangest… and then everything becomes "real," with the actors' almost instantaneous returns to their true selves. There's just something really special about Lynn Williams' prominent unibrow almost immediately appearing as soon as the cameras stop rolling. It's things like that that make this world just as elaborate—if not more so—than the world of typical weekly episodes of Childrens Hospital.
And for those keeping track of the relationship drama, David Wain is now back with Lynn Williams and Dixie Peters is now with Brian Huskey's Mark Splorn—until the end of the episode, of course.
G/O Media may get a commission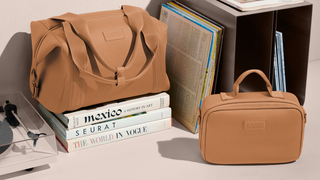 15% off
Dagne Dover Travel Kits
In a change of pace, a lot of "Through The Eyes Of A Falcon" relies on these characters who try to pretend nothing fazes them—because they're really all too self-involved—finally openly reacting to something as commonplace to them as Just Falcon's bizarreness. His "art" reveals sober Lynn's lack of sobriety (sort of), Dixie's mother's affair with Mark, and Rory's back face, and it's in a setting where there's really nowhere for them to hide from each other. As far as execution goes, the Lynn/David plot is wacky enough that it allows Erinn Hayes to play splendidly, terribly, aggressively "drunk," as David Wain plays almost too cool for school (though not in the same way as Brian Huskey does). The Dixie/Mark (with character actress Lee Garlington in the role of Dixie's mother Geraldine Peters) plot, on the other hand, allows Lake Bell to over-play her character in a soap operatic way that she hasn't really gotten to do on a regular basis since the first season (when the show was at its most Grey's Anatomy-parodying). The plot also allows her to have her own Dynasty catfight moment, which has to check something off of someone's bucket list.
The Rory plot continues the tradition of everyone hating Rory Spindell, so maybe that one's not too different from the norm of this world.
However, "Through The Eyes Of A Falcon" feels like a relatively "normal" approach to this "behind-the-scenes" world at this point of the series. That sounds peculiar, given the setting of the entire episode being at Just Falcon's on-set art show; but instead of being a super gimmicky episode, it uses the framing device to make a pretty straightforward one instead. It's not an epic in this particular universe of Childrens Hospital episodes. It's no "My Friend Falcon," and it really doesn't need to be. It's funny and weird—it's still Childrens Hospital, after all—but the art show is a fun means to the weirdest part of it all. That part would be Terry Malone, Rory Spindell's "half-alive twin" in the form of the head growing out of his back. And yes, that's just one of those surreal Childrens Hospital things that doesn't need much more prodding than what it has.
But the real twist in any of this is the fact that the entire night is one big elaborate blackmail scheme from Paula Reilly (Molly Shannon), and in true Jonathan Stern fashion (as I pointed out last week), the episode treats that as the natural progression of things, despite Just Falcon's typical obliviousness. The confirmation that it's totally blackmail is even a throwaway line at the very end of the episode.
If there's one thing that might be eventually lost due the meat of the episode, it's the absolutely terrific, completely non sequitur (even more than usual) previouslies segment in this episode. What begins with a pretty great Orlando Bloom (of all people) joke transforms into an almost never-ending version of "it was just a dream" segments. And not only does it all pair well with the only "actual" Childrens Hospital scene before the switch to the black-and-white "real" world, the "it was just a dream" part takes the show back to its roots. After all, season one of Childrens Hospital introduced the idea that the entire series has always just been inside of a "Puerto Rican midget's fart"—and season four's "A Kid Walks Into A Hospital" also confirmed that aspect of the show. So whether it's all just a dream or just a fart, Childrens Hospital is certainly more than meets the eye.
Stray observations
"Mr. and Mrs. Hine—I'm sorry to say your son seems to have… Orlando Bloom Syndrome. One minute, he's here, and then it's like, [unintelligible sounds] 'Where'd he go?' Hehehe. I'm very sorry for your loss." I'm really going to miss this show.
Dream Cat: "Chet, Chet! You were laughing in your sleep!"
Dream Chet: "Oh."
Dream Cat: "WHILE YOU WERE DRIVING!"
Dream Blake: "Cat, Cat. You were screaming in your sleep. While we were having sex. Not cool."
The entire "cut back on the carbs" moment is cheesy as humanly possible, but Cat's "cool" laugh during it is absolutely amazing.
Just Falcon: artist or peeping Tom? You be the judge… though it's definitely the latter.
I really hope Ballers' Rob Corddry finds a way to use the Rory Spindell wig in work outside of Childrens Hospital. It's majestic.
Molly Shannon is great as she both gets the chance to throw herself at ladies' man Mark Splorn and tell the cast how much she loves "Childs Hospitable" (the closest thing we get to a Rob Huebel-style pronunciation in this episode).

Lynn's "I love alcohol!" really spoke to me, so you can imagine my heartbreak over her being a fake drunk. I'd have dumped her too, David! Goodbye, pasta dinner.
Just Falcon: "I call this collection: 'More Photos.' I took all these this morning."
Keeping up with the continuity of this world, Lynn ends up finding a way to piss off Dixie by pointing her to the pictures of her mother and Mark together. Game on.
Sadly absent in all the fun of this episode are Rob Huebel's Rob Huebel (thus the lack of glitter at the art show), Henry Winkley's Fred Nunley, and Megan Mullally's Lady Jane Bentick-Smith. But the greatest loss is that of Malin Akerman's Ingrid Hagerstown. She would have been so confused!