When Christine And The Queens emerged with 2015's self-titled effort, the album was a welcome antidote to sterile pop music. Héloïse Letissier, the French musician behind the project, wasn't just a refreshingly honest songwriter. She was also a mesmerizing live performer who seemed to melt into rhythms and grooves—and had the stunning, meticulous choreography to prove it.
Chris signals a new chapter for Christine And The Queens, a fact that opening song "Comme Si" establishes right away: "There's a pride in my singing / The thickness of a new skin / I am done with belonging." In fact, these lines double as both an album mission statement and a Christine And The Queens state of the union. Letissier has always assumed the persona of Christine like a sort of emotional armor, a way to capture the character and personality that emerges when she's in the public eye. But in the lead-up to Chris, she decided to shorten this moniker from Christine to Chris.
When a Times Of London writer recently asked how Letissier preferred to be addressed, she smiled and said, "I enjoy this confusion. Héloïse? Christine? Chris? Maybe I will be called C at some point." In the biography accompanying Chris, she attempted to explain her relationship to the persona: "It's the evolution of Christine, because I evolved."
It's clear from Chris that such ambiguity is freeing, not paralyzing. The album is full of frank dissections about the good, the bad, and the ugly of being an outsider. Many songs examine the consequences of not fitting in: "What's-Her-Face" dredges up painful childhood memories of playground alienation; "Girlfriend" discusses being unable (or unwilling) to meet relationship expectations; and the dense "Feel So Good" examines the emotional contortions that occur when a relationship goes nuclear and blame gets shifted.
Yet Chris is also honest about the brutal highs and lows that come with the outskirts. On the stunning "Doesn't Matter," Letissier doesn't hold back talking about the lows: "Those suicidal thoughts that are still in my head / Give her that awful side-smile when I lay in bed." In contrast, while "Damn (What Must a Woman Do)" mourns the damage done by past lovers, it's also a celebration of passion: Letissier switches from English to Spanish, and throws out vulgar terms referencing sex, to express unbridled lust.
G/O Media may get a commission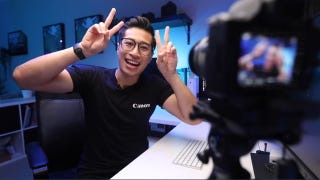 Up to 33% off
Canon Camera National Promotion
Webcam kits, lenses, & more
Since many of us adopted working from home, we've become accustomed to the crappy video quality output of our laptops' built-in webcams. Present yourself professionally with the help of a professional quality camera. Dress to impress now means set dressing and picture definition. Canon has made it easy to take your EOS camera and convert it to a webcam with the help of a variety of kits.
This wild emotional pendulum could be seen as an overcorrection to the early-'10s pop empowerment boom, in which artists willed into existence how they'd like things to be, rather than focusing on life's mundane melancholy. Yet Chris asserts that there can be a happy medium between aspirational optimism and sobering reality, that you can have hope while acknowledging things can be rather dire.
From a musical standpoint, Chris is brash and outgoing in different ways from Christine And The Queens' debut. Most obviously, Letissier is a more confident composer and vocalist. On the electro-boogie "Goya Soda," whose skeletal keyboard and bass framework conjures the minimal approach of Madonna's early work, she flips between singing in French and English in a no-nonsense fashion. In contrast, her voice is fragile and vulnerable on "Make Some Sense," as delicate as the experience of exhaled breath fogging up a car window.
And while the album's moments of deep sonic introspection are moving, Chris shines most when its innate swagger comes to the forefront. "Comme Si" and the harmony-rich "Doesn't Matter" are synthpop confetti showers with clipped beats and swerving keyboards; the Michael Jackson-circa-Thriller funk-pop jam "Girlfriend" features Dâm-Funk; and the snappy "Feel So Good" boasts precise rhythms that slice like shards of glass.
In the biography accompanying Chris, Letissier elaborated on the fact that embracing the Chris identity "feels really powerful to myself, because then this narrative belongs to me, as my body does, and my writing does. It feels really great when you have so much trouble with your identity, that people now ask me—how do you want to be addressed? And I still don't know." Chris more than anything revels in fluid identities—whether gender, personality, mood, or otherwise—and the way they free people from expectations and limits. By extension, this frees up Christine And The Queens from musical conventions, and propels the group to the precipice of greatness.