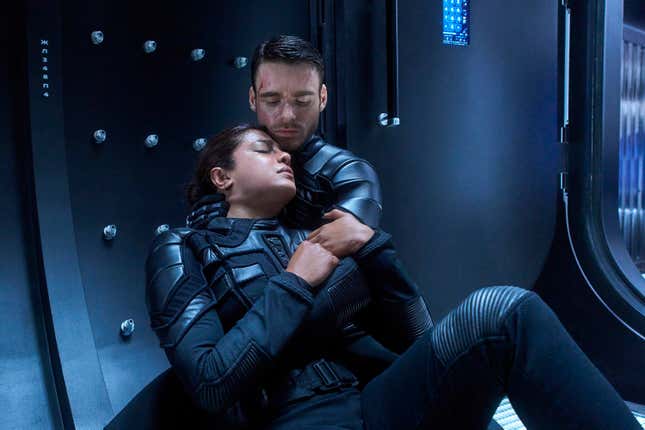 For the third week in a row, Prime Video's big-budget spy drama Citadel has failed to crack Nielsen's weekly streaming rankings, a relatively dismal performance given the series' record-breaking budget. Although Amazon poured significant resources and publicity into the series, its shutout from the rankings indicates that audiences haven't warmed to the new show from the Russo Brothers in at all the way the streamer thought they would.
Netflix plans to make you freeloaders finally cough up the dough
Nielsen's May 8-14 viewing window marked the series' third shot at making the rankings after it premiered on April 28. Starring Richard Madden and Priyanka Chopra Jonas as two secret agents with memory loss, Citadel leaned into a well-trod action storyline almost as hard as it did international marketing (the series is already slated to run spinoffs in spinoffs in India and Italy).
However, despite the global push and massive budget, Citadel hasn't exactly made good on its production level as far as ratings are concerned. For the past two weeks, the No. 1 spot on the Nielsen charts has belonged to Netflix's Bridgerton spinoff Queen Charlotte, per Variety, another swing and a hit from veteran creator Shonda Rhimes. This week, Netflix occupied all three of the top spots on the Nielsen ranking, with Jennifer Lopez's action film The Mother and Tom Hanks' A Man Called Otto taking No. 2 and No. 3, respectively. Could it be that Prime Video actually just wasted a whole lot of money on this series with little to show for it? Well, yeah; we could've told you that.
See the full Nielsen charts from the May 8-14 window below:
Top 10 Streaming Programs
1. Netflix, Queen Charlotte: A Bridgerton Story, 1.8 billion minutes viewed
2. Netflix, The Mother, 1.4 billion minutes viewed
3. Netflix, A Man Called Otto, 1.2 billion minutes viewed,
4. Netflix/Paramount+, NCIS, 875 million minutes viewed,
5. Disney+, Bluey, 706 million minutes viewed
6. Netflix, Firefly Lane, 697 million minutes viewed
7. Apple TV+, Ted Lasso, 670 million minutes viewed
8. Netflix, Cocomelon, 648 million minutes viewed
9. Netflix, Missing: Dead Or Alive?, 634 million minutes viewed
10. Netflix, Sweet Tooth, 575 million minutes viewed