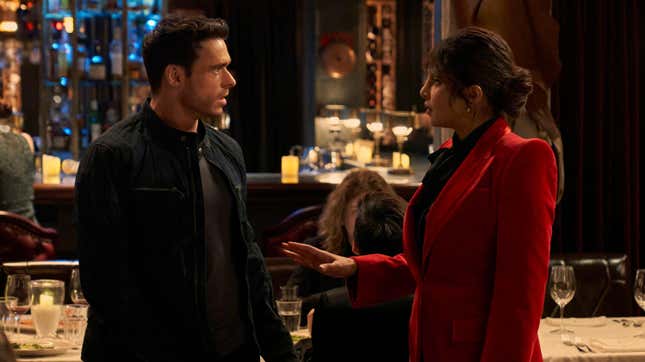 For some reason, a few Citadel episodes begin and end with the camera turning upside down in slow motion. It's a pretty pointless attempt at appearing edgy and cool, a directional choice that seems to have no payoff. Or perhaps it's a flimsy metaphor for how the characters' lives could topple anytime. The only clear fact is that Citadel, no matter how superficially it tries, is nothing more than a varnished spy thriller with little to offer beyond generic genre garbage.
Prime Video's drama, which kicks off April 28, flails underneath its whopping $300 million budget (the second most expensive TV show after Lord Of The Rings) and beautiful locations (at least six places across the world are covered at breakneck speed in the premiere itself). None of this gloss fixes the show's boring and predictable twists—at least not in the three episodes available to screen in advance. Priyanka Chopra Jonas, Richard Madden, and Stanley Tucci coast through the screen by engaging in stunts and banter. They try their best, but is it enough to save the show's sterile script? God no.
It shouldn't come as a surprise that Avengers: Endgame's Joe and Anthony Russo, who ardently believe AI will soon write a whole movie, are Citadel's executive producers. The show often feels like a machine spit out the writing because the story is chock full of tropes without an iota of inventiveness. It sticks to formulas, which might work for anyone wanting to consume mindless content. But it's not smart or evocative compared to recent spy offerings like Apple TV+'s Slow Horses or surprisingly amusing like Paramount+'s Rabbit Hole.
Citadel centers on a relationship built on lies between Nadia Sinh (Chopra Jonas) and Mason Kane (Madden). Eight years ago, they were victims of a train bombing while on a mission, and their memories were promptly erased. So they don't remember that they were highly trained spies for the titular organization. They were romantically entangled at some point, but that history is minimally depicted. Despite the limited context, the audience has to buy into Nadia and Mason's complex, undying love even though he's now married to someone else.

At least sparks briefly fly between Madden and Chopra Jonas as they butt heads or fight enemies, but it's more fun to watch him interact with Tucci's Bernard Orlick. As a handler and tech specialist, Bernard is assigned the exposition-heavy task of explaining to the audience how Citadel was formed and how it saved the world. In the present day, he brings the gang back together because nefarious entities are trying to start a global war. Conveniently, Nadia and Mason's memories are stored in a vial that, if they inject it, will restore old spy skills but probably also their feelings, traumas, and betrayals.
On paper, Citadel has the markings of a gripping thriller. Action, romance, and adventure are presented with a massively unnecessary budget. Yet the execution sorely lacks finesse and coherence, with scenes rapidly jumping from city to city with barely any breathing room to develop attachments to these characters. They're hardly fleshed out, and tidbits about their backstories are dropped like crumbs, like Nadia being a nepo baby because her mother was also a secret agent. Lesley Manville appears from time to time as the villainous Dahlia Archer, who works for a rival organization called Hydra Manticore. She's stuck with one note and one note only: furiously demanding that her two lackeys find a briefcase hiding confidential material.
Look, Citadel has amassed a talented ensemble. Award-winning Madden is built for the emotional complexity of this type of role, as proven in Bodyguard. Chopra Jonas has a belt of excellent Bollywood roles. (We highly recommend 7 Khoon Maaf, Barfi, and Fashion.) She has the immense range to make an action-packed show like this one sing, but she's not utilized at all. Tucci and Manville are, of course, established favorites. And Madden and Tucci's verbal exchanges are admittedly a good respite because their friendly chemistry feels natural.
The biggest question Citadel raises is why Amazon (or anyone) needs to spend this type of money (enough to buy an island apparently, among other things) on a TV show this dull. To make matters worse, it has already been renewed with multiple spin-offs set in India, Italy, and Mexico. Aggravatingly, this is the same streaming service that barely promoted last year's A League Of Their Own, cutting down its budget for only a four-part final run, and butchered the release format for 2021's The Underground Railroad. Those are two stellar series with unique points of view and purposes.
Prime Video's consumers do have an appetite for such spy thrillers, as seen in the success of Jack Ryan, Reacher, and The Terminal List. So there's a decent chance Citadel will fall into line with that content. And maybe season one's final three episodes will suddenly redeem the poor start. Based on the formulaic boxes checked off so far, though, the chances are slim. For all the money spent on the series, Citadel arrives as an unremarkable blip on the radar.
---
Citadel premieres April 28 on Prime Video