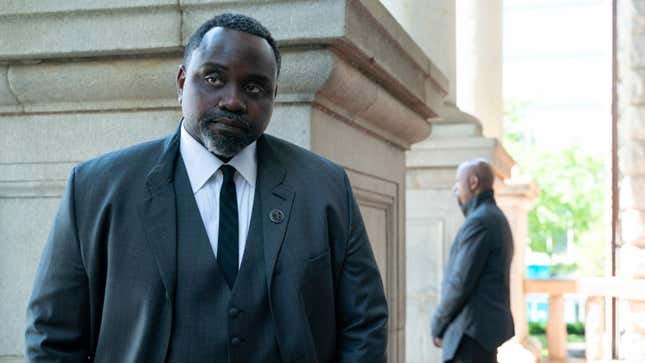 There's no denying that FX's Class Of '09 comes at an opportune time. Created by American Crime Story's Tom Rob Smith, the limited series focuses on the dangers of the FBI interlacing with advanced technology and AI. However, the relevant premise is squandered by charting it through three confusing and boring timelines. Is it so tough to expect a linear path from TV shows? Must everything be a homework-style chore requiring a pen and paper to track what year it is? FX's Class Of '09, which premieres May 10 on Hulu, has obvious storytelling potential, but derives none of the thrills or urgency halfway through its eight-episode run.
"The Winchesters" star Meg Donnelly talks Tom Welling, "Supernatural" - and Spongebob
The show has a puzzling pace despite an exciting concept and an even better cast to pull it off. It loses momentum by trying to craft multiple tangents under a single umbrella: There's sci-fi in the 2034-set future where AI has invaded all aspects of life (think: a device planted in the eyeballs, Black Mirror-style, among other things). In the 2009-set past, Quantico's rookie agents deal with tough training—guns! lie detectors! fitness tests!—while forming interpersonal relationships. And in 2023, the titular class gets separated on different missions nationwide. They're respectively dealing with domestic terrorists, spying on their own, or various other political agendas.
So yes. There's clearly a lot happening. Yet barely any of it sparks genuine interest because of how often and how unevenly Class Of '09 jumps between each timeline. Four installments in, the show doesn't dwell on the heavy subjects it tackles. AI is the talk of the town right now as it pervades all aspects of life, from the criminal justice system and surveillance to Hollywood and journalism. But the show dances in circles about any message it sends about it. Important points are hinted at, like when one of the agents ruefully asks after a shootout if the FBI just "started or ended" a fight, but it doesn't lead to anything else.
It also doesn't help that there's barely any difference in how the actors look in 2009 and 2023, so it's a game of patience to figure out what timeline we're in. (Bring out that pen and paper, folks.) What's more, the future timeline tells audiences where they ended up. All of that previously built tension dissipates when the show cuts to 2034. And the core mystery of that year is the the least compelling anyway.
Even if the timeliness weren't a mess, there's still jarringly little going on with most of these characters. The actors simply don't get multi-dimensional arcs, just a couple of defining traits. Brian Tyree Henry's Tayo Miller is Black and heavyset. Kate Mara's Amy Poet is sincere and obedient. Sepideh Moafi's Hour is an immigrant whose Iranian parents got asylum. Brian J. Smith's Lennix is going against his rich family's wishes. And then ... nothing. To their credit, at least the two leading performances are absorbing. Henry, who broke out with FX's Atlanta and scored a well-deserved Oscar nomination for Causeway this year, is unsurprisingly mesmerizing. He gets the meatiest narrative in each timeline, including a rare tense encounter in episode two that highlights Class Of '09's intriguing potential. Henry rises to the challenge of expressing his character's difficulties and emotional nuances, elevating the show when possible.
In 2009, Tayo struggles with the same problems as a newcomer as he did back in high school: being bullied because of his race and weight. The show doesn't necessarily comment well on how he's treated by some peers, glossing it over with generic bullshit instead of a detailed examination as Tayo rises from a quiet newbie to FBI director over 25 years. Still, at least Henry is a potent performer to bring the character to life. He delivers yet another masterclass and is half the reason to watch the show.
Mara is the other half. Amy, who goes by Poet, is a former nurse turned FBI agent who prioritizes everyone besides herself. Except Class Of '09 doesn't dig into Poet's background in the first half, or care to explain she overthinks each choice like it's a burden. Watching her in each timeline is disassociating as she feels isolated from the career she passionately pursued because of how much technology has transformed it. Like her co-star, Mara also imbues her role with poignancy.
Unfortunately, Poet and Tayo land on opposite sides of the AI battle, so their interactions are limited. And everything else surrounding them dulls in comparison. It's partly because the script and cinematography feel half-baked, leaving the remaining cast with less fleshed-out material to work with. And it's also because, ultimately, Class Of '09 crumbles under its weighty issues. Narratives about the FBI or AI aren't new, but this one doesn't reinvent the wheel or offer a unique testament. Much like its central topics, Class Of '09 simply exists—like it or not.
---
Class Of '09 premieres May 10 on Hulu