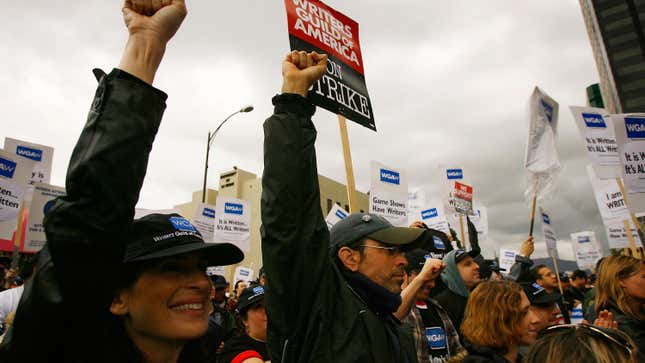 After weeks of failed negotiations, the Writers Guild of America has announced they're now on strike. The news hardly comes as a surprise. Like much of America's shrinking-to-non-existent middle class, Hollywood writers, the ones who make The Flash go zoom and Young Sheldon go "Bazinga," have for years discussed the lousy deal they've received in the streaming era. Many of their concerns center around creating a "gig economy" in the wake of tech's takeover of the entertainment business. According to a statement from the WGA, picketing will begin tomorrow.

Lizzy Mathis and Jessica Alba on "Honest Renovations," the SAG-AFTRA strike, and first impressions
In a statement, the Writers Guild said:

We have not reached an agreement with the studios and streamers. We will be on strike after the contract expires at midnight.

The WGA Negotiating Committee spent the last six weeks negotiating with Netflix, Amazon, Apple, Disney, Discovery-Warner, NBC Universal, Paramount and Sony under the umbrella of the Alliance of Motion Picture and Television Producers (AMPTP).

Over the course of the negotiation, we explained how the companies' business practices have slashed our compensation and residuals and undermined our working conditions. Our chief negotiator, as well as writers on the committee, made clear to the studios' labor representatives that we are determined to achieve a new contract with fair pay that reflects the value of our contribution to company success and includes protections to ensure that writing survives as a sustainable profession. We advocated on behalf of members across all sectors: features, episodic television, and comedy-variety and other non-prime-time programs, by giving them facts, concrete examples, and reasonable solutions. Guild members demonstrated collective resolve and support of the agenda with a 97.85% strike authorization.

Though we negotiated intent on making a fair deal—and though your strike vote gave us the leverage to make some gains—the studios' responses to our proposals have been wholly insufficient, given the existential crisis writers are facing. The companies' behavior has created a gig economy inside a union workforce, and their immovable stance in this negotiation has betrayed a commitment to further devaluing the profession of writing. From their refusal to guarantee any level of weekly employment in episodic television, to the creation of a "day rate" in comedy variety, to their stonewalling on free work for screenwriters and on AI for all writers, they have closed the door on their labor force and opened the door to writing as an entirely freelance profession. No such deal could ever be contemplated by this membership.

Therefore, earlier today the Negotiating Committee unanimously rejected the AMPTP's final offer before deadline and recommended to the WGAW Board and WGAE Council the issuance of a strike order. Based on that recommendation, the Board and Council unanimously voted to strike after the current MBA's expiration at midnight tonight.
The announcement means a near blackout of scripted content on television, with writers' rooms putting their pencils down and grabbing picket signs. The first big problem for networks: late-night shows will go dark. Jimmy Fallon committed to his writers earlier tonight at The Met Gala. "I wouldn't have a show if it wasn't for my writers," Fallon said. "I support them all the way."

As The A.V. Club has reported, many of the writers of the most popular and beloved shows on television aren't receiving a proper slice of the pie. "I have friends who believe, 'Oh, Alex worked on The Bear. Alex is rich now. Alex can buy a car.' And you know, I'm not. I'm broke," writer Alex O'Keefe tells The A.V. Club. "[When] I won the WGA Award for The Bear for Outstanding Comedy Series, I had a negative bank account. My suit was bought by my family and friends, and my bowtie was bought on credit. All that glitters is not gold."
The first strike of its kind in 15 years arrives at a time when writers' pay has never been lower while studios reported record profits. Yet, writers are not seeing a piece of the pie, particularly when it comes to job security and residuals. In the last decade, as streaming services were upending the system and turning Hollywood into Über for Hollywood, staff positions were replaced with "mini rooms," where one group of writers breaks the story and another writes the scripts. This has led to a decrease in pay and long-term employment. Not to mention, since streamers dump all their shows at once, it's much easier for them to futz with season orders, often splitting one season of work into two.
These types of shenanigans have allowed studios to circumvent their contract with the Guild. Shorter projects mean writers find themselves without job security and disrupt their access to healthcare.

There's no word on how long the strike can last. It's really a question of how long the studios want it to go on. After a week at CinemaCon, where studios touted the mountains of cash they've made off of the films generated by real human beings—and not a lousy algorithm designed to make viral Wes Anderson parodies—it's up to them to come to the table.