Last week, it was a "Very Special Episode." This week, it's a spin-off. (Or at least a backdoor pilot.) As Comedy Bang! Bang! winds down, it appears to be finding even more material to mine out of the traditional multi-camera sitcom. I've acknowledged on more than one occasion"Jesse Tyler Ferguson Wears A Brown Checked Shirt And Stripey Socks" for how it truly paved the way for these particular Comedy Bang! Bang! riffs, but it's also an episode that goes the obvious route in having Scott Aukerman play the default lead role. Episodes like "Allison Janney Wears A Chambray Western Shirt And Suede Fringe Boots" and now this week's "Malin Akerman Wears A Black Blouse And Cropped Jeans," on the other hand, don't quite go down the same beaten path. In the former, the decision to have "Weird Al" Yankovic play the role of the straight-laced, conservative Alex P. Keaton character is especially perfect given the direction in which the storyline progresses. Then, here in the latter, Haley Joel Osment's Slow Joey ends up being a no-brainer of a stand-in for a John Ritter/Tom Hanks type on a Love Boat-esque booze cruise.
"Malin Akerman Wears A Black Blouse And Cropped Jeans" is a very lofty episode of Comedy Bang! Bang!, one that continues the series' scary accurate technical proficiency when it comes to its framing devices. The episode is a deep dive into the '70s/'80s (and even a little '90s) wacky workplace sitcom world, whether that means leaning hard into the applause, woos, and laughs of the "studio audience" or even something as ridiculously specific as the dust-covering sheets that serve as proof of just how dire a business has been.
Truly channeling the magic of these traditional sitcoms, Takin' It Slow finds Slow Joey in the role of that era's prototypical straight man. In fact, the episode leans hard into the Tom Hanks thing, given the A-lister's initial fame in Bosom Buddies (and even some episodes of Family Ties)… which works even better considering Haley Joel Osment played Hanks' son in Forrest Gump. So now Osment ends up paying homage to his one-time movie father in an extended bit that both features an actor named "Thom Hanks" and his charater falling in love with a mermaid… er… merperson a la Splash.

But it's the opening credits that are in a league of their own with regards to this sitcom aesthetic:
Slow Joey Stalin as Your Bartender; Marjorie Maladouche as Mandy, Your Waitress (Laraine Newman); Thom Hanks as Brock, Your Captain (Bill Dwyer)
Also starring… Jerry Major-Minor as Denny (Tim Casto); Phil Dantrick as Freddy (Bryan Safi); Kelsey Zzyzx & Charley Parump as Ronnie and Ashleigh (Ronnie Adrian and Ashleigh Hairston); Sheraton W. Travelodge as Wilford (Regan Burns)
And special guest Chris Bogeynell as Poseidon (Chris Parnell)
Executive Producers: Darren Schlepping, Slowseph Josephson
Like they always say, it takes a lot to make a stew.
At the same time, this episode's greatest flaw comes from its desire to do, well, a lot. "Malin Akerman Wears A Black Blouse And Cropped Jeans" juggles so many tropes at the same time, causing the episode to feel very scattered. And while that messiness is mostly intentional, it doesn't translate quite as well as it expects to.
Malin Akerman: "Scott, are you sure this isn't going to distract from me being on your show?"
Scott Aukerman: "What? No. He's just a PA. I think. Who cares what he does, when we have Malin Akerman on the show?"
G/O Media may get a commission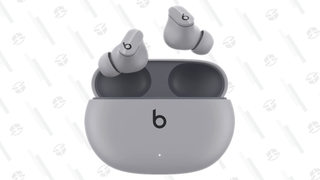 Part of that is honestly that the entire concept hijacks an episode featuring a celebrity guest who seems perfect for Comedy Bang! Bang!: After all, in a post-Childrens Hospital world, who wouldn't want to see Billions' Malin Akerman on Comedy Bang! Bang!? Obviously the fact that she's put on the backburner (she isn't, but she is) is the the joke. The episode prepares the audience for the lack of the "actual" Comedy Bang! Bang! celebrity interview segment by having Akerman take part in the cold open before her official introduction (which, again, doesn't actually happen because of the format of the episode). It also prepares everyone for the contrast between the "high brow" comedy of Comedy Bang! Bang! and the lowest common denominator that Takin' It Slow caters to, with the faux intellectual banter in said said cold open. Plus, "The Zeppo"-esque focus on Slow Joey and Takin' It Slow sitcom life, is a joke that's even built up in the episode synopsis:
"Malin Akerman visits the Comedy Bang! Bang! set and reveals all her deep dark secrets. Meanwhile, Slow Joey tries to juggle his new business venture with falling in love."
But unlike other episodes, this episode's quality truly relies on just the one thing (Takin' It Slow), which is quite the risky choice. And even with such a seemingly simple concept in terms of sitcom plots, tropes, and set-ups, so much is happening. Slow Joey's new business venture, the newlywed couple, the love interest of the week, the love interest of the week's disapproving father, the health inspector, and even the Scott/"Weird Al" road trip "crossover" aspect of it all—it hits all the beats of entire sitcom, with the exception of a "being two places at once" plot. Still, this episode attempts to do all of the plots, and while there's something impressive about that, there is such thing as too much.
It also begs the question: Is there such thing as too much Slow Joey? This episode leans toward the yes. And while that answer actually works for the show's point in a way—Takin' It Slow is basically the Joey to Comedy Bang! Bang!'s Friends—the show hits the anti-comedy button extremely hard to prove that point. The gimmick is so large in scope and successful in execution, to the point where it even pulls off the dud aspect way too way too well. Slow Joey is a fun character, but he's also one who works best as a surprise part of bits and punchlines. So while an entire episode dedicated to the character should feel like a fair enough send-off for the character—as he has been a welcome addition to the world of Comedy Bang! Bang!—it's an even bigger send-off than the show can really pull off. "Allison Janney Wears A Chambray Western Shirt And Suede Fringe Boots" worked so well at squeezing two episodes' worth of material into one episode; "Malin Akerman Wears A Black Blouse And Cropped Jeans" has much more trouble in its attempt to fit an entire spin-off premise and series into one episode.
Then again, it's not as though the episode isn't at least somewhat aware of this. As Scott says at the end of the episode: "Nobody needed this." He's right, even if "Takin' It Slow (Theme from Takin' It Slow)" is still stuck in my head.
Stray observations
Scott's Onscreen Credit: n/a, thanks to Slow Joey
At least Malin Akerman gets to say her classic line from the Watchmen movie (that no one actually says): "Who watches the Watchmen?"
I assumed Herman's Floating Bar was a Herman's Head connection of some sort, so given the Love Boat aspect of it all, this is what I found.
The boat next to Herman's Floating Bar is called the "Yaghta Yaghta."
"Takin' It Slow (Theme from Takin' It Slow)" by Alan Thicke. He's not credited for this episode, but is it safe to assume "Alan Thicke" is actually Paul F. Tompkins?
Tom Hanks is not the only Tom that's channeled in this episode, as Slow Joey has his own Cocktail moment—body double-included.
Mandy: "Oh what? You think just because I'm an older woman I shouldn't like sex?"
Slow Joey: "Yes." This episode really nails the the (too) sex positive older woman character.
Captain Brock: "Yes, we are a lovable gang of characters, Slow Joey. And I'm betting you'll fit right in."
Slow Joey: "Consider these virgin daiquiris to be like Hugh Laurie's hat. On the House."
One of the authors of The Human Body: From The Meat To The Feet is Conrad Murray.
So Takin' It Slow airs on The SW, "Fridays, after Dirty Little Weasels." Honestly, that's not really a great pairing. You've got to get Eight Simple Rules For Dating My Mermaid Daughter in there somewhere. He's "a single dad in the ocean." It writes itself, guys.
Given the '70s sitcom-inspired nature of this gimmick, the "Electric Slide" is a new dance. Of course, merpeople could also just be really behind when it comes to pop culture. Then again, "swinging" is apparently also a new concept.