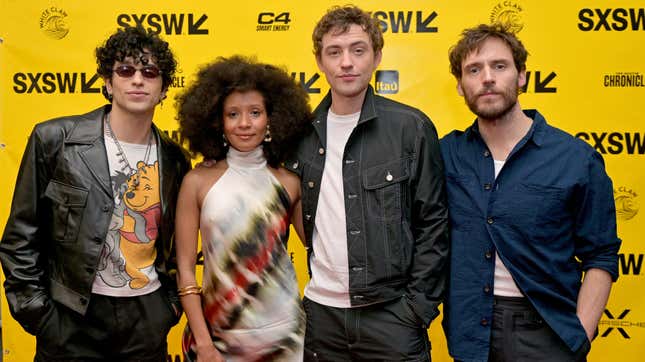 Daisy Jones And The Six has been delighting fans with its weekly episode drops on Prime Video, a slew of behind-the-scenes content all over social media, and a robust press tour. The one thing Daisy Jones And The Six has not done, still, is perform live for fans. One begins to suspect that the skills the cast reportedly honed over the pandemic have fallen by the wayside, yet the team continues to tease a potential tour for its faux-turned-real band.
"Well, our Amazon friends are here, so … let's start whatever the equivalent of a petition is," executive producer Lauren Neustadter told the crowd at the South by Southwest festival (per Vulture). "We'd love to tour because that would be so fun, but right now the first thing to do is watch all the episodes."
At this point, most of the core cast has rallied behind the idea of a tour, or at least a "comeback show," as star Riley Keough put it. SXSW would have been a perfect place to take the stage, actually, but the festival featured a performance of their songs by Grouplove instead. (In fairness, the band was missing some members at the Austin event.)
The lack of a live show is remarkable only in that the series has made so much of the fact that the series made such a point of promoting the cast's talents. Keough and Sam Claflin were both adamant about having no musical talent before being cast, and working diligently for a year to bring their singing and instrument-playing up to scratch. Folks involved with the show and the album have praised the cast's ability to sound like a "real band," with even Reese Witherspoon insisting to Entertainment Tonight that "They need to go on tour."
The promo tour, though, has only produced a handful of rough TikTok singalongs. But just when it seems like the whole "they're real musicians!" spiel is an elaborate hoax, Keough will share some enjoyable BTS content of the cast actually playing and singing together. So yes, they can do it, but they haven't done it, and probably won't do it unless this fantasy tour actually materializes, which seems fairly unlikely.
Real-real bands get to spend lots of time together keeping their sound sharp, and Daisy Jones And The Six simply doesn't have that luxury as a collection of actors who have other projects that might need their attention. Prime Video probably wouldn't want to invest in putting on a performance (let alone a full tour) for a series that comes to an end next week. And, not insignificantly, these songs are really hard for the band's lead singer and guitarist to perform.
"All of them, for me," Claflin admitted to The Hollywood Reporter when asked at SXSW which song was the most difficult. "I think it was probably 'Aurora,' because I think the timing… it's sort of off-beat, but then I'm sort of singing constantly as well, and it's very hard to keep your rhythm, it's very hard to keep the rhythm while singing at a different rhythm. It was a real head mess." And we expect this man to carry a full tour? No, we should probably just be grateful we got a fun, competent album out of it, and leave it at that.