Strange things are afoot on the set of DC Universe's latest series, Swamp Thing, which was shooting in North Carolina. The Wilmington Star-News was first to report that production was abruptly halted without warning earlier today, noting that the future of the DC Universe streaming service may be in doubt as parent company Warner Bros. re-evaluates things. Virginia Madsen, who stars in the James Wan-produced series, confirmed the sudden stop in production in a since-deleted Instagram post where she said she's "beyond sad" about the "terrible decision." The reasoning became slightly clearer in the hours since the initial report, as SYFY WIRE has learned that Swamp Thing has been reduced from 13 episodes to 10 in what's being cited as a "creative decision." Writers were reportedly planning on rewriting the ending after filming on the 10th episode concluded, but will now have to reshuffle some plot points to ensure that episode works as a proper season finale.

Intended as the third original series on the DCU streaming platform (after Titans and Doom Patrol), Swamp Thing also stars Andy Bean as protagonist Alec Holland and horror vet Derek Mears as his swampy counterpart, with Jennifer Beals, Henderson Wade, and Kevin Durand. Series directors include genre favorite E.L. Katz (Cheap Thrills) and Len Wiseman (Underworld), with Gary Dauberman (Annabelle) serving as writer and executive producer. As SYFY WIRE's Jacob Oller points out, WB's plans for the WarnerMedia streaming service likely have something to do with what's happening in the swamp:
Swamp Thing is still expected to premiere May 31 on DC Universe.
UPDATE (4:30 PM): /Film reports that, per sources, the DC universe's future is unrelated to Swamp Thing's issues, noting that it is "outpacing expectations." The Hollywood Reporter confirmed as much, saying that, though it is unclear how it will "fit into WarnerMedia's planned OTT service," its expansion will continue. See the below tweet.
G/O Media may get a commission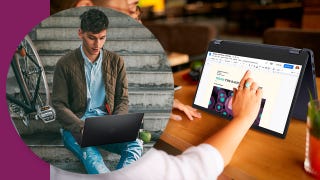 Ends August 15
Best Buy Anniversary Sale 2022
Ends August 15
Best Buy has a number of different promotions happening all for its Anniversary Sales Event. Laptops, tablets, TVs, you names it. Whether you're heading back to school or just trying to fill your home with some new tech, there is something here on sale that you've likely been waiting for.