From Season One, Episode One, we've known that Rita's presence in Dexter's life has been about keeping up the appearance of being a normal guy, which is a necessary cover for a serial killer to have. Much time has passed between then and now, but even tonight, he talks (via narration, of course) about the practical reasons for playing that role: "Family man, husband, and father—sounds so upstanding, harmless. Much better than lives alone, keeps to himself." Now that Rita is pregnant, it's only logical that Dexter goes that next step, "the role of a lifetime," by marrying her and becoming a father to her Cody, Astor, and baby-to-be-named-later. And in the hyper-rational part of Dexter's brain, that line of reasoning makes perfect sense.
But the heart is not a rational organ (except when it's pumping blood and keeping us alive, thank Jeebus), and someone as authentically human and needful as Rita isn't going to accept a proposal based on joint assets, insurance coverage, or even the promise of having Dexter around to help with the family. That's why Dexter's extremely awkward first proposal around the kids is such a catastrophe, because it's so the opposite of the bent-knee, earnest speechifying that women expect and deserve. In order to convince her to marry him—and he knows he needs to, if he wants to keep his cover going—Dexter has to give a more convincing performance.
Key word being "performance" here. Though "All In The Family" had some of the weakest material in any of the four episodes so far, Dexter's fresh understanding that he's an actor in a play was captivating to behold. And that he learns that lesson from a psychotic woman who bashed her would-be lover's head in and lied about it… well, that's the kind of sick stuff that makes the show great. Dexter has been training to be an actor since his adoptive father took him under his wing and taught him how to obscure and channel his decidedly anti-social impulses. So it only follows that he would be called upon finally to take the ultimate part. The question remains: Is it all just performance? Will there ever be a point when Dexter realizes that he's not really acting normal but has become normal?
G/O Media may get a commission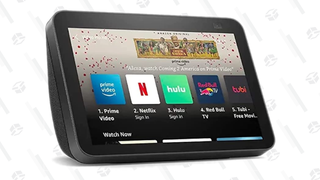 One big plus to this episode: It was good to see Dexter back at work again. He's spent so much of his time the last two seasons covering up his own messes that you forget why Miami Metro even has him in their employ. Tonight, he actually worked a case through legitimate blood spatter analysis and dramatically demonstrated that the killer in a gruesome breaking-and-entering scheme gone wrong was not a 6-foot-plus male but the grieving fiancée he left behind. If anything, Dexter is more surprised at the revelation than the detectives, and perversely enough, he's inspired by her, too, since she played the grieving widow part to perfection. How did she do it so well? Because she committed to the role and appeared to believe fully in what she was saying. Why? Because some of those feelings may be authentic. The writers have done a first-rate job wedding the A-plot with the B-plot here.
At other moments, "All In The Family" left me cold. Any episode with a heavy Maria presence is going to be a very flawed episode, and here she was, plugging away on the Chicky Hines case against the wishes of Jimmy Smits' Miguel Prado. While I'm certain the Hines/Miguel connection will find its way into the main plot eventually, waiting for that shoe to drop is looking to be very slow going. And though I have a certain affection for Angel, his frequenting of prostitutes doesn't seems like a particularly relevant or fruitful place for the show to go; other than revealing him as a lonely guy, it doesn't add much to the proceedings—even less if he starts some kind of relationship with the vice cop who stung him.
Also on the not-that-interesting front: The Deb and Quinn show. Quinn's hot-and-cold attitude, his tendency to have his own agenda (e.g. embarrassing on the good cop/bad cop routine), and Deb's evolving relationship with his C.I. are all signs that she may be heading over the Internal Affairs dark side. Quinn does get off a solid line on Deb, though: "You've got one tool in your toolbox and it's a hammer." It's a little sad, at this point, how often Deb's emotional, bull-in-a-china-shop approach to investigation (and life) has directed her down the wrong path.
That leaves Dexter's tentative friendship with Miguel, which actually seems to be edging towards something real and trusting. (Meaning, of course, that it's going to be a total sham with bloody repercussions.) Dexter does a fine job drawing the crazy out of Miguel's brother Ramón so he doesn't have his secret spread to a potentially unstable customer, but his problems aren't over yet. Ramón will have to be reckoned with at some point. Hopefully sooner rather than later.
Grade: B
Stray observations:
• Boy, they're having trouble giving Masuka something to do this season, aren't they? So much trouble, in fact, that his irrelevance has become a running joke the last two episodes, as he's tried futilely to drum up interest in his magazine article and conference lecture. He's still a funny guy, but I'd like to see more of the Masuka that Quinn complained about, "the foulest person he ever met."
• Quinn has the money for a fancy car. Where does a public servant like him get that kind of scratch? Hmmm…
• "Wherever I am, I feel you and the kids with me. You're what makes me real. I want us to always go out for banana splits and replant the lemon tree that keeps dying and never miss a pizza night. And that's why I want to marry you." I think Dexter had her at "my life has always felt like an unanswered question."