To most people in the world, names like Johnny Kapahala, Zenon Kar, and Andy "Brink" Brinker are totally meaningless. However, the lucky few who watched the Disney Channel in the late-'90s will recognize those people as the heroes of Johnny Tsunami, Zenon: Girl Of The 21st Century, and Brink!, three of the best entries in the Disney Channel Original Movies series. Since 1997, the network has aired 99 of these movies, including legitimately popular ones like High School Musical, awesome deeper cuts like The Even Stevens Movie, and even totally bizarre ones like The Thirteenth Year (which was about a teen boy who turns into a mer-man/giant puberty metaphor).
This summer, the Disney Channel will air its 100th original movie, a remake of Adventures In Babysitting, and the network has decided to celebrate this occasion with a four-day marathon of its 51 most popular original movies from the series' entire 19-year history. That means newer stuff like Teen Beach 2 and Lemonade Mouth will air alongside classics like Motocrossed and Zenon The Zequel, giving the many people who have somehow never even heard of Smart House a chance to catch up on all of the made-for-TV greatness that they've missed out on. Seriously, Smart House starred Katey Sagal as an evil house and it was incredible.
The marathon will go from May 27 to May 30, beginning with The Kim Possible Movie: So The Drama (which is just an undeniably great title), and the movies will air on the Disney Channel, the Disney Channel app, and video download services like iTunes, Amazon, and Google Play.
You can see the full schedule for the marathon below. (To save you some time: Smart House will air on May 30, and the equally great Brink! will air on May 29.)
Friday, May 27
10:00 a.m. – Kim Possible Movie: So The Drama
11:20 a.m. – Read It And Weep
12:55 p.m. – Wendy Wu: Homecoming Warrior
2:40 p.m. – Jump In!
4:15 p.m. – Lemonade Mouth
6:15 p.m. – Zapped
8:00 p.m. – High School Musical 2
9:55 p.m. – The Cheetah Girls 2
11:45 p.m. – Zenon The Zequel
1:25 a.m. – Halloweentown II: Kalabar's Revenge
2:55 a.m. – Twitches Too
4:25 a.m. – Alley Cats Strike!
Saturday, May 28
6:25 a.m. – You Wish!
8:05 a.m. – The Proud Family Movie
9:50 a.m. – Quints
11:25 a.m. – Horse Sense
1:10 p.m. – Cow Belles
2:50 p.m. – Twitches
4:30 p.m. – The Even Stevens Movie
6:15 p.m. – Wizards of Waverly Place: The Movie
8:00 p.m. – Camp Rock 2: The Final Jam
9:50 p.m. – Princess Protection Program
11:30 p.m. – The Cheetah Girls: One World
1:05 a.m. – Zenon: Z3
2:40 a.m. – Halloweentown High
4:20 a.m. – The Thirteenth Year
Sunday, May 29
6:00 a.m. – Right On Track
7:45 a.m. – Full-Court Miracle
9:35 a.m. – Eddie's Million Dollar Cook-Off
11:20 a.m. – Brink!
1:10 p.m. – Double Teamed
2:55 p.m. – Rip Girls
4:35 p.m. – Motocrossed
6:20 p.m. – Cloud 9
8:00 p.m. – Teen Beach 2
9:55 p.m. – Bad Hair Day
11:40 p.m. – How To Build A Better Boy
1:20 a.m. – Pixel Perfect
2:55 a.m. – The Other Me
4:30 a.m. – Genius
Monday, May 30
10:00 a.m. – Stuck In The Suburbs
11:30 a.m. – Halloweentown
1:05 p.m. – Zenon: Girl Of The 21st Century
2:55 p.m. – Smart House
4:25 p.m. – High School Musical
6:15 p.m. – Camp Rock
8:00 p.m. – Descendants
10:05 p.m. – Teen Beach Movie
11:55 p.m. – Cadet Kelly
1:50 a.m. – The Cheetah Girls
3:35 a.m. – Johnny Tsunami
G/O Media may get a commission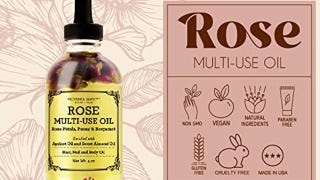 Provence Beauty Rose Multi-Use Oil