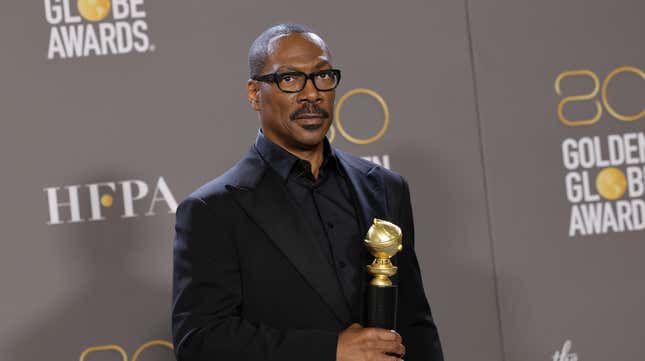 In what our brains can only conceptualize as "a potentially awkward entanglement at any future Bowfinger reunions," THR reports today that Eddie Murphy is apparently in talks to star in a new revival of the Pink Panther film franchise. The film—centered, as always, on the ever-bumbling Inspector Clouseau, originally played by Peter Sellers, and later by Steve Martin, in the long-running series of films—is being directed by Jeff Fowler, who recently served as director/CGI teeth wrangler on Paramount's Sonic The Hedgehog movies.
Arnold Schwarzenegger knows some of those "Terminator" sequels weren't very good
Not that this Pink Panther will be precisely like those other ones; as Fowler's presence suggests, producers have apparently decided to get very literal with the concept this time around, pairing up Clouseau with a CGI version of the franchise's mascot character for a sort of Who Framed Roger Rabbit? buddy cop thing that certainly sounds like something we'd make up to make fun of a movie like this, but which actually seems to be the real movie they're trying to make.
(Film/animation nerds will know that the cartoon Panther originated way back in the Friz Freling-animated opening credits of 1964's The Pink Panther, and despite having no connection to the film's actual plot, has proven so popular over the years that he still has an Oscar, and a side gig selling Owens Corning insulation, to his name.)
If he ends up taking the role, Murphy would finally be fully consummating a return to comedy that he's been flirting with for years at this point—most notably with starring appearances in Kenya Barris' You People and long-gestating sequel Coming 2 America in the last few years. But we haven't seen him throw himself into a full-on comedic buffoon character like Clouseau since, what: Meet Dave, in 2008? (Give or take an occasional voice role as Shrek's Donkey here or there.) We're reasonably sure Murphy could totally nail the part of the ever-confident, endlessly incompetent Clouseau; we're also not sure about how we feel about him sharing focus with an animated, ostentatiously colored cat.