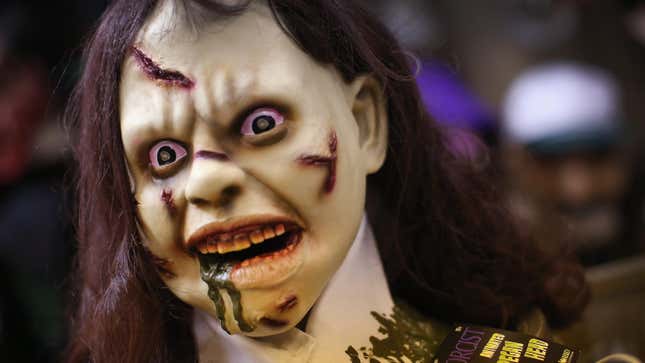 When Jason Blum told CinemaCon that David Gordon Green was doing to The Exorcist what he did for Halloween—to "extend and update it"—he wasn't kidding. The first film of a new Exorcist trilogy, The Exorcist: Believer, looks like a similarly loud and intense legacy sequel, complete with returning cast members and not one, but two possessed little girls.

How Jamie Lee Curtis found Laurie Strode's fighting spirit
While Blumhouse hasn't released a trailer publicly, the studio played it at CinemaCon, revealing the plot and tone of the film, which we're more than happy to relay to The A.V. Club faithful. The trailer follows two families whose daughters go missing. Found in the woods three days later, the girls have no memory of what happened. But, get this: They're both possessed.

Like Halloween, the trailer relies on some familiar features from the original, like a possessed girl approaching a group of people, this time a church, and doing some wacky Pazuzu stuff in front of God and the world. In this case, she's covered in blood and chanting, "The body and the blood!" Now that's what I call an Exorcist thing.

Ellen Burstyn is standing in for Jamie Lee Curtis, returning as Chris MacNeil, a survivor fighting their [Jamie Lee Curtis voice] trauma. And to connect with other families suffering from possessed daughter syndrome, MacNeil wrote a book and does YouTube videos about having a child that vomits pea soup in your face. Sorry, no Linda Blair in this one, but maybe there will be some shots of newspapers explaining what happened to her.
Fans of his Halloween trilogy will recognize Green's approach to horror reboots, while any detractors will likely experience Regan-like symptoms of their own. The only question left is, who will play Corey in film three?

The power of Christ compels you to go see The Exorcist: Believer this October.