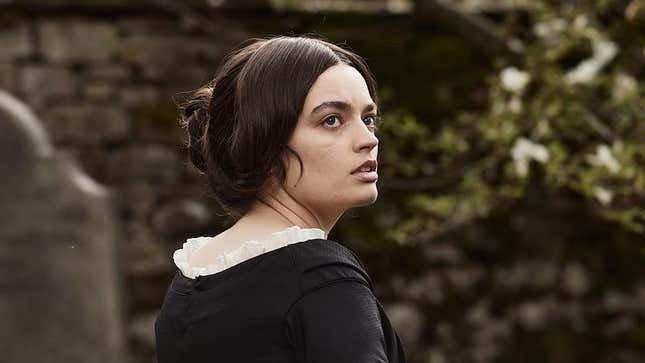 We don't know for sure where Emily Brontë found the inspiration for her characters in Wuthering Heights, but the film Emily imagines the author herself as the starting point for Cathy, the heroine of the seminal novel. Actor Frances O'Connor, in her feature writing and directing debut, has made, not exactly a biopic, but rather a film not unlike those adapted from a Young Adult novel. O'Connor's revisionist film is a clever drama, full of passion and tragedy.
Here's how "Cocaine Bear," "The Quiet Girl," and more of this week's new releases stack up
Wuthering Heights was written by Brontë when she was between the ages of 25 to 28, and it was published just one year before her untimely death at age 30. Her only novel, it feels much like the imaginary passions of a young girl anticipating romantic love and fulfillment in a society where romance and fulfillment are not allowed for young women. O'Connor leans into these ready and recognizable narrative tropes and makes them the theme of her original screenplay, in which the few known facts about the shy and elusive Brontë sister are in play—and so is everything else.
The members of the Brontë family we meet in Emily behave as they do in earlier films about the noted family, including 1946's excellent Devotion with Ida Lupino as Emily. In that film, the sisters compete for the affection of the dashing Reverend Arthur Nicholls, played by Casablanca's Paul Henreid. In O'Connor's movie, the sisters fixate on the Reverend William Weightman, played with understated charm by the handsome Oliver Jackson-Cohen (2020's The Invisible Man). But, in Emily, there is never really any competition for the reverend because he's smitten by the strange girl with dark hair, played with a commanding range of twitches and phobias by Emma Mackey.
G/O Media may get a commission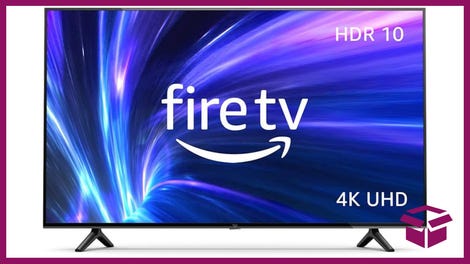 42% Off
Amazon Fire TV 50" 4K Smart TV
Here, as in history, Emily's sister Charlotte (Alexandra Dowling) is a teacher on the cusp of publishing Jane Eyre while working to secure a similar position for Emily, even though she doesn't want it. There's a deep and abiding love between Charlotte and Emily, but there is also judgment and acrimony, and Dowling musters that range with ease. Her Charlotte wants Emily to move beyond the game-playing and the childish demeanor and, for Emily's sake, be more like her. Charlotte, the eldest of the surviving children, remembers most the loss of the two elder Brontë sisters (Maria and Elizabeth) and their mother, also called Maria. She knows best how fleeting life is and how one must be self-sufficient, which is also a YA trope. Anne (Amelia Gething, making the most of an underwritten part), the youngest of the talented and doomed Brontë sisters, attempts to mediate but only occasionally succeeds.
O​'Connor's Emily overcomes her quirks, engages her desire, and fulfills her passions—and then some. In O'Connor's film, Emily's needs look and feel much like Cathy's desires and passions in Wuthering Heights. Indeed, O'Connor's film looks and sounds like some of the more notable adaptions of the book. Nanu Segal's landscape photography of distant, lush rolling hills and fog settling on the moors invokes director William Wyler's 1939 take on
Wuthering Heights that features the work of legendary Citizen Kane cinematographer Gregg Toland. Yet when passions rise, Emily looks and feels more like Andrea Arnold's 2001 adaptation of Wuthering Heights. That film features folky ballads as a score, while the music for Emily, by Abel Korzeniowski, is sweeping, deeply moving, and fully orchestral.
Emma Mackey and Oliver Jackson-Cohen have excellent chemistry, as did Merle Oberon and Laurence Olivier in the Wyler film. The characters in O'Connor's Emily are not Heathcliff and Cathy, though Jackson-Cohen is a good stand-in for Heathcliff opposite Mackey's good stand-in for Cathy. In Jackson-Cohen's riff on Heathcliff, the character is perhaps less of an ass. Heathcliff is insufferable in the book and all the movies—another notable diversion. And Mackey's Emily is a young woman who lives the life she writes about, daringly, perhaps knowing time is short.
(Emily opens in theaters on February 17th.)