"Now I gotta give it up for the blood goatee."

"I'm not an actress, I'm a [four-timers club] star!"
Seriously, though, Emma Stone is the sort of wonderful comic actress that, in a slightly different career trajectory, would be a Saturday Night Live all-star cast member. She pops, has the chops, and, frankly, is stellar at bulling her way through some so-so material and emerging unscathed. Such was Stone's fate in this, her fourth hosting gig, the sort of mildly amusing showcase of Stone and actual SNL cast members intermittently rising above the lukewarm water that might as well be called The B-Minus Comedy Hour.
Stone shone, to the degree that the writing allowed, in nine out her nine sketches (including two filmed pieces). He monologue was the sort of earnestly adorable self-own that only someone really comfy in Studio 8H gets, incorrectly assuming that everyone is planning a big "Four Timers Club" to-do, and willingly falling for Kate and Kenan's hastily improvised, suspiciously Bob Marley-esque tribute song. And Aidy's MedicAlert bracelet, and exclaiming delightedly, "You got Kyle!?" when the cast's blindfolded parade of surprise celebrity impressions goes south. (Melissa Villaseñor's Owen Wilson went over fine, but Kyle Mooney makes a poor last-second Oprah.) And while Stone's a live TV natural by this point in her SNL hosting career, her in-studio roles (dumb blonde, drunk blonde, schlumpy shopper, Jenny McCarthy, faux-Italian wine merchant) weren't as interesting as her two fine filmed spots.

Matching Melissa in the self-effacing good sport department, "Hobby Song" saw Stone and the winsomely underused Villaseñor turning their awkward backstage banter into a low-key winning rap battle about their secret eccentric pastimes. Musically, the sketch isn't as full as some of the show's more memorable music videos of the past few years, but Stone and Villaseñor make a winning team, with Melissa's full-on nerdiness ("Oh yeah, you gotta smell books!"), eventually easing the dismissively normal Stone into revealing her lifelong model hobby town, Emmaville.
But best of the night was the late-slotted "The Actress," where Stone's beleaguered thespian stubbornly perseveres, even as her bold new direction of playing the cheated-upon wife in gay porn is summed up by Beck Bennett's dismissive director as the stuff that guys will fast-forward through to get off. Shot with a light, deft touch, the piece gives Stone a chance to show off, in the best possible way, playing it straight, true, and improbably affecting, while her Method preparations are waved off in favor of getting to the husband-on-godson action. There's a real person in Stone's actress' voice-over complaints about being shunted into "one dimensional women with vacant lives" that makes her farcically irrelevant character (she's directed to grab some wardrobe from the "woman bin") something like noble, even if there's lube just everywhere. The sense memory montage with which she psyches herself up for her big (one-line) scene is a little masterpiece of straight-faced comic business, with the actress' backstory gamely incorporating the sparse props from the bin, and culminating with a tearful monologue that's all the more impressive for how completely unsuitable it is for the moment.
---
Best/Worst Sketch Of The Night
If there's a B-minus sketch template, it's another royal family number, with Mikey Day's pleasantly bland Prince Harry ushering a video camera through a baby shower full of pleasantly unmemorable half-impressions. The joke that the prince tries to keep always-on guest James Corden away from the camera ("He's been at a 10 since he's been here.") is cute, as is how not-suited Aidy is to do a James Corden impression. Kate McKinnon, as ever, plays a chuckle-worthy dotty Queen, but Kenan's American guest (Charlie, a friend of Megan's mom) is the only character with a spark of a life going on. Stone, playing a resentfully sozzled ex-flame of Harry's gives it her all, too, but if there's anything less immediately relevant and interesting than a goofy royal family sketch, well, there isn't.
Speaking of, SNL has been parodying The View since Cheri Oteri was doing Barbara Walters, and while the latest incarnation provides plenty of gossip-worthy friction, SNL's take on the latest Megan McCain-Joy Behar on-air snippiness doesn't add much to the legacy. Leslie Jones makes for a decently gravelly Whoopi, and Cecily Strong is solid as ever, here expressing former Fox News nonentity Abby Huntsman's shocked joy at getting asked to speak first for once. And McKinnon's Behar squared off with Aidy's McCain with the expected comic beats after McCain attempts to tell Behar her place in the show's pecking order. I did like Aidy's take on the show's priggishly entitled token conservative McCain, flushing in high dudgeon as "the princess of Arizona," and nonsensically defending herself against charges of racism because she has a gay makeup artist. Stone does some celebrity down-punching as former View host and dangerously misinformed anti-vaxxer mouthpiece Jenny McCarthy, but there's nothing that surprising about outing McCarthy as a child-endangering nutjob. If there's anything beyond mockery of The View's formula of "five best friends with nothing in common" it's probably McCain's foot-stamping, wet-eyed conservative victim schtick, but, apart from Aidy's commitment here, the sketch settles for rehashing internet buzz.
I saw my colleague (and renowned wrestling expert) LaToya Ferguson on Twitter bemoaning the lack of comedy follow-up from Colin Jost and Michael Che's unlikely in-ring appearance at Sunday's WrestleMania on tonight's show, especially since the return of Pete Davidson's talking posters bit had Beck Bennett as a gruff-voiced, gung-ho pro wrestler in it. She's got a point (they don't even mention it on Update), but the framing device for these sketches really isn't strong or clever enough to work, even as Kenan and Ego Nwodim (as fictional superheroes Black Puma and Jaguara) make a fine, sensible super team-up attempting to get Davidson's slacker college student through his history homework. It's not much of anything otherwise, especially since it hinges on a dumb blonde/even dumber redhead joke, with Stone's pinups (two of Maxim's "50 hottest girls from rural areas") being, well, dumb in a baby voice. That's the joke. Twice.
SNL's technical shortcomings marred more than one segment tonight, with the "Ladies Room" sketch suffering from a thin, muddled sound mix that left the sound of Stone, Leslie Jones, and Cecily Strong's 90s B&B band Orgasmyxx's dance steps as loud as the music. It sucked the life out of the musical portion of a musical sketch, only rescued a bit by Kenan's turn as the flabbergasted employee who bursts in to inform the band and their entourage (including Beck Bennett's electric chair-dancing inexplicable weirdo) that they're actually singing (and urinating) in the converted dressing room of a Limited Express. As fun as it is to see people at SNL getting ultra-specific in their parodies of apparently formative childhood music video faves, the execution here was very flat until Kenan showed up to rescue things once more with some old fashioned comic professionalism. (Devoted fans of Klymaxx's "Meeting In The Ladies Room" will probably want to bump this one up a grade or so.)
After "The Actress," I liked the clothing commercial filmed piece best. Fashion Coward caters exclusively to women whose self image is so battered by childhood mortification that all they really want are "clothes that suggest the general idea of a person." The clothing description "pants for legs" is a masterful little touch, followed by "ideal juror," and "stranger to self." And that the clothes automatically crumble to dust if debated over in the dressing room for too long encapsulates the why-bother clothes shopping experience expertly. (Same goes for the "mercy gas" that just goes ahead and puts the indecisive out of their misery for a while.)
G/O Media may get a commission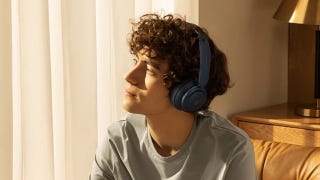 30% off
Soundcore Headphones and Earbuds
---
Weekend Update update
For the second week in a row, SNL appears like it's thrown in the towel as far as political comedy goes. More on that below, but, in a world where Saturday Night Live is an active target of a sitting president engaged in a self-obsessed war with the media, the choice smacks either of cowardice or market-driven lane-change, neither of which shows SNL in a particularly relevant light. Jost and Che breezed past the Trump material with record speed—it's not like anything happened this week, right?—with the only decent shot being Jost's "hang him with his own words" display of Donald Trump claiming not to know anything about Wikileaks (in the wake of Trump booster Julian Assange's arrest), followed by a montage of Trump gushing about how much he fucking loves Wikileaks. It's an inescapable joke, I guess, one in the mounting number of times when a simple, Ted Lieu-esque use of a tape recorder serves to refute the Orwellian 2+2=5 gaslighting tactics of modern American conservatives everywhere, but, hey, SNL didn't escape it, so good on 'em, I guess.
Otherwise, the jokes were fine. Che did take on Trump's latest(?) petty racist cruelty about spitefully sending asylum seekers to so-called "sanctuary cities" as some sort of punishment by pointing out that there's one huge building in New York that nobody wants to live in with plenty of space to spare. (Cue picture of Trump Tower.) And I appreciated the economy of his Kardashian joke about the attainability of daughter Kim's law school dreams by stating, of Kardashian's husband, "It only took Kanye three years to go to space." (Cue picture of Kanye West in a Trump hat.)
The correspondent pieces were both repeaters, one a bit more welcome than the other. I'm a sucker for Aidy's seventh grade travel expert, Carrie Krum, a well-observed regular kid whose travel tips solely center on her family's homely vacation spots. This week's spring break hot spots: Boise (where her grammy and step-grandfather, a.k.a Peepo, have the best cul-de-sac roller skating), and the "ice cold water that stinks" of Lake Erie. Carrie's a sunny, indefatigable Stefon, Aidy's pitch-perfect adolescent playing carrying the thing along on a sea of wide-eyed wonder and shy giggles. The way she bashfully teases Che with the next mundane secret she's got up her pink windbreaker's sleeve is pretty irresistible.
Heidi Gardner owns Update at this point, and if her reappearance as one half of Instagram influencers Nico and Brie (a.k.a. Once Upon A Snuggle) isn't exactly top of the list for most desired recurring bits, she and bickering boyfriend Mikey Day's toxic co-dependence at least gives Gardner the chance to show her stuff. And it's good stuff—above all else, Gardner's a great, strikingly present sketch actress, able to to imbue a character with life in the brief time necessary. Like most Update correspondents, it's a one-joke premise, but Gardner squeezes every drop of juice out of it. (Her passive-aggressive Brie shouting out "Our planet is flat!" over the exit applause is just the right touch of self-obsessed lunacy to tip the character over into near-genius characterization.)
---
"What do you call that act?" "The Californians!"—Recurring sketch report
Talking posters, teen travel guides, and internet couple celebs.
---
"It was my understanding there would be no math"—Political comedy report
Alec Baldwin took another week off, which is fine with me. (Mediocre impression plus watery satire equals disposable comedy.) Still, seeing as how SNL has long touted its own brand of hit-and-miss but generally lucrative political comedy over the years, the fact that, for the second episode running, the show has shied away from politics is either baffling, or disappointing. Likely both. You know, since the number one target of the show's comedy is an eminently mock-able would-be authoritarian reality show huckster-bigot (and former SNL host) who has made it weekly policy to call for [checks notes] a governmental investigation of a late-night comedy show making fun of him. If Saturday Night Live were bursting with sterling comedy ideas that had nothing to do with Donald Trump, politics, or anything resembling satire, it'd still seem like something of a dereliction of comedy duty to not take advantage of that particularly hot spotlight. The fact that the show chose to open with a "political sketch" that opens with an MSNBC voice-over proclaiming that "the Mueller report turned out to be "a big fat zero" (it hasn't, remotely) suggests a white flag of satirical surrender. (It would also bolster SNL's case if its resulting comedy output emerged higher than a B-minus level again this week.)
Still, the jailhouse reality show sketch cold open just ran through some non-Trump news of the day, showing college admissions bribery scammer Lori Loughlin, celebrity lawyer and apparent shady-as-fuck human Michael Avenatti, and recently busted Wikileaks feces-smearer, selective leaker, and accused rapist Julian Assange all sharing a holding cell. There are a few jokes scattered in there. McKinnon's Loughlin intimidates her cellmates with the craziness of her paying a half-million to get her Instagram influencer communications major kid into USC, of all places. (And the crazy-eyed boast, "I've done 68 Hallmark movies. I've seen hell!") And hey, there's Stone's Birdman co-star Michael Keaton popping up to delayed recognition applause as the heavily bearded Assange. (Breaking out a Batman quote for good measure.) Passably amusing and utterly forgettable stuff that almost makes me wish Baldwin deigned to don the wig and grease paint this week. Almost.
---
I am hip to the musics of today
Well, no, not really. Especially with regard to K-Pop superstars BTS, making their American live TV debut to the rapturous squeals of some appreciative in-studio fans. (Stone uses their response to the band's name as a mic check in her monologue.) Luckily, I've got great nieces, one of whom is right in the 14-year-old girl BTS demographic sweet spot, who told me, with helpful solicitousness, not to, under any circumstances, refer to the Korean pop sensations as a boy band. I'll work around it.
The meticulously choreographed, performatively moody, expertly groomed (one of the seven member's shirts was always carefully half-untucked), um, young male singing group went through their massively popular, laser-targeted paces just fine. Actually, I would up admiring the showmanship, no matter how regimented the whole enterprise was—manufactured exuberance can produce a dopey sugar high when done well. And if the band managed to fit their outsized, seven-person dance moves into the notoriously cramped 8H band space, they get some added degree of difficulty scores for how abysmally their two performances were directed for TV. Sure, it's no doubt tough to call shots on seven gyrating Korean pop stars, but when the prevailing visual choice is to lop off 2-4 BTS members at all times, it's tough to get a sense of the spectacle. Still, when's the last time a non-English-speaking band appeared singing in their native language on SNL? Cool.
Most/Least Valuable Not Ready For Prime Time Player
Dodgy James Corden aside, I've gotta give the nod to Aidy Bryant this week. And Ego Nwodim continues to edge her way into the show, exhibiting a nicely understated, charismatic acting presence in the (still small) roles she's given. Same goes for Villaseñor, who's finally emerging into her own a bit.
Everybody got a turn tonight, but let's add Chris Redd into the mix some more, hey?
"What the hell is that thing?"—The Ten-To-Oneland Report
If it were my call (which it most certainly and emphatically is not), I'd have swapped the final sketch with next-to-last "The Actress" for maximum ten-to-one originality purposes. Still, there were some decent laughs in the terrible winery sketch, as Cecily and Kenan played a reality show couple whose ultra-alcoholic new vino is made from the twigs, corn, and moldy grapes traditionally left out of the finer wine-making practices of the world. As in any final sketch, it's the escalating odd touches that make the joke, as the couple (stars of the cancelled The Nastiest Summer Renters In Sag Harbor) lists all the ways in which the merest sips of their toxic grape slop will kick the party into high gear before anybody gets too sick. (Side effects may include, "What am I being chased in this wig?")
---
Stray observations
In the goodnights, Stone plugged Omaze.com/girlpower. It's for some good causes and looks like a laugh, so here's a link.
One more technical gaffe—the jarring shot of Pete Davidson in his grinning Avenatti getup, mistakenly inserted too early in the cold open.
Loughlin says that, in half of her Hallmark movies, her character "marries Santa's son."
Carrie Krum, apologizing for her uncontrolled giggle-fit: "Sorry, Emma Stone gave me a bunch o' corndogs."
We're off until May 4, when Adam Sandler makes his first appearance back in 8H as host, alongside musical guest Shawn Mendes.