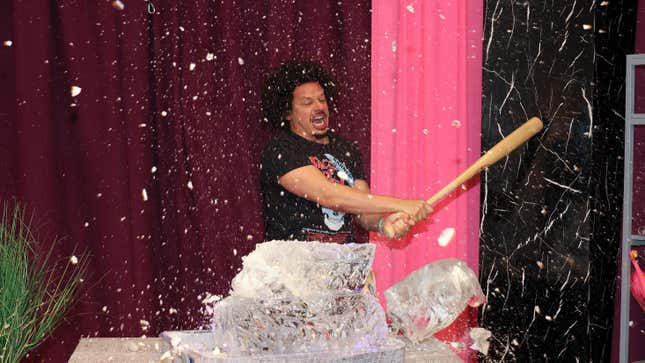 Eric André's weirdo Adult Swim talk show The Eric Andre Show returns for a sixth season tonight, almost three years after the end of season five. The decision to bring the show back was a bit of a surprise, since it had been André's decision to end the show and it seemed like he was ready to move on and do different things, but in a new story from the Associated Press, André admits that one of the reasons he went back to Adult Swim is that one of those different things didn't really work out the way he had hoped it would.
Specifically, André says he "didn't make any money" on his 2020 prank movie/road trip comedy Bad Trip, which at least contributed to his decision to go back to The Eric Andre Show. He also noted that it didn't make sense to "permanently close the door" on a project that gave him "full creative freedom," so there's a chance he could keep doing The Eric Andre Show for even longer if the mood strikes him.
Bad Trip was initially supposed to come out in theaters in March of 2020, but that's when nothing ended up coming out in theaters (remember the wild times of early quar?). Its release was delayed, even after a long and rocky development process before that, and eventually Netflix came through and picked up the rights to release the film on streaming. As André has talked about before, he didn't even up really making any money on the release, but the movie was the top thing on Netflix for a while and he apparently got opportunities to make other things because of the film's streaming success. So it seems like he's doing okay.