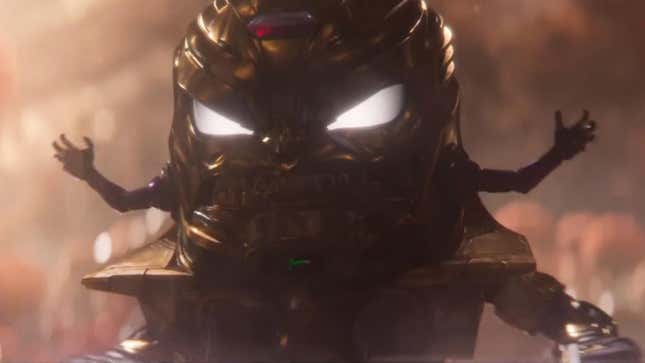 In the upcoming Ant-Man And The Wasp: Quantumania, Jonathan Majors' Kang is presumably going to be set up as the Thanos-level threat that'll pay off in Avengers: The Kang Dynasty and Avengers: Secret Wars which will eventually bring to a close Phase Six of the MCU. But he's not the only antagonist in play in the Ant-Man threequel. A cult favorite from the comic books is also set to make his MCU debut: MODOK.
While the trailers for Ant-Man And The Wasp: Quantumania have provided precious little information, MODOK (Corey Stoll) appears to be an ally of Kang, which only means more trouble for Scott Lang (Paul Rudd), Hope van Dyne (Evangeline Lily), Cassie Lang (Kathryn Newton), Hank Pym (Michael Douglas), and Janet van Dyne (Michelle Pfeiffer) as they attempt to make it out of the Quantum Realm. MODOK's connection to Kang and the extent of his powers are unknown until we all rush to the multiplex later this week. So, what's the history behind one of Marvel's more visually, um, interesting villains? And how can he eat with those tiny, little arms? Well, except for the last part, here's all you need to know about MODOK going into Ant-Man And The Wasp: Quantumania.
First appearance: Created by Stan Lee and Jack Kirby, MODOK made his first full appearance in Tales of Suspense #94 (1967), following a cameo appearance in #93.
Origins: Before he became a giant floating head with tiny limbs in a mechanized chair, the cyborg known as MODOK (Mental Organism Designed Only for Killing), was an ordinary technician named George Tarleton. Employed by AIM (Advanced Idea Mechanics), to study their newly created Cosmic Cube, Tarleton didn't know the organization wasn't just dedicated to the advancement of science; it also doubled as a terrorist organization. The matching yellow beekeeper outfits should've clued him in, but hey, hindsight is 20/20.
Tarleton soon discovered AIM's true nature when, at the behest of the organization's leader, the Scientist Supreme, Tarleton was experimented on against his will. Injecting Tarleton with mutagens, AIM hoped to create a living computer, called MODOC (Mental Organism Designed Only for Computing), to study the reality altering capabilities of the Cosmic Cube. AIM clearly loves acronyms. Free will? Not so much. Needless to say, Tarleton didn't take the transformation well. Who would've guessed that being turned into a giant head would do little to improve a person's disposition? So Tarleton turned against his creators, killing them and taking control of AIM and renaming himself MODOK.
MODOK has been primarily utilized as a Captain America villain, but has made the rounds of the Marvel Universe, plotting against the Hulk, Iron Man, Captain Marvel, the Fantastic Four, and Deadpool. His most dastardly deeds include exposing Betty Ross to gamma radiation, transforming her into the Harpy, developing the bio-weapon Virus X, and transforming Dr. Kate Waynesboro into Ms. MODOK, which is just as disturbing as it sounds.
Powers: MODOK has the largest brain on the planet, and it essentially works like a computer, able to store near endless amounts of information, and recall any event within his lived experience. The experiments on his body also granted him the powers of telepathy, mind control, and force field generation. His biological powers are accentuated by AIM technology that allows him to fire energy beams from a band across his forehead. And his Doomsday Chair, which grants him mobility since his limbs cannot support his oversized head, has its own defensive capabilities including lasers, projectiles, and rocket boosters that allow him to hover, and fly at limited speeds given his size.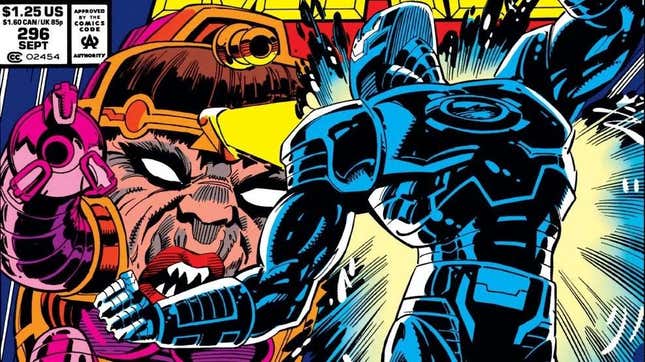 Recommended reading: Iron Man #296, Tales of Suspense #93–94, Captain America #132-133, The Incredible Hulk #167-168, #287-290, Ms. Marvel (2006) #15-17, Hulk #36-38, M.O.D.O.K.: Head Games #1-4
Prior significant appearances outside the comic books: Patton Oswalt voiced the character in the short-lived stop-motion animated series M.O.D.O.K. (2021) on Hulu, which was a comedic take on the character. MODOK is also the central antagonist of the 2020 video game, The Avengers, where he was voiced by Usman Ally. In this iteration he's the founder of AIM who pursues the elimination of super-powered individuals after exposure to the Terrigen crystal turns him into an Inhuman.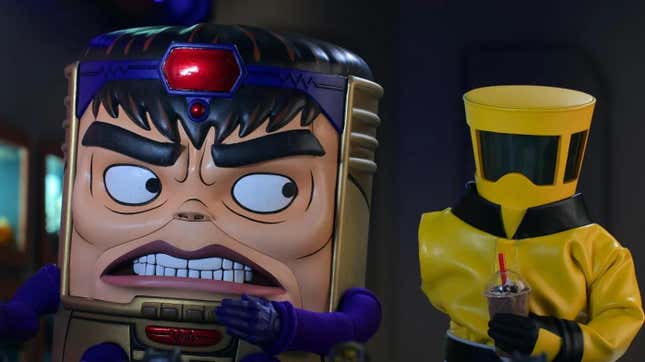 Where he fits in the MCU: Fans have long requested that MODOK appear in the MCU. It almost happened several times before. For Captain America: The Winter Soldier co-writer Christopher Markus pitched Peter Dinklage as MODOK, but the idea never came to pass, although Dinklage later appeared in the MCU as the blacksmith, Eitri, in Avengers: Infinity War. MODOK was also set to appear in the ABC television series, Marvel's Agents of S.H.I.E.L.D. in 2017. This take on the character would've seen the leader of the Watchdogs, Anton Ivanov (Zach McGowan), transformed into MODOK, but the plan was canceled when Marvel Studios decided the character would be better served on film.

Now, six years later, MODOK makes his MCU debut in Ant-Man And The Wasp: Quantumania. In a significant departure from the comic books, the MCU's MODOK isn't Tarleton but Darren Cross/Yellowjacket (Corey Stoll), the CEO of Cross Industries who sought to replicate the Pym Particle and sell it the highest bidder, which included HYDRA, SHIELD, and the Ten Rings. Cross built a shrinking suit of his own, which malfunctioned and appeared to have killed him during the climax of Ant-Man. His return in Quantumania suggests that he was shrunk down to a subatomic level and entered the Quantum Realm. Whether his new appearance is a result of him trying regain his former size, with disastrous results, or he's a variant version of the character, pulled from the multiverse by Kang, remains to be seen. What's interesting about the decision to use Cross as MODOK in Quantumania is that it allows for the possibility that Tarleton is still out there somewhere in the MCU. AIM was already introduced in Iron Man 3, as a think tank overseen by Aldrich Killian. With Killian deceased, AIM is in need of a new head honcho and Tarleton's head could be the perfect fit. We'll just have to wait and see what the future has in store for MODOK.