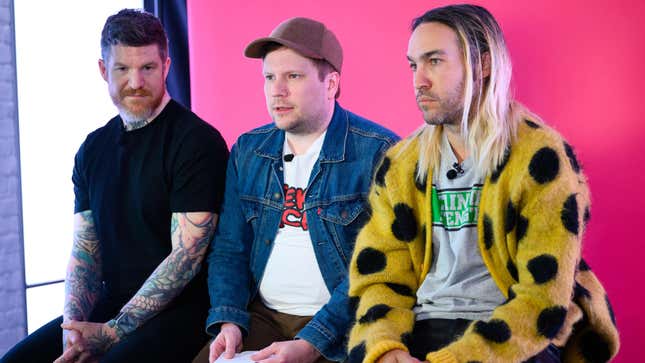 Artificial intelligence-generated art is all the rage right now, in the sense that it is both quite popular on the Internet and prompting some artists into actual rage. Can AI art actually be as good as art created by real humans? Does it have merit as its own subgenre? Will that art replace the work of real artists, or stand in for those artists when they've stopped making art? These questions are perhaps beyond the scope of this humble newswire, but let us turn to one of those actual, human artists for their opinion.
The 3 best moments from that huge Grammys Hip-Hop tribute
Fall Out Boy's Patrick Stump has encountered ChatGPT lyrics meant to mimic his own songs, and his reaction was, "Those are the worst lyrics I've ever read," he tells U.K. outlet The Independent. "I think it's very much in the realm of possibility that AI starts writing songs, that the songs start being good, whatever. The thing I wonder, in that Dr. Malcolm [from Jurassic Park] way—'You ask what you could do, you never ask if you should' —is why? Art is about expression so if you're consuming art that has no expression behind it, what's the point?"
"I understand it from a capitalistic perspective," he goes on. "I'm saying as a consumer, as somebody experiencing art." He points to the example of Chris Ofili's 1996 painting The Holy Virgin Mary, "which incorporated one of the Virgin Mary's breasts rendered in elephant dung," per The Independent.
"There was this big controversy in New York about it but the artist was from somewhere in Africa [British artist Ofili is of Nigerian descent] where that specific material meant something specific," Stump explains. "It didn't mean the same thing to us that it meant to him. So, the context was all of the art. If an AI did that, there's no story behind it. You have no connection with the AI." The singer muses, "I probably won't get to score movies for very long because they'll have technology that does that, but at the end of the day I would hope there's still art that people are making because that's the point. That's the stuff we shouldn't be automating."
Stump is not the only musician to take a stand against AI songwriting. In January, Nick Cave was also confronted by an AI "version" of a song in his style, and his response was that "this song is bullshit, a grotesque mockery of what it is to be human, and, well, I don't much like it." More recently, Cave told The New Yorker that his issue wasn't with artificial intelligence itself. "It is more a kind of sad, disappointed feeling that there are smart people out there that actually think the artistic act is so mundane that it can be replicated by a machine. I find that insulting," he explains.
Creative impulses, Cave argues, "can't be replicated by a machine." Like Stump, he concedes that AI might someday make a "better" song than a human, but it still won't be art. "Ultimately, it has no limitations, so therefore can't inhabit the true transcendent artistic experience. It has nothing to transcend!" he says. "It feels like such a mockery of what it is to be human. A.I. may very well save the world, but it can't save our souls. That's what true art is for. That's the difference. So, I don't know, in my humble opinion ChatGPT should just fuck off and leave songwriting alone."