At this point, CBS is literally just toying with the other networks, like a bored cat, waiting to decide if it will eat ABC or NBC first to fatten up in order for its fight to the death with Fox. The network's audience is getting younger, sure, but it's also perfectly content to program stuff that does much, much better with the older set than their kids and grandkids because the network knows it's much easier to program to those who don't know where the remote is. (We're kidding, we think.) CBS will once again win the ratings crown for total viewers, though it has yet to catch up to Fox in the demo (despite impressive gains). When the network's promos say "America is watching CBS," what they mean is, "Most of America is, and we'll get the rest of you sooner or later." Resistance is futile.
Despite all that, though, the network had a fairly soft 2011-12 season, a softness that was disguised by the fact that it saw Big Bang Theory ascend to mega-hit status, while 2 Broke Girls debuted and took the world by storm. The network's comedies—and we haven't even mentioned How I Met Your Mother or Two And A Half Men—did so well that they disguised the fact that a lot of the network's dramas are getting a little soft around the edges. The first C.S.I. was forcibly retired last week, when CSI: Miami went away for good, and only one of the network's new drama pilots from last fall (Person Of Interest) will be returning. Again, the strength of the network's comedies covers up a lot of sins, but the network is so thoroughly identified with crime procedurals at this point that the struggle to launch a new massive hit in the genre must be irksome.
So CBS got all CBS on the problem, coming up with new spins on the basic mystery-solving/law-enforcement format that sound just different enough to be enticing, at least for a pilot or two. And then it spent gobs of money to get people like Dennis Quaid to star in them. Despite all the fun we make of the network here, there's a certain grudging respect underlying it, simply because this is the only TV network that still seems to be run like an old-fashioned TV network, rather than a singing competition flanked by some cult hits that maybe you'll want to watch sometime on Netflix maybe? CBS strides around like it owns the place, because it does.
Oh, and it moved Two And A Half Men to Thursdays just because it could. The assholes.
Here's the schedule. New shows are in bold. Night-by-night analysis follows afterward.
G/O Media may get a commission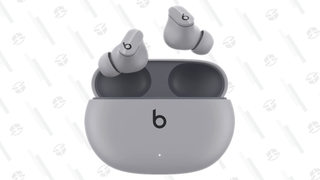 Mondays:
8 p.m.: How I Met Your Mother
8:30 p.m.: Partners
9 p.m.: 2 Broke Girls
9:30 p.m.: Mike & Molly
10 p.m.: Hawaii Five-0
Tuesdays:
8 p.m.: NCIS
9 p.m.: NCIS: Los Angeles
10 p.m.: Vegas
Wednesdays:
8 p.m.: Survivor
9 p.m.: Criminal Minds
10 p.m.: C.S.I.
Thursdays:
8 p.m.: The Big Bang Theory
8:30 p.m.: Two And A Half Men
9 p.m.: Person Of Interest
10 p.m.: Elementary
Fridays:
8 p.m.: C.S.I.: NY
9 p.m.: Made In Jersey
10 p.m.: Blue Bloods
Saturdays:
8 p.m.: Crimetime Saturday
10 p.m.: 48 Hours Mystery
Sundays:
7 p.m.: 60 Minutes
8 p.m.: The Amazing Race
9 p.m.: The Good Wife
10 p.m.: The Mentalist
Not currently scheduled: Friend Me, Golden Boy, The Job
Let's go night-by-night and tremble at CBS' holy majesty.
Mondays:
The big theory heading into upfronts was that CBS would split up its massively successful comedy night to give Big Bang Theory a little support over on Thursdays, possibly by opening up the 9 p.m. hour on that night by moving 2 Broke Girls there. That didn't happen. CBS is betting that the giant gains for comedy this past season aren't going to continue to such a degree that it needs to open up another comedy bloc, so it's the only network out of the big four to not open up space to more comedies. Maybe the network's development in the area was weak, or maybe it's just risk-averse until it knows a move is going to work (more likely the latter). Anyway, the network is protecting the Monday-night bloc, though it's moved the longtime centerpiece because 2 Broke Girls is a show ascendant, and there's nothing anyone can do to stop it.
The big question mark here is going to be if this is the last season for How I Met Your Mother, as all involved will see their contracts expire at the end of this upcoming season. The show's massive ratings gains this season suggest CBS might try to keep it running another year (or two) past season eight, but it sure seems like the show's creative team would like to end it before it gets too tired. That's a story to watch in the months to come, but for now, the show leads into the one new comedy CBS is putting on in the fall, the "He's gay, and he's straight, but they're business partners, and isn't that amazing" series Partners. 2 Broke Girls takes over the 9 p.m. slot, where it should only grow, and Mike & Molly and Hawaii Five-0 close out the night, as they have since 2010.
Tuesdays:
NCIS is still TV's most-watched drama (though not the top-rated among the demo), even after 200 episodes. While there was speculation that CBS might split it and NCIS: Los Angeles up, perhaps by moving the latter into the 10 p.m. hour (the one timeslot on the network's schedule that seems almost cursed), it instead doubled down on quirky crime-solvers with the heavily-buzzed Vegas, in which Dennis Quaid plays legendary Las Vegas rodeo-cowboy-turned-sheriff Ralph Lamb. Michael Chiklis, among others, also stars, and there's a good chance this is the rare CBS show to score both with viewers and critics.
Wednesdays:
Here's one place where CBS' caution could hurt it. It's not that this night—which is identical to the night CBS launched last fall—does poorly, but it's certainly a night full of old shows on the decline. Yet the network seems hesitant to do much about it, boxed in as it is by singers on Fox and TV's most popular non-CBS comedy bloc on ABC. Sticking with older shows that do just well enough to stick around is a fine strategy for now, but don't be surprised if the network starts trying new things here at some point during the season.
Thursdays:
The other problematic timeslot on the network has been the post-Big Bang Theory slot, and CBS has decided to give that to Two And A Half Men, which should at least stem the bleeding. It's not exactly a long-term solution—at best, Two And A Half Men should only have two seasons left in it—but it is a way to establish CBS as a place for comedy on Thursdays beyond just Big Bang. That could lead into the rumored expansion of the night in the 2013-14 season, or it could just lead to the network shoring up a troubled timeslot. Two And A Half Men, for its part, gets to stem some pretty significant audience bleeding by leeching off of TV's most-watched comedy. It should be a win-win for Chuck Lorre, in any case.
At 9, the sci-fi procedural Person Of Interest stays put to see if it can continue its minor ratings momentum, and then at 10, the network's other big drama pilot, Elementary, gets its chance. This is another that's been heavily buzzed, even at the casting stage, and if it sounds a little like Sherlock, well, Sherlock has been a massive ratings success for PBS (though not at all on the level of success CBS is used to). You're welcome for the Sherlock notification.
Fridays:
CBS has also had some trouble with the 8 p.m. hour on this night in recent seasons, so it's moving CSI: NY there to see if it can fix the timeslot's problems. Blue Bloods is a modest hit at 10 p.m. and exactly the kind of show that does well on Fridays, while the network's going to try a new legal drama, Made In Jersey, between the two. It's not a very exciting night, which is exactly why it will almost certainly dominate everything else, unless audiences ignore everything but Blue Bloods (which could absolutely happen).
Saturdays:
Don't you think 48 Hours Mystery would be a lot more interesting if the network rehired Dan Rather and made him walk around carrying a magnifying glass, looking for clues, and then every time there was a clue, offscreen voices of children would shout, "A clue, a clue!" and Rather would trundle over to it, all officiously, before saying, "It looks like there's a clue!"? Because we would set a DVR season pass for that.
Sundays:
The big news here is that Good Wife is staying put, and Mentalist is taking the old CSI: Miami slot. There was some talk about Good Wife—which was really hurt by football overruns and the huge competition for quality dramas on the night—moving to another night, but CBS doesn't move shit unless it knows it will crush everything in its path. So look forward to another fall of people grousing about how football has made them miss the antics of Alicia Florrick and the gang. The rest of the night is stable, as well, thanks to 60 Minutes (in that timeslot since the '70s; that's so CBS!) and Amazing Race. Race is showing some signs of wear and tear, but not so much that it will be canceled any time soon, barring a spectacular collapse. It's just another solid night for America's most solid network.
Network press release copy for the new shows follows. Check back later today for trailers.
Fall comedy:
Partners: Partners is a comedy based on the lives of creators David Kohan and Max Mutchnick, about two life-long best friends and business partners whose bromance is tested when one of them is engaged to be married. Joe (David Krumholtz) is an accomplished architect who leads with his head and not his heart, especially in his love life. That's in stark contrast to his gay co-worker, Louis (Michael Urie), who is spontaneous, emotional, and prone to exaggeration. Both have found joy in their love lives: Joe is newly engaged to Ali (Sophia Bush), a beautiful and sophisticated jewelry designer, while Louis is dating Wyatt (Brandon Routh), a vegan nurse who Louis insists is just a promotion away from becoming a doctor. As news of Joe's engagement settles, time will tell if their business and personal bond can adapt to the addition of two other important relationships. Emmy Award winners David Kohan and Max Mutchnick are executive producers for Warner Bros. Television. Emmy Award winner James Burrows directed the pilot.
Fall dramas:
Elementary: Elementary stars Jonny Lee Miller as detective Sherlock Holmes and Lucy Liu as Dr. Joan Watson in a modern-day drama about a crime-solving duo that cracks the NYPD's most impossible cases. Following his fall from grace in London and a stint in rehab, eccentric Sherlock escapes to Manhattan where his wealthy father forces him to live with his worst nightmare, a sober companion, Dr. Watson. A successful surgeon until she lost a patient and her license three years ago, Watson views her current job as another opportunity to help people, as well as paying a penance. However, the restless Sherlock is nothing like her previous clients. He informs her that none of her expertise as an addiction specialist applies to him, and he's devised his own post-rehab regimen, resuming his work as a police consultant in New York City. Watson has no choice but to accompany her irascible new charge on his jobs. But Sherlock finds her medical background helpful, and Watson realizes she has a knack for playing investigator. Sherlock's police contact, Capt. Tobias "Toby" Gregson (Aidan Quinn), knows from previous experience working with Scotland Yard that Sherlock is brilliant at closing cases, and welcomes him as part of the team. With the mischievous Sherlock Holmes now running free in New York solving crimes, it's simple deduction that he's going to need someone to keep him grounded, and it's elementary that it's a job for Watson. Rob Doherty, Sarah Timberman, Carl Beverly, and Michael Cuesta, who directed the pilot, are executive producers for CBS Television Studios.
Made In Jersey: Made In Jersey is a drama about a young working-class woman who uses her street smarts to compete among her pedigreed Manhattan colleagues at a prestigious New York law firm. Martina Garretti (Janet Montgomery) finds her firm's cutthroat landscape challenging, but what she lacks in an Ivy League education she more than makes up for with tenacity and blue-collar insight. After just a few weeks, firm founder Donovan Stark (Kyle MacLachlan), takes note of Martina's ingenuity and resourcefulness, as does her sassy secretary Cyndi Vega (Toni Trucks). With the support of her big, Italian family, including her sexy older sister Bonnie (Erin Cummings), Martina is able to stay true to her roots as a bold, passionate lawyer on the rise in a new intimidating environment. Jamie Tarses, Kevin Falls, Julia Franz, and Mark Waters, who also directed the pilot, are the executive producers for Sony Pictures Television in association with CBS Television Studios. Pilot was written by creator and co-executive producer Dana Calvo.
Vegas: Dennis Quaid and Michael Chiklis star in Vegas, a drama inspired by the true story of former Las Vegas Sheriff Ralph Lamb, a fourth-generation rancher tasked with bringing order to Las Vegas in the 1960s, a gambling and entertainment mecca emerging from the tumbleweeds. Ralph Lamb (Quaid) wants to be left in peace to run his ranch, but Las Vegas is now swelling with outsiders and corruption, which are intruding on his simple life. Recalling Lamb's command as a military police officer during World War II, the Mayor appeals to his sense of duty to look into the murder of a casino worker, and so begins Lamb's clash with Vincent Savino (Chiklis), a ruthless Chicago gangster who plans to make Vegas his own. Assisting Lamb in keeping law and order are his two deputies: his diplomatic, even-keeled brother Jack (Jason O'Mara) and his charming but impulsive son, Dixon (Taylor Handley). Ambitious Assistant District Attorney Katherine O'Connell (Carrie-Anne Moss), who grew up on the ranch next to the Lambs, also lends a hand in preserving justice. In Vegas, two powerful men—Lamb and Savino—are engaged in a fierce battle for control of the budding oasis, and for both of them, folding is not an option. Nicholas Pileggi, Greg Walker, Cathy Konrad, Arthur Sarkissian, and James Mangold, who also directed the pilot, are the executive producers for CBS Television Studios.
Midseason comedy:
Friend Me: Friend Me is a comedy about two 20-something best friends who just moved from Indiana to Los Angeles to start cool new jobs, but can't agree on how to socially engage in their new city. Rob (Nicholas Braun) is eager to embrace the L.A. scene and meet new people who aren't looking down at their smart phones or laptops. Evan (Christopher Mintz-Plasse), however, prefers to socialize online at home in his underwear, web-chatting and playing poker with his Hoosier buddies Mike (Parveesh Cheena), Sully (Tim Robinson), and Farhad (Dan Ahdoot) just a keystroke away. Meanwhile, Rob's had enough of iChatting, and naively posts a flyer seeking new friends on the coffee house bulletin board, despite Evan's warning that no good can come from meeting strangers in person. Soon the calls start rolling in, some with potential, some just disturbing, and Rob and a reluctant Evan embark on what will be a series of the most epic adventures—and disasters—of their lives. Alan Kirschenbaum and Ajay Sahgal, Eric and Kim Tannenbaum, are executive producers for CBS Television Studios, in association with The Tannenbaum Company. The pilot was directed by Pamela Fryman.
Midseason drama:
Golden Boy: Golden Boy is a drama about the meteoric rise of an ambitious cop who becomes the youngest police commissioner in the history of New York City, and the high personal and professional cost he pays to achieve it. As he's interviewed for a story about his career, Walter William Clark, Jr. (Theo James) flashes back on his hard-fought journey from street kid to the most powerful man in law enforcement. After only three years as a beat cop, Clark's heroics on the job make him bold enough to ask for and receive the unheard-of promotion to Homicide Detective, angering the members of his new department who are eager to see him fail. Clark's disappointed to be partnered with veteran Detective Don Owen (Chi McBride), a gruff lifer just two years shy of retirement. He would rather team with First Grade Detective Christian Arroyo (Kevin Alejandro), the alpha dog in the squad who's just as ambitious as Clark, but without a moral center. Arroyo's partner is Detective Deborah McKenzie (Bonnie Somerville), a tough third-generation cop and the only female detective in the unit. Also on the team is Detective Joe Diaco (Holt McCallany), well-connected with tremendous resources, which Clark might find useful. Though laser-focused on moving up the ladder, Clark's soft spot is serving as the sole caregiver and supporter of his sister, Agnes (Stella Maeve), a teenager demonstrating increasingly dangerous behavior. Keenly observant and politically savvy, the Golden Boy bases his career decisions solely on his need to succeed as quickly as possible, and he'll find that his epic journey will be filled with consequences. Greg Berlanti, Emmy Award winner Nicholas Wootton, and Richard Shepard, who directed the pilot, are executive producers for Warner Bros. Television.
Midseason reality:
The Job: From reality show masters Michael Davies (Who Wants To Be A Millionaire, Watch What Happens Live) and Mark Burnett (Survivor, The Voice) comes a new reality series, The Job, where every week, talented candidates are chosen from across the country for a chance to win their dream job at one of America's most prestigious companies. Host Lisa Ling guides participants through several rounds of the most intense interviews of their lives, including challenges ranging from an on-the-spot quiz to assess their knowledge of the company to deadline-driven tasks while spending a day on the job. But the candidates aren't the only ones in the hot seat. Adding to the pressure, a rival company is also present and waiting for an opportunity to swoop in and steal any of the contenders by making a competing offer. The participant must then decide immediately whether they will take the rival's offer or stay in the competition in the hope that they are the last one standing for this once-in-a-lifetime job opportunity. Produced by Sony Pictures Television and Embassy Row.