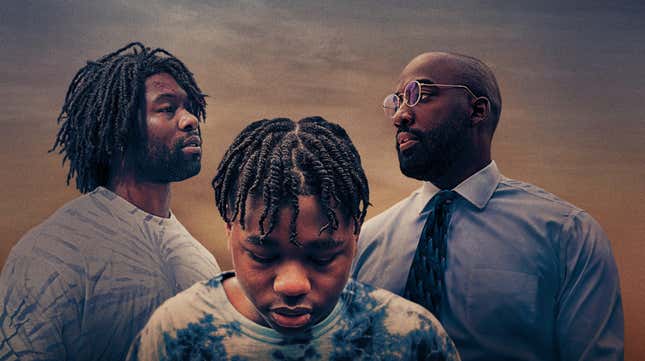 Hulu released the first trailer for its upcoming family drama Bruiser today, showcasing Miles Warren's first feature film, about a young man named Darious (Jalyn Hall), whose life becomes far more complicated after he learns that a "charismatic drifter" (Trevante Rhodes) is actually (from what we can presume from the trailer) his birth father. This sets off a series of conflicts with the father who's been raising him (Shamier Anderson), whose "strict but loving" relationship with his son is thrown into contrast with the more easy-going Rhodes. Shinelle Azoroh also stars, as Darious' mother.
From what we can see from the trailer, Bruiser looks to be a tense, affecting slice of life, as Darious is pulled between the two fathers suddenly sharing time in his world. Anderson (who'll also spend part of this year in John Wick: Chapter Four) cuts the more striking profile as the button-down Malcolm, although Rhodes (whose post-Moonlight credits include Bird Box and last year's Mike Tyson series Mike) has an easy screen presence that makes it simple to understand how he could work his way back into his son's life.
Bruiser shares a name with Warren's own 2021 short film, which was nominated for the Grand Jury Prize for Narrative Short film at SXSW. It's not clear yet how much of its plot the film will share with the short—about a young Black man (Noble B. Whitted) who watches his father get into a brutal fight with another man that causes him to question his own relationship with masculinity—but the themes of the violence that fathers pass, often unconsciously, on to their sons is clearly evident in both. Bruiser is currently scheduled for a February 24 release on Hulu in the United States, and on Disney+ in most other territories.