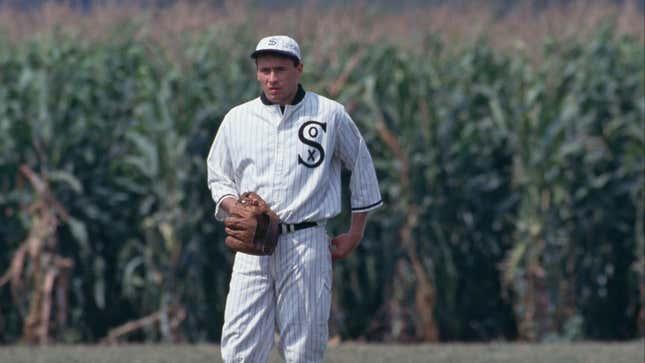 Regardless of how many series Max-neé-HBO scrubs from its service, the bursting of the streaming bubble has already left some tangible wreckage in its wake. And what makes better evidence of the entire model's eyes-too-big-for-pockets ethos than a full baseball stadium intended to house a prestige limited series, abandoned and empty in a midwest state?
In a new report from Vulture (which really warrants a full read) on streaming's profound reformulation of the television industry, The Good Place creator Michael Schur discusses Peacock's late-game cancelation of his planned Field Of Dreams reboot, which he recalls happening pretty swiftly.
"They just changed their mind," Schur says. "They didn't want to spend the money anymore." As Schur explains, the whiplash of that decision had more than a few lasting consequences: "We built a baseball stadium in a cornfield in Iowa that's still sitting there as we speak."
Schur's limited series, based on the 1989 baseball classic starring Kevin Costner, was abruptly canceled last year after receiving a straight-to-series order in August 2021. When the series was shut down, it was reportedly deep into a pre-production that didn't exactly come cheap: the reboot relocated after Major League Baseball had already recreated a field on location.
The Field Of Dreams reboot is far from the only series to fall victim to budget cuts and layoffs across the industry, an ugly cycle that became characterized by the cancellation—or outright removal—of countless series. Vulture's report also highlights Nasim Pedrad's Chad, which was canceled hours before its season 2 premiere, and J.J. Abrams' Demimonde, which was axed after four years of development and cost around $200 million.
"The Demimonde thing shook everybody up," an unnamed showrunner shared with Vulture. "If HBO can say 'no' to J. J. Abrams, they could say 'no' to anybody." (Except for, apparently, Sam Levinson.)