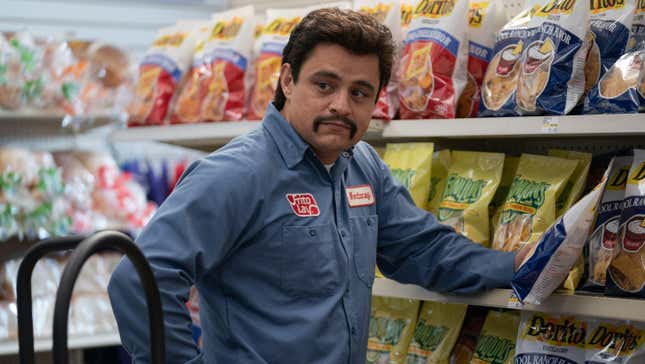 Flamin' Hot is about—you guessed it—the hugely popular Cheetos snacks that currently comes in a range of flavors, including Flamin' Hot Limón, Flamin' Hot Asteroids, and Flamin' Hot Chipotle Ranch, which are all nestled within the Frito-Lay/PepsiCo corporate multiverse. But Flamin' Hot is not exactly an IP cash grab like The Lego Movie, Battleship, Dungeons & Dragons: Honor Among Thieves and, possibly, Barbie. The basis of Flamin' Hot is Richard Montañez's A Boy, A Burrito And A Cookie: From Janitor To Executive, a too-good-to-be-true, rags-to-riches tale that has been refuted by Frito-Lay and some of the company's former employees, per a 2021 Los Angeles Times report.
Brian Baumgartner on chili, "The Office," and more
The film adaptation holds the viewer's interest because Richard, played by Jesse Garcia, is the unlikeliest of heroes. In the 1970s, before he becomes a custodian at Frito-Lay's Rancho Cucamonga plant in Southern California, he peddles drugs and steals. In the early '80s, he wises up and seeks a job when his wife, Judy (Annie Gonzalez), becomes pregnant. Without a GED and barely literate, he takes the Frito-Lay job application home for her to fill out. A gang connection helps him land an interview, which he promptly blows by getting caught in a lie when he misgenders the principal of San Bernardino High School while pretending to be an alumnus.
Despite the faux pas, supervisor Lonny (Matt Walsh) takes him on as a custodian. Richard's profuse enthusiasm and eagerness to learn soon prompt his colleagues to pull him aside and caution him on the necessity of knowing his place. The seating protocols in the cafeteria make the cliquish divisions abundantly clear. Still, he ignores his coworkers' admonition and befriends the jaded engineer, Clarence (Dennis Haysbert). Amid a series of layoffs and shift cuts, PepsiCo Chief Executive Roger Enrico (Tony Shalhoub) hosts a motivational video imploring plant employees to think like a CEO. Richard takes this message to heart, embarking on a quest to come up with the storied snack, then bypassing all the gatekeepers so he can pitch the idea to Enrico.
Garcia delivers a standout turn as Richard. It helps that he's not yet a household name, so he isn't carrying the baggage of any external frames of reference. His earnest and engrossing performance absolutely carries Flamin' Hot. But since the movie heavily relies on extradiegetic narration, Garcia's voiceover could use more bravado to match the admittedly embellished history.
Eva Longoria makes an assured big-screen directorial debut. Her seriousness toward the craft is evident in the opening scene, in which she toys with different film speeds as the camera whizzes through a bustling kitchen. Even more impressive is a single-take time lapse sequence set in the factory, with time stamps appearing on the passing machinery, boxes, crates, forklifts, and dumpsters like a meticulously choreographed musical number. Indeed, the finished product feels more like the effort of a film school wunderkind than some vanity project of an actress turned filmmaker.
The screenplay, by Lewis Colick and Linda Yvette Chávez, incorporates a generous serving of Spanglish that imbues the film with a sense of authenticity. The production designers and hair-and-makeup department seem to have had fun recreating the period-specific looks and aesthetics that facilitate the characters' evolutions. Federico Cantini's cinematography is another standout, especially the shots of a golden-hued 1960s California vineyard.
Cynics may dismiss the movie as a piece of corporate propaganda. In a sense, it does promote the ethos of Frito-Lay and PepsiCo. But it's also a testament to diversity, equity, and inclusion. After Richard impresses Enrico, various gatekeepers in the organization are upset about his breach of the chain of command. But those gatekeepers would have simply dismissed the janitor and his stroke of genius instead of taking his idea into consideration. Indeed, this Mexican American cog in the wheel may just reveal the blind spot of the suits who sit comfortably in the C-suite. The real moral of this story has to do with the dissonance of a rigidly hierarchical workplace. As Flamin' Hot proves, only in an environment where every worker has a voice does everyone truly win.
---
Flamin' Hot premieres on Hulu and Disney Plus on June 9