He has been in two of the biggest rock bands of all time, but it's clear that Dave Grohl remains an unjaded, over-the-top rock fan (witness his recent appearance in the pit at a Metallica show). Only somebody who grew up under the protective umbrella of album-oriented rock FM radio could pull off an inspired cover to Gerry Rafferty's "Baker Street" or jam with Paul McCartney and Rick Springfield with equal aplomb. (McCartney even makes an appearance on this new album.) Live, it seems like Grohl and the rest of Foo Fighters would rather pound listeners with their version of the Stones' "Miss You"—culminating in a goes-on-for-slightly-too-long jam—than to try to win them over on the new stuff. It's a tactic that has won the band more accolades for incendiary live shows than recent recorded output. But on their ninth album, Concrete And Gold, Foo Fighters go all in on that classic rock love, resulting in a batch of songs that uses the past to give the band new life.
That's not obvious from first single "Run," in which Grohl incorporates the start-quietly-then-get-really-loud dynamic he loves so well. Conceivably, "Run" could be a "Walk" sequel, but it shows the band in a similar rut, even as the Grohl-directed video depicts the track as a rage against going gentle into that good night. In his third decade of rock stardom, that's likely a sentiment near and dear to Grohl's heart. But he offers much more perspective on it in the album's second single, "The Sky Is A Neighborhood" (his direction in the video is better, too), a song that's no less fierce even with its slower, plodding backbeat. "Sky" openly pays homage to all the rock greats gone too soon ("a star burned out") while Grohl faces the inevitability of his own mortality ("Oh, my dear, heaven is a big bang now / Gotta get to sleep somehow"). The Foos' best track in years, it feels all the more powerful due to that striking sincerity.
Other cuts on the record see the band mining gold from the outfits of their collective youth: A hooky, T. Rex-worthy riff livens the hard rocks of "Make It Right." The beginning of "Dirty Water," with its softened vocals and Spanish-laced guitar line, recalls Steely Dan. These cuts explore new territory so well that it's too bad Foo Fighters refrain from committing to them: Steely Dan wouldn't rock out at the end, but Grohl and Co. somehow get there anyway. It makes sense—it must be more fun to rage after all the restraint—but the lyric "I'm a natural disaster" works better in hushed tones than in the surge that ends the song.
Playing like the polar opposite of "The Sky Is A Neighborhood," "Happy Ever After (Zero Hour)" sticks with its sweet, string-based melody. Grohl cautions, "There ain't no superheroes now / They're underground," but the melody somehow makes the message sound comforting. With Paul McCartney on drums, Taylor Hawkins takes lead vocals on "Sunday Rain"—which has more in common with John Lennon's solo stuff—and his higher-yet-powerful voice offers a dynamic departure for the band.
Other tracks see the Foos returning to more familiar territory. "La Dee Da" rants against the trappings of our horrific political climate, aided by stratosphere-escaping guitar. (The album suffers from no shortage of effects pedals.) People who complain about the Foos' more recent albums sounding generic will find ammunition for their argument on "The Line," a wannabe romantic epic that instead flails about repetitively, never catching. The imagery depicting the conflicted soul of "Arrows" doesn't quite work ("She had arrows in her eyes / Tears in her arteries"), but piercing guitar lifts the cry of "Fire away!"
Everything settles on the album-ending title track. The best song Pink Floyd never wrote, "Concrete And Gold" is an uncomfortably numb orchestral composition that has the strength to maintain its slow, multilayered march to the end of the record (where listeners will be rewarded by audio of someone yelling, "Fuck you, Darrell!"—presumably Grohl yelling at engineer Darrell Thorp).
G/O Media may get a commission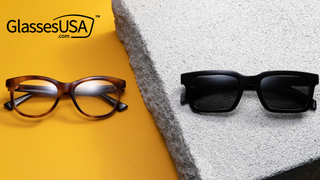 60% off frames
GlassesUSA.com Back to School Sales
During Concrete And Gold's one-minute opener, "T-Shirt," Grohl says he just wants to sing some love songs ("you can sing along"), before a quick, multi-harmonied chorus kicks in. It's a simple premise—most of rock is based on it. On Concrete And Gold, Grohl and the Foos rework rock history into an album that pays homage to, and uses their love for, the late greats to reinvigorate the band. It's an album for rock fans and rock stars: The Foo Fighters rank among the best of both.
---
Purchasing Concrete And Gold via Amazon helps support The A.V. Club.