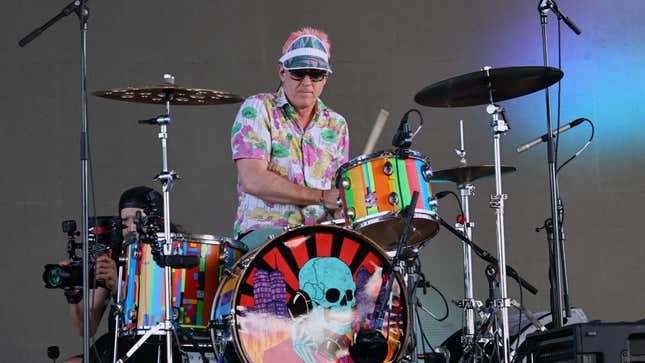 Just over a year after Foo Fighters drummer Taylor Hawkins died at 50, the band has announced who will pick up where he left off: Josh Freese, a veteran session musician who had most recently toured with the Offspring.
Anthony Hopkins has figured out what we all knew about Marvel movies
The band announced the change via a livestream on their website entitled "Foo Fighters: Preparing Music For Concerts." The stream featured an eight-song set from the band, including a few new tracks from their upcoming eleventh studio album But Here We Are, due out June 2.
In the clip, the group prepares to perform in their studio as a series of storied rock drummers enter the scene as red herrings. Red Hot Chili Peppers' Chad Smith bursts through the door only to announce that he's blocked in in the parking lot; Motley Crue's Tommy Lee drops off takeout; Tool's Danny Carey arrives with two poodles accompanying him. Finally, the camera cuts to Freese, who has been patiently waiting in the wings. "Excuse me!" he shouts. "Could we just, like… play a song?"
Notably, Freese also handled the drum kit at the two memorial concerts Foo Fighters held for Hawkins in September 2022, where musicians like Paul McCartney, Queen, and Mark Ronson paid tribute to the drummer. Foo Fighters first announced that the band would continue forward after the loss of Hawkins three months later. "Without Taylor, we never would have become the band that we were – and without Taylor, we know that we're going to be a different band going forward," the group shared in an Instagram post at the time.
Freese's addition to the band arrives just as Foo Fighters prepare to embark on their first tour since losing Hawkins. Freese will play his first show with Foo Fighters on May 24, when the band kicks off a world tour running through late 2023 at New Hampshire's Bank of NH Pavilion.