Every day, Watch This offers staff recommendations inspired by a new movie coming out that week. This week: With March Madness in full swing, and a Criterion Blu-ray upgrade of Hoop Dreams dropping in a week, we highlight some of the best movies about basketball.
Love & Basketball (2000)
Love & Basketball is a nearly perfect modern romantic drama, and even more remarkable given it's the first feature film by writer-director Gina Prince-Bythewood. It's a self-assured and straightforward debut by a young filmmaker who's since gone on to make a number of distinct (and distinctly enjoyable) movies about family, love, and romance.
The love story here isn't just between Monica (Sanaa Lathan) and her childhood friend Quincy (Omar Epps), nor does it strictly concern their mutual love of basketball. Just below the admittedly steamy romance that builds between them as adults is the subtext of Monica coming into her own. Lathan is an excellent athlete, or at least is convincingly so to the layperson, but more importantly she captures the body language of a young woman who's told that the way she is in the world—lanky, muscular, not particularly feminine—is unacceptable. Even her own mother, the happy homemaker Camille (Alfre Woodard), is disappointed in her daughter's interests and attitude, which includes a temper that's often penalized on court in a way male b-ball players never are.
Prince-Bythewood's love of the game and respect for her heroine is reflected in every frame. There is nothing not beautiful about Lathan, and that's obvious even before the inevitable makeover scene, which is less about making Monica look pretty than it is about her "performing" femininity and adulthood. (She doesn't know what to do with her arms and legs, she pulls at her dress, and she forgets to sit like she's not on a courtside bench.) It's rare to see a complex female character who is desirable and physically capable without being flattened into a blockbuster babe. There's a time and a place for those run-and-gun pleasures, but Prince-Bythewood's gaze is tender and celebratory. It's about being seeing and being seen.
The lustful gaze is reserved for Epps, who in one particularly memorable scene is outmaneuvered in a game of strip basketball. Although the focus of the camera is on Monica's shocked but delighted face, the side of his nude body is just inside the frame, grazing his back and one butt cheek. He's a playboy, but you never quite believe it. He is the only one who truly sees Monica, and in return, she sees him as more than just the son of a rich NBA star.
G/O Media may get a commission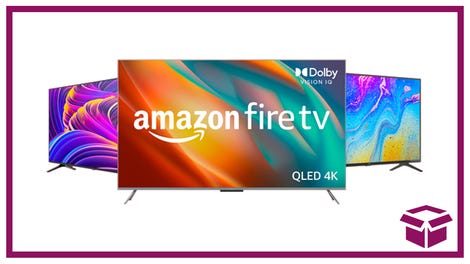 Ooh. stunning.
New Amazon Fire TVs
Prince-Bythewood told NPR during an interview for her equally great Beyond The Lights, "For me it's just about putting people of color in every genre and making it become normal." It's a crappy reminder of how frustrating Hollywood is that it's taken her so long to make another movie strictly on her terms, for an inclusive audience that doesn't skimp on stories by and about people of color, especially love stories.
Also, the soundtrack is fantastic. If you can watch the prom scene slow dance set to Roger Troutman's "I Want To Be Your Man" and not tear up, you're a stronger person than most.
Availability: Love & Basketball is available on Blu-ray and DVD from Netflix or possibly your local video store/library. It can also be purchased through the major digital services.