Out of necessity, last season's Bachelor finale rejiggered the formula a bit, trading the happily-ever-afters for a heartrending event built around "the first uncut, unedited scene in reality TV history." That scene? Bachelor Arie Luyendyk, Jr. breaking up with winner Becca Kufrin so he could get back with runner-up Lauren Burnham, a woman who spoke barely 94 sentences to Arie throughout the course of the show. The scene was excruciating, with Kufrin doing her best to maintain composure as Arie kept following her around, going in for hugs, and demanding some sort of absolution from a woman in the process of getting humiliated on national television.
Warm fuzzies (and lots of wine) followed for Kufrin, who made her debut as the Bachelorette on last night's premiere, but Luyendyk, Jr. became public enemy number one, with a Minnesota state representative going so far as to draft a bill banning him from Kufrin's home state. Now, in a new GQ profile, Luyendyk, Jr. makes his case for the breakup, the choice to film it, and the ways in which ABC, *gasp*, still managed to manipulate the "the first uncut, unedited scene in reality TV history":
"It was completely edited," Arie says. "I was told to stay on that couch. I tried to leave, and then production was like, 'You need to go back inside. She's finally calming down. I feel like you owe it to her to have this conversation.' So then I went back in the house."

Really? You tried to leave and they wouldn't let you?

"Yeah. I left, came back. I stepped away from the couch, I went back to the couch." But they kept talking him into staying. "They cut out, obviously, production talking to me from 10 feet away," he says, and calling it unedited "was super unfair to me." (A spokesman for Warner Bros., which handles production for The Bachelor, declined to comment.)
Luyendyk, Jr. adds that he feels "'100 percent' betrayed" by the show's producers, who he considered friends when they floated the idea that the onscreen breakup was the best option. "['P]eople are going to rally behind you because you took this big risk and you did it for love,'" he recalls the producers saying. "'At the end of the day, people will just want to see you happy.'"
The problem is that nobody really cared about Luyendyk, Jr. to begin with, nor was anybody really invested in him finding love with a woman nobody learned a single iota about on the show itself. Comments indicating that the whole thing is just a little spilt milk don't help; he proposed to Becca, then basically hid from her as he rekindled things with Lauren, then agreed to broadcast the whole thing for dubious reasons that he's clearly justified in his own head.
"I think if you look back at it now, it was positive for everyone. Everyone ended up getting closure and also an opportunity to be with the person that they were really meant to be with"—he with Lauren, and Becca with one of the twenty-odd suitors who will be vying for her affections come May 28. "I don't understand why I'm the fall guy for filming the breakup on a television show which we all signed up to be on."
G/O Media may get a commission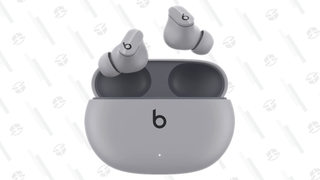 The good news is that he and Lauren seem genuinely in love; the bad news is that all the circumstances seem to have, understandably you could argue, made the dude paranoid as hell.
After a one-on-one interview with Burnham, writer Rebecca Nelson got a series of texts from Luyendyk, Jr. accusing her of conducting a "tabloid interview" and saying he "believed it would be positive and shed light on who I am" while noting that she upset Burnham with her line of questioning (which, based on what's presented in the article, feels like one would probably expect?). He went on to put the kibosh on further interviews, as well as a photoshoot for the feature. Woof.
Meanwhile, upon meeting the guys last night, Kufrin gave the coveted first impression rose to a guy The Huffington Post discovered thinks transphobic jokes are hilarious and school shooting survivors are crisis actors.
So, *sigh*, let's do the damn thing?