The time has come, once again, for a Drag Race ball. One of the show's staple challenges, the ball is eagerly anticipated each season and with the queens upping their runway game year-over-year, expectations are high. This season, Ru's throwing a Monster Ball, a creative and fun choice and the most interesting ball theme yet. Several of the queens have started to be read by the judges for overly similar looks. This is just the challenge to shake them out of their comfort zone.
From the first moments, it's clear this episode will be focused. The editors keep the ball moving on several workroom storylines, but introduce little that's new. Scarlet and Ariel bicker via talking heads and there's renewed tension between Ra'Jah and Yvie. More entertaining is the newly revealed flirtation between Brooke Lynn and Vanjie, particularly the delighted response of the other queens. The next day, as the rest of the queens head into the workroom, they announce to Brooke Lynn and Vanjie that they've decided on their designated couple name: Branjie. Perfect!
After a couple comedic Silky and Nina smooches, following up Silky's assertion she's on the prowl for a new man, Ru comes in and announces the mini challenge. The queens will have 20 minutes to get into doll drag as the BFF of RuPaul's new Barbie-style fashion doll. Joining Ru for this mini challenge is All Stars 3 winner Trixie Mattel, who helps fill time as the queens prepare and trades off reading the doll descriptions with Ru. Most of the queens have workable concepts, but Ra'Jah nails the challenge with her alter-ego, Starr-Keisha Booty La'Rajah. She's a redhead, contrasting Ru's blonde look, and she goes for simple lines and clear, matched colors. From her fabric choices to her oversized sunglasses and cup, all of Ra'Jah's details scream Barbie­. Other queens have funnier or more creative looks, but Ra'Jah manages to capture the aesthetic Ru's going for while incorporating some humor, so Ru gives her the win.

After Trixie takes off, it's time for the maxi challenge, the Monster Ball. Ru announces the categories. The first category, Trampy Trick Or Treater, is your stereotypical sexy fill-in-the-blank Halloween costume. There's some leeway here, but Ru will be looking for humor and creativity. The second category—Witch, Please!—is left pretty wide open. For MILF Eleganza, however, Ru is clear. The queens need to deliver on both beauty and beast, with a look that is monstrous and scary, but also alluring and elegant. Oh, and their Monster I'd Like to Freak look must be created that day, with fabric and other materials provided in the workroom.
G/O Media may get a commission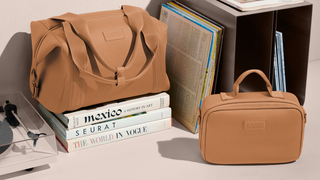 15% off
Dagne Dover Travel Kits
The queens immediately get to work. As they focus on their looks, a few threads emerge. Silky isn't spooky, and she's not sure what to do. Ariel similarly stays away from horror and seems to be focusing more on her brand than the brief as she works on her mermaid-inspired MILF look. Only a few of Ru's walk-through interactions are shown, but the episode does find time for Nina and Ru to bond over their shared love of Murder, She Wrote and classic monsters.
The rest of Ru's walk-through moments set up the runway to come. Shuga knows she hasn't been connecting with the judges and she needs to find a new, higher gear. Brooke Lynn describes her concept to Ru, a killer runner-up pageant queen, and is met with crickets. She wisely decides to pivot. Then there's Plastique and Yvie. Plastique is confident, but Ru wonders whether she can deliver anything beyond pretty. Yvie has the opposite concern, worried about being pigeon-holed as freaky and under-delivering on glamour. After some Scarlet silliness—strutting around the workroom in her partially-completed Creature From The Black Lagoon look—it's time for elimination day. The queens prep their first looks, talking about Halloween and goofing off a bit as they start what must be an incredibly long day. Before long, it's time for the runway.
First Category is: Trampy Trick Or Treater. A'keria goes for the unexpected with a sexy poker dealer, complete with table. It's fine, but not particularly memorable. Vanjie does a twist on her standard corset and pasties look, this time in white with giant wings, making her a sexy angel. Plastique is a sexy Playboy bunny in pink. Scarlet is a sexy pirate, but while playful, this doesn't particularly meet the "trampy" part of the brief. The same is true for Nina, who serves up a cute Little Shop Of Horrors Audrey II look. Ra'Jah goes for an old standby, sexy cat, but she elevates it with a mask and interesting touches. Shuga comes out as a sexy Troll doll, but completely misses the mark on the Troll dolls' signature hair. The judges have no idea what she's going for, and she's the first big miss of the day. Her look's particularly disappointing next to Brooke Lynn, who walks down the runway en pointe as a mummy, taking advantage of her ballet background to give her runway walk a unique, otherworldly feel. Ariel comes out in a syringe-coated white plastic look, which could be better, but at least makes an impression. In a highlight of the ball, Yvie goes all-out as a dinosaur. She's campy and silly, with lovely makeup, and fits "trick-or-treater" to a tee. Last is Silky, whose sexy unicorn may not be all that original, particularly after the season nine ball's Sexy Unicorn category, but is at least well executed.
Second Category is: Witch, Please! A'keria again delivers a perfectly fine, but not all that memorable witch in black with crows. Vanjie has another plunging top, but changes up her silhouette with a voluminous black feather-lined skirt. Plastique channels Maleficent with a black horn headpiece, black corset and of course, stoned tights. Scarlet goes for a swamp witch in muted brown, complete with false nose. Most of the queens went for beautiful witches, making Scarlet and the others who went a different way stand out. Nina takes the audience back to Salem, dressed in Puritan black and white, with flames sewn into her skirts. It's the same approach she took with her Leo look. In a weaker runway, she'd be fine, but among these queens, it's a little disappointing. Ra'Jah goes for emerald green pants and a coat, drawing inspiration from The Wizard of Oz. There aren't any actual wizards or witches in the Emerald City, but maybe she's going for Queen Latifa's look in The Wiz Live?
Shuga is the only queen to go straight horror, dripping blood and channeling nightmares as Bloody Mary. She looks amazing and fully commits to the character. Brooke Lynn is inspired by guest judge Cara Delevingne's character from Suicide Squad, Enchantress, and she again takes advantage of her dance background to give her witch character-specific movement. Ariel returns to the theme of pretty witches in black, with fun sunglasses and a cute dress, and Yvie follows suit, albeit more memorably. She pairs her little black dress with white eyes and hair. Last is Silky, who does a take on Evillene from The Wiz, but abandons her evil smirk for a more cutesy performance. Her dress is also much more subdued than Evillene's, an unusual choice.
It's time for the final category: MILF Eleganza. A'keria completes her trio of solid, but forgettable looks with a spider queen. Vanjie also underwhelms with a green undead glamour look, though her headstone headpiece is a fun touch. Plastique paints an evocative skeleton face to go with a lovely black dress, going for a death goddess. Scarlet gets her Creature From The Black Lagoon on and it's fabulous, one of the best looks of the night. Nina also stands out, thanks to her impressive stage makeup, pulling away her face to reveal a gaping maw where her mouth should be. Ra'Jah describes herself as a bone collector, with fur pants and holding a skeletal snake, but her look lacks specificity. When compared to Shuga, though, she's absolutely fine.
Shuga misses the mark even more than with her sexy Troll doll. Her wife of Satan is a grab bag of different ideas, none of which really work. Brooke Lynn, in contrast, is regal and mysterious as a black widow. Ariel, well… Ariel is a mermaid. Her lipstick's a bit smudged, but that's really all that reads as anything but pretty mermaid. Yvie also misses pretty substantially. She's supposed to be a voodoo doll, but she needed far more extreme makeup to sell that concept. Silky's she-devil underwhelms as well. It's much better than Shuga's look, but it's a far cry from what some of the other queens were able to deliver.
Having all of these looks in one episode is terrific. It's exciting and energizing, and a real treat to see. It pushes the queens and shows who's able to think outside of the box and take risks. It also means half of the queens don't get any feedback, due to time, and that's a shame, because at least a few of them deserved either a well done or a light reprimand to push further. In the end, Nina, A'keria, Scarlet, Vanjie, and Ra'Jah wind up safe. Plastique and Yvie are in the top, but safe, and Brooke Lynn gets her second design win. Silky is in the bottom, but squeaks by, and Shuga and Ariel are up for elimination. The lip-sync this episode is Whitney Houston's "I'm Your Baby Tonight" and it looks like it might be close. But while Shuga throws away her lace skirt early, Ariel does nothing to modify her look and winds up tripping on her train. She does her best to recover and immediately gets back into her performance, but the damage is already done. Ariel showed quite a bit of potential, particularly shining in the "Diva Worship" comedy challenge, but with that lip-sync, it was her time to go.
Five episodes in, we're at last to a top 10. There are a still a few queens hanging on who have a lot to prove, but there are at least a handful who look like strong contenders to the crown. We've now had two design challenges, an acting challenge, a comedy challenge, and a lip-sync Rusical. The queens are being put through their paces and, for the most part, delivering. There's a long way to go, but so far, the season is shaping up well.
Stray observations
Ru looks great, as do Michelle, Ross, and guest judge Cara Delevingne. However, a special word for guest judge Elvira (Cassandra Peterson) who, at 67, looks gorgeous! She's a hoot and a half, and both her and Delevingne have terrific critiques for the queens.
A'keria may under-deliver on the runway, but her talking heads are fantastic yet again.
I'm very glad Ru and the producers moved the ball challenge earlier back in season 10, and I hope they keep it here, with 10 or 11 queens. I do not miss the pre-season 10 ball dance sequences, and it's great to see so many of the queens get the chance to present three looks.
Branjie are adorable, but both very focused. Whether this is entirely genuine or at least part showmance, it's working for now. We'll see how long they can keep the flirtation going without distracting from their work.