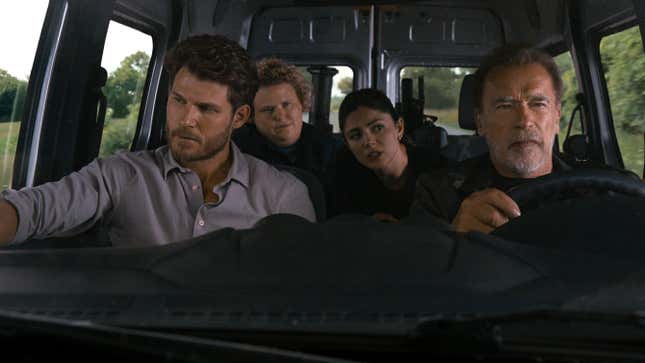 It's been a weird time for Arnold Schwarzenegger for 25 years. Even before his 2003 gubernatorial reign, every one of his projects has felt like a bit of a comeback. While Batman & Robin ruined several careers, Schwarzenegger never totally recovered, bouncing from Mr. Freeze to End Of Days and back to Terminator with Rise Of The Machines, unsurprisingly the last of his movies to gross more than $100 million domestically.
Why Christian Bale would love to be friends with Burt Berendsen
But in his post-governor decade, Schwarzenegger has gravitated toward projects that he must have found personally interesting. How else could we explain how he ended up in Taran Killam's indie comedy Killing Gunther and the zombie drama Maggie? But now that the famous comedian Arnold Braunschweiger is returning to action comedies with his new Netflix series Fubar.

Not to be confused with the Canadian metalhead mockumentary, FUBAR reads like another True Lies riff, which makes sense, considering there's already a True Lies on television. Schwarzenegger plays a retiring CIA operative who learns that his daughter is also a CIA operative. The funny thing is that she didn't know he was an operative. So now they're finally getting to some serious father-daughter bonding by learning to slice a man's neck longways so they bleed out faster.
Created by Nick Santora, whose credits include FBI, The Fugitive, The Most Dangerous Game, and other shows about people shooting each other, FUBAR almost looks like Schwarenegger's version of the over-60 actioneer that turned Liam Neeson into an unlikely action hero. But Schwarzenegger has been doing those since 2010—the guy has starred in three Expendables, for crying out loud. At least this one has Fortune Feimster dropping no less than three one-liners in the trailer.
All eight episodes of FUBAR hit Netflix on May 25.