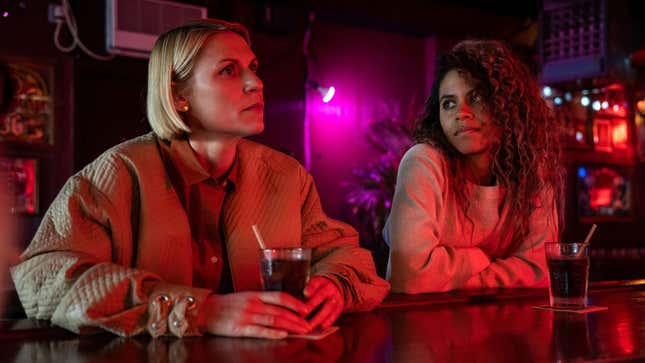 Few directors have a filmography (a career, really) as eclectic as Steven Soderbergh. The Oscar-winning filmmaker, after all, boasts the likes of Ocean's 11 and Magic Mike alongside projects like sex, lies, and videotape and Traffic—with the occasional Side Effects and Logan Lucky thrown in for good measure. For the past few decades, Soderbergh has been driven, it seems, by that rarest of taste-making sensibilities in Hollywood: curiosity. It's no doubt what's driven him to dabble in television with works like The Knick and streaming with films like Kimi. With Full Circle, which premieres July 13 on Max, he directs a six-episode series created and written by Ed Solomon (his Mosaic collaborator) that plays to some of Soderbergh's greatest strengths: namely, harnessing the talents of a sprawling ensemble to construct a gripping tale that straddles genres with effortless ease. For Full Circle is, on its surface, a thriller (it centers on a kidnapping) but as it unspools over six hours, Soderbergh and Solomon flirt their way through familial melodramas, police procedurals, and even noir-like tales of revenge set amidst a story of imperial capitalism.
Channing Tatum thinks he's a better stripper than Jennifer Lopez
But yes, it all begins with a kidnapping. Young Jared (Ethan Stoddard), the teenage son of a moneyed couple living near Washington Square Park in Manhattan, is the mark for what becomes increasingly clear is more than your usual ransom-seeking operation. For the Guyanese boss ordering the hit (the always magnetic CCH Pounder) is intent on "closing the circle" and thus reversing the curse she believes has befallen her family and business. Her underlings may not be as convinced about her belief in long-standing curses but a plan is put in motion nonetheless—which includes recruiting eager young men from Georgetown (Sheyi Cole, Gerald Jones) who arrive in New York City with wide-eyed American dreams that soon become nightmarish realizations about their own indentured servitude.
That's only part of the story. Because once Jared goes missing, and his parents Sam and Derek (Claire Danes and Timothy Olyphant) get the call for a suspiciously specific ransom amount, long-buried secrets on both sides of this picture-perfect couple start to come to the fore. They involve another teenage boy Jared may have been going to meet that fateful evening, business dealings in Guyana from two decades prior, and various other splintered subplots that include Sam's father (now a famous chef played by Dennis Quaid with a ridiculous ponytail) and a growing investigation from within the USPIS (United States Postal Inspection Service) where a loose canon of an agent (Zazie Beetz's Harmony) tasks herself with tying up the many loose ends that make up this increasingly convoluted story. Which, in case you weren't dizzy enough already, also concerns itself with a disgraced retired cop, a high-rise building venture abroad, many a gambling debt, and, eventually, an FBI raid gone awry.
Solomon's premise is intentionally expansive. Jared's would-be kidnapping is but a precipitating event that helps unravel the many lives of those around him. And there's a sense, especially in Full Circle's first few episodes, that there may be too many characters and subplots to keep track of for it to all cohere. But Full Circle values and rewards your patience, both as a layered family saga and as a legal thriller—one that may well be tinged with hints of the supernatural.
It's a credit to Soderbergh and his actors that even when the series strains its plausibility as it stretches across different state and country lines, it remains an engaging experience. This is especially true once Full Circle emerges as a sustained interrogation into American accountability, in ways both small and intimate (family affairs, say) as well as big and writ-large (overseas fraud, say). Yet even when the miniseries wants to make big pronouncements about these larger issues, it never loses sight that this is, above all, a character-driven spectacle about the choices we make and the consequences we long will ourselves to avoid.
Soderbergh, with his fluid and intimate filmmaking, grounds this erstwhile New York City-anchored story with a string of stellar performances. Danes and Olyphant are obviously well-suited to playing a pair of blinkered privileged parents whose own past lies catch up with them, while Emmy winner Jharrel Jerome continues to prove he's one of the most exciting actors of his generation, here playing a kid perhaps a bit in over his head. It goes without saying that Homeland and Fleishman Is In Trouble star Danes remains one of our very best television leads, perfectly capable of calibrating a character's own precarious sense of self-delusion with artful ease. Indeed, the most assured and accomplished performances in Full Circle, as with any other Soderbergh piece, come from those actors who key into his effortless ambiance. And here we'd be remiss not to single out Zazie Beetz who truly walks away as the consummate series MVP.
Playing an outsider who has the requisite perspective to assess how the various pieces fit together in this jigsaw puzzle of an emotional thriller, Beetz is enthralling. Whether cutting through pleasantries and bullshit by those she's interviewing (she and Danes are quite the onscreen pair) or breaking down as Harmony struggles to keep her personal and professional lives from collapsing in on themselves, Beetz blends a raw vulnerability with a droll sense of humor that makes every scene she's in all the more exciting to watch.
An engrossing miniseries with enough twists and turns to keep you hooked episode to episode (and with a final gut-punching kicker image of an ending), Full Circle is a surprising and welcome entry into the ever-growing canon of prestige TV bent on disassembling white American privilege. It may be messy and uneven but, as with all things Soderbergh, is definitely worth catching.
Full Circle premieres July 13 on Max