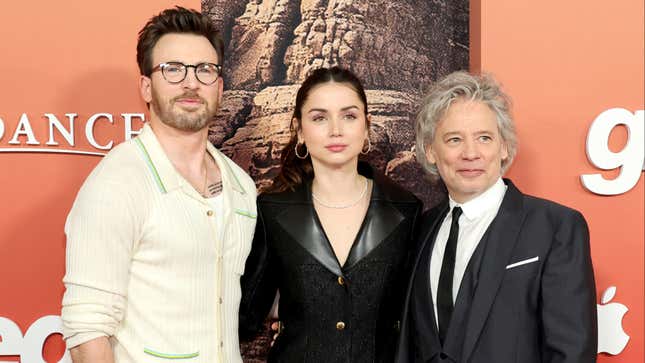 Martin Scorsese's adventures in streaming aside, take it from Ghosted director Dexter Fletcher: streamers want movies that are short, sweet, and right to the point, whether that meshes with a filmmaker's creative vision or not.
Anthony Hopkins has figured out what we all knew about Marvel movies
"You can't make a film for streaming in the same way you make a theatrical. You can't," Fletcher explains during an appearance on Alex Zane's "A Trip To The Movies" podcast. "There's different metrics and there's a different approach."
According to the director, part of that "approach" was cutting the film in a way that drew audiences in immediately, which he says meant trimming down what Apple TV+ saw as fat. Ghosted tells the story of mild-mannered Cole (Chris Evans) who falls for Sadie (Ana de Armas) without realizing she's a secret agent. Naturally, international hijinks ensue.
The film's opening sequence—which Fletcher says was inspired by 1978's Foul Play, starring Chevy Chase and Goldie Hawn—was initially a long shot of Sadie driving in the mountains, until the streamer shut it down. Fletcher says Apple TV+'s reasoning came down to data that demonstrates that when viewers watch a film on streaming, if "something doesn't happen in the first 30 seconds.. people will just turn off." Although he personally thought the roughly three-minute sequence was "great," Fletcher ultimately agreed to make the "compromise."
According to Fletcher, that approach to cuts highlights one of the biggest differences between crafting a film for a theatrical release versus a streaming release. "What is a cinematic experience for me as a filmmaker…becomes, okay, [I've] got to adjust to retain my audience, you know." (Apropos of, well, something, the opening sequence that did make the final cut features some serious air time for Apple's CarPlay feature.)