The actor: Glynn Turman started his acting career in the New York theater, working alongside such luminaries as Sidney Poitier and Ruby Dee, but after shifting his base of operations to Los Angeles, he quickly became a staple of film and television, beginning a career that would take him from J.D.'s Revenge to Super 8, not to mention notable stints on such series as Peyton Place, A Different World, and The Wire, among others. Turman can currently be seen within the ensemble of Showtime's House Of Lies.
Daktari (1968)—"Usumbu"
Glynn Turman: Oh, my God. Where the hell did you pull that from? [Laughs.] Man. Do you know that was the first TV show in California that I'd ever done? The very first thing I ever did in California.
The A.V. Club: Was it just a cattle-call audition?
GT: I don't even remember. [Laughs.] I don't remember auditioning or anything else about how I got there. I just know it was the first show I did. I do have a funny story about it, though. It dealt with me having to hunt down this leopard. I was a young wannabe warrior, and I had to hunt down a leopard, so the animal wranglers had a leopard that was trained to leap and growl. But what they do is they wire it down—they put an invisible wire around its neck and stake the wire to the ground—and they were continually trying to get this animal to leap, which it would not do on cue. And I'd gotten so used to them trying to… the director's, like, "Cut! Take 13. Leap! No? Cut!" And the wrangler's going, "I don't know what's wrong with the animal!" Now I'm standing in front of this thing, having gotten over my fear of standing in front of it in the first place, and I'm waiting for the thing to finally act right on cue. And at some point, they did a thing to it that made it leap… and when I looked, this thing was in my face. You have no idea how fast the human body can run. You really don't know. [Laughs.]
AVC: But apparently you do.
GT: Oh, yeah, I know! You might not have any idea, but I definitely do. [Laughs.] And the first place I stopped after that was the bathroom!
G/O Media may get a commission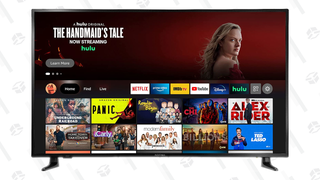 38% Off
Insignia 50" 4K UHD Smart TV
Peyton Place (1968–1969)—"Lew Miles"
GT: Definitely a step up from Daktari. [Laughs.] But I got to act and write for Peyton Place as a result of that show.
AVC: That was an era when there still weren't very many black actors working full-time in prime time.
GT: Well, not on a major network. And not on a major series. The black family on that show consisted of Ruby Dee, Percy Rodrigues, Judy Pace, and myself, and we were on the 20th Century Fox lot at the same time with the only other show with black actors: Julia, with Diahann Carroll and Marc Copage.
AVC: Do you happen to know anything about the decision-making process involved in bringing a black family into the mix?
GT: It was an idea of Everett Chambers, the producer. It was the Civil Rights era, and Everett thought that it was a timely thing and a necessary thing to do. And kudos to him for doing it.
Gremlins (1984)—"Dr. Roy Hanson"
Super 8 (2011)—"Dr. Woodward"
GT: Super 8 was a lot of fun. It was a lot of fun working with J.J. Abrams, who I think is a kid in a grown man's body, which is a great ingredient for any artist in our business. You have to be a kid at heart to be able to make believe, and his imagination is phenomenal. He works so well with actors, especially children, because everybody recognizes the child in him.
AVC: It seems like it's not a coincidence that you were also in Gremlins, given that so much of Super 8 pays homage to certain films from the '80s.
GT: Well, he never actually said it was because I was in Gremlins, but, yes, absolutely J.J. was paying homage to Steven Spielberg, his idol. And, yes, I was Dr. Hanson, who died a horrible death. Mostly off-screen. [Laughs.]
AVC: You worked less with the gremlins than you did the Mogwai.
GT: Yeah, I worked with the Mogwai. They were great. They were puppets, you know. Everything was so different then. There was actually somebody under the table working those little things. Pretty different from the way they do things now, but it was still pretty cutting-edge for the time.
Five On The Black Hand Side (1973)—"Gideon"
GT: That was my good friend Brock Peters who produced that movie. He knew me as a child actor, as the original Travis in A Raisin In The Sun on Broadway. So when I came to California and he was in a position of producing his first film, he put me in that role.
AVC: Who else did you work with during your early years in the theater?
GT: Well, I started with Sidney Poitier and Ruby Dee and Lou Gossett, Jr., and the rest of the wonderful cast of A Raisin In The Sun. We were directed by the great Lloyd Richards. The play was written by the wonderful Lorraine Hansberry, and it was produced by Phil Rose. That's where my start was, so… not a bad way to start. [Laughs.]
J.D.'s Revenge (1976)—"Isaac"
GT: [Intoning.] J.D. Walker. The boss talker. The water walker. [Laughs.]
AVC: Still one of the best trailers I've ever seen, I think.
GT: Oh, yeah? You know, I don't think I've ever seen it. But I know you mentioned it to me when we first met, so it must've really made an impression on you. [Laughs.] Yeah, he's a character that I had a great deal of… fun isn't the word, but I was well challenged in doing that role, because it's really the story of Dr. Jekyll and Mr. Hyde. And it was just after I played Preach in Cooley High, which was a teenager coming-of-age story, so it was a very different character and a big swing in character study. So I was really fortunate to have been given that opportunity.
AVC: What are your feelings on blaxploitation films when you look back on them now?
GT: Well, you know, the era had a double-edged sword, in that it was great to be working with and for black actors. It provided a great deal of work. The niche, however, was geared more toward one type of character of black life, which was always the problem of the exploitation part of it. Had it been a little more spread around and a little more diverse in characters and lifestyles and story, there would not have been a backlash as there was.
The Wire (2004–2008)—"Mayor Clarence V. Royce"
GT: One of the great shows of all time, man. I'm watching that show now—they're rerunning it on some network or other—and watching the story develop. Just a fine, fine show.
AVC: It was a pretty groundbreaking drama.
GT: It was groundbreaking in so many different ways, but one of the things was that David Simon had such respect for people, for mankind, that he never undercut any of his characters. All of his characters, no matter what level of life they were presented at, were presented as full human beings with human flaws and human desires, so that even the drug-dealers and upper echelon of the hierarchy of City Hall were all people who you could relate to and weren't stereotypical.
AVC: What did you think of Royce's character arc?
GT: His arc, I thought, was fine. I think he thought he was literally doing the best he could for the city. I never stopped to examine him and his thinking. I never judged him. You can't judge a character. You have to play a character. So to this day, I think he's a great guy. [Laughs.] I'm always surprised when somebody comes up to me and says, "You were a sleaze! You were a this, you were a that…" "What are you talking about? Not Mayor Royce!"
A Different World (1988–1993)—"Col. Bradford Taylor"
GT: A wonderful, life-changing experience. One of the things that I attribute to that experience is how many young black men and women desired, as a result of seeing the show, to go to college. Enrollment in colleges, especially black colleges, across the country increased tremendously during the five-year run of A Different World, and I don't think you could have a better legacy than that.
AVC: It was also impressive that it managed to survive beyond the departure of Lisa Bonet.
GT: Oh, yeah. Survived and thrived. We were never out of the top three in the ratings. It was Cosby, Roseanne, and A Different World.
AVC: Do you recall if there was a feeling of confidence on the set that the show could make it without her?
GT: Well, I got there after Lisa Bonet left, of course, so I can't say for sure what it was like right then. But, hey, it worked out for me. [Laughs.]
[pagebreak]
In Treatment (2008–2009)—"Alex Prince"
GT: Wow. [Takes deep breath.] Alex Prince was a role of a lifetime and allowed me to go to some places that were both difficult and, at the same time, cathartic as an actor. Not many roles are written like that. Especially not on television. And it won me my Emmy [for Outstanding Guest Actor In A Drama Series]. I owe In Treatment and Paris Barclay and the writers of that show a great deal, because it put an Emmy on my shelf. I could go on and on about that role.
AVC: When you got the scripts, were you hesitant at all about the intensity of the part, or were you like, "Oh, this is going to be good"?
GT: No, I wasn't hesitant. But I knew I had to go work. [Laughs.]
The Richard Pryor Special? (1977)—"Booster Johnson"
GT: Oh, we had so much fun. Richard and I, we used to all hang out back in the day. Me and Richard and one of his friends and writers, Paul Mooney. So we were all friends back in the day, hung out at all kinds of places together when we were young. He got this show, and he said, [Does perfect Pryor impression] "Glynn, they done fucked up!" "What you mean, Richard?" "They done fucked up!" "What are you talking about?" "They done gave me a television series!" I said, "Oh, yeah, you right. They done fucked up." [Laughs.] He said, "Well, come on, man, let's go fuck 'em up!" And we did that! That's what we did. When we did that scene…we did that scene in the hallway of NBC Studios over in Burbank, and we used all the Wheel of Fortune props. We were grabbing and stealing shit off of the show, we're taking all this shit, and I'm, like, "Richard, I don't know if we ought to be doing this…" He said, "Fuck it! Take it! Take that shit! You think I'm gonna pay for this shit?" [Wipes tears from his eyes.] Oh, my goodness…
Centennial (1978–1979)—"Nate Person"
GT: I don't know if you know that I worked professionally in the rodeo for about 20 years.
AVC: I did not know that.
GT: Oh, you didn't know that? Well, you know why: It's probably not on the IMDb. [Laughs.] But, yeah, because I raise horses and have raised 'em for years, and I've always wanted to be a cowboy, even though I come out of New York City. I had an offer for Roots II, but we couldn't come to terms on finances, so the part went away. And I was, like, "Oh, damn…" But then my agents came to me with this role as a cowboy in this epic story of Centennial, and I said, "Are you kidding me?" "No, man, they want you for this." And I got this role where I was riding and working with Dennis Weaver as his trail boss. We shot in Texas and Colorado, and it just couldn't have been better.
Big Apple (2001)—"Ted Olsen"
GT: Yeah, that's working with the great David Milch. What a guy. He's writing about it now on a series called Luck, but David and I go back to and have been friends since the days of Peyton Place. He was there back then as a wannabe writer, and he was dating one of the girls on the show. [Laughs.] Tippy Walker. We were all friends at that time, and we used to go to the racetrack together. We were all in our 20s, you know?
I didn't realize that he had gone on to become the mogul that he was. We'd lost track of each other. But then I got a call from a director that I had worked with on the movie Buffalo Soldiers—Charlie Haid—and Charlie said, "Hey, Glynn, this is Charlie!" "Hey, what's up? How you doing, Charlie?" "I got somebody who wants to say 'hey' to you." And he put David on the phone, who said, "Hey, Glynn, this is a voice from your past." I said, "Hey, how you doing? Who is this?" He said, "This is David. David Milch." I said, "David? David Milch? The David Milch?" He said, "Don't you remember, we used to hang out back in the day, me and Tippy, down at the racetrack?" [Shrieking] "David! What's up, man?"[Laughs.] He said, "Come on, man, I'm doing a show. Come on and do it with me." I said, "You got it, baby!" So that's how that was. And it was a great show. It was a shame it got snatched off after so short a time.
The Nine Lives Of Fritz The Cat (1974)—"Voice"
AVC: All you're credited as is "Voice," so this may not even be true, but did you really contribute a voice to The Nine Lives Of Fritz The Cat?
GT: Yeah! I don't even remember what I did now, though. But you know who produced that film? Steve Krantz, who produced Cooley High. That was the tie-in.
AVC: I'm sure you're proud for that information to be out there.
GT: Proud? [Pauses, then laughs.] Sure. Sure, I am.
The Serpent's Egg (1978)—"Monroe"
GT: Before I worked with him, my favorite director, just as an admirer, was Ingmar Bergman. I was at a particularly low point in my career. Nothing was happening. And I got a call from, not my agent, but from a lawyer or somebody who said, "Glynn, Ingmar Bergman is looking for you." And I kind of said, like, "Quit fucking around. I'm broke, I'm hungry, I don't have time for this shit." He says, "No, man, really: Ingmar Bergman is looking for you." "For what?" "He wants you to be in a movie for him." "The Ingmar Bergman?" "Yeah." I said, "Man, I don't want to hear that shit. You're fucking with me." And I hung up. But then a script came… and it was from Ingmar Bergman, who had seen me in Cooley High. When I was Germany—we did it in Munich—I said, "How'd you pick me?" He said, [Does a Bergman impression] "I saw a movie called Cooley High, and I knew you were the one." I still can't believe I worked with such a great director.
AVC: And how was he to work with?
GT: He was… different. But he was absolutely brilliant. He was just great. Everything you've ever heard about him is true.
The Twilight Zone (1985)—"Billy Kinetta"
GT: Oh, that was Harlan Ellison. "Paladin Of The Lost Hour." And Gilbert Cates, my good friend who just passed away, directed it. Harlan wrote that part for me, and it was working with Danny Kaye. In fact, it was Danny Kaye's last performance before he died. I was with such icons on so many different levels. It was great working with all those guys. But Harlan Ellison—he invited us to dinner, and his house was as bizarre as his writing. [Laughs.] I mean, he had all these secret panels, all these different ways in and out of rooms, stuff like that. Tall doors, short doors, oh, it was amazing. I was just, like, "Wow…" He was a very intriguing guy.
AVC: You must have gotten along with Ellison pretty well, since he wrote the part for you. He has a reputation as a bit of a prickly pear.
GT: I've heard that, too. [Laughs.] But, no, I absolutely got along with him. He was always a good cat to me.
Cooley High (1975)—"Leroy 'Preach' Jackson"
GT: Well, that's my signature piece, you know? So much so that I don't even know what to say about it. Three generations have come up on that movie. I mean, my grandkids have watched that movie. It's a staple. It's… iconic? Yeah, I guess it is an iconic piece. Seems like everybody has seen Cooley High. That's what put me on the map. Garrett Morris and I go way back, even before the movie. Great guy. We've done theater and stage plays together, Lincoln Center and all kinds of things.
House Of Lies (2012-present)—"Jeremiah Kaan"
GT: A retired psychotherapist who is part of the Marty Kaan household. Seeing as how he's got some spare time, he's been brought on to help Marty raise his son, being Jeremiah's grandson.
AVC: How did you find your way into the cast?
GT: I was very fortunate that young Don Cheadle asked that I be onboard as his father from the very beginning. [Laughs.] I think I was the first one cast.
AVC: Had you worked with him in the past?
GT: Yeah, I worked with him some years ago in a movie about "The Goat" [Rebound: The Legend Of Earl "The Goat" Manigault].
AVC: How has Jeremiah changed since the pilot? Did they give you an idea early on about what to expect from the character as the season progressed?
GT: Well, there are some things coming up that I don't know if I'm able to talk about. I don't want to be a spoiler. But there are some interesting things coming up for him that are both fun and, uh, semi-tragic.
AVC: How's the father-son relationship between you and Cheadle?
GT: Oh, we get along great. [Hesitates.] Do you mean offstage or onstage?
AVC: Well, one reflects on the other, I'd guess.
GT: Offstage, we have a great deal of respect for each other, he and I. We're both from a similar school of acting, in terms of feeding off of each other in a way that helps a scene progress. At the same time, as father and son on the show, there's a great deal of tension and strife that makes it dramatically interesting.
AVC: Showtime has carved itself a niche with lead characters that are not the most likeable people in the world. Do you think viewers will be able to embrace the characters of House Of Lies?
GT: I don't think "embrace" is the word. [Laughs.] But I don't think that people will be able to overlook them. Because I think the issues and the information that we receive from House Of Lies is so timely and such a private glimpse into a world that we're really not accustomed to, though it's handed to us in, like, toxic doses. [Laughs.] It's a medicine that I think we all need to take.