Cinematography is an art within an art, practiced within the limits of a director's craft. But every once in a while, some magic happens, some creative synergy. Good Time, directed by the brothers Benny and Josh Safdie and lensed by Sean Price Williams, is an example: an all-night odyssey with a rat's-eye view, give or take a handful of predatory, hawkish aerial shots that follow cars through the skewing street grids of Queens. Williams' camerawork is sensational, and his colors and close-ups are essential to the desperately shaggy narrative, in which a small-time crook named Connie (Robert Pattinson) sets out to get his brother out of Rikers Island after a botched bank robbery, but keeps getting sidetracked by his own scheming. The world is twisted into the frantic perspective of a sociopath; the camera reads faces in an unflattering light as it moves in search of an exit.

It's the opposite of Oscar bait—but then, the Academy's tastes in lensing and lighting are reliably conservative. The list of all-time-great cinematographers without a single Oscar nomination is long (Harris Savides, Christopher Doyle, Sacha Vierny, Raoul Coutard, Robby Müller, Lee Ping-bing, etc.), and the list of major artistic accomplishments that went unrecognized is probably even longer. Gordon Willis, whose work on The Godfather and The Godfather Part II will be obsessively studied as long as people keep making movies, didn't get his first nomination until the black-and-white mockumentary Zelig. Decades later, the rule still holds: The Academy prefers an obvious technical challenge to challenging work.
Williams is a fiercely good cinematographer, maybe the best presently working in American indie film. His other notable credits (not counting his extensive résumé as a documentary cameraman) include the Safdies' Heaven Knows What, Nathan Silver's recent Thirst Street, and the films of Alex Ross Perry (Queen Of Earth, Listen Up Philip). His art seems fueled by a mix of opposing interests: urgent camerawork and psychologically stylized lighting, tight spaces and long lenses. It's Suspiria meets cinema verité, equal parts dreamily artificial and authentically scruffy. There's a lot of variety to his grit and wooziness; handheld cameras and squiggling, bacterial film grain are part of his aesthetic, but so are diffusion filters and Brian De Palma-esque split diopter shots.

Good Time itself is filled with dolly shots, Steadicam shots, searching pans, symbolically loaded frames-within-frames, and slow, paranoid zooms. Williams' camerawork is always doing something, and it isn't afraid to get ugly. His career is a one-man crusade against cinematographic kitsch: grandiose master shots, excessively choreographed camera movements, meaningless lens flares. Not that I'd call him an anti-craftsman. His gift as a director of photography is an uncanny ability to visualize a difficult character's headspace in motion. He's a creative technician, too, fusing new and old technologies. Good Time was shot on 2-perf 35mm, but lit with LED panels, resulting in a grainy image that soaks up vivid splatters of eye-searing color, exaggerated into a fluorescing black light in the funhouse sequence that doubles as a microcosm of the entire movie.
G/O Media may get a commission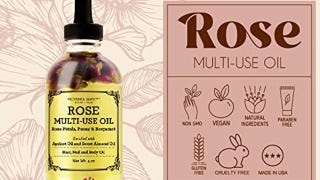 Provence Beauty Rose Multi-Use Oil
It's a credit to both his skill and the Safdies' dramatic imagination that the viewer always knows where they are in the narrative, even though they rarely get a good look at anything other than the oily and bruised faces that serve as canvases for Williams' lighting. It's impossible to separate the movie from the extremes of Williams' cinematography: his stylistic effects are its point-of-view, overloaded and existentially claustrophobic. That's something that can't be said about the cinematography of any of the frontrunners in this year's Oscar race. One can imagine Dunkirk without Hoyte Van Hoytema or Blade Runner 2049 without Roger Deakins, but Good Time without Williams would be a radically different movie.
I bring this up because of a paradox: An Oscar is the highest recognition a cinematographer can receive for their art, and yet the Academy resists the idea of cinematographers as artists. They are recognized as technicians, master craftspeople who light expensive sets and costumes and tackle complicated effects. Film is a collaborative medium, a group effort. But groups are made up of individuals.