Here's what's up in the world of TV for Friday, July 18, and Saturday, July 19. All times are Eastern.
TOP PICK
Cedar Cove (Hallmark, 8 p.m., Saturday): Hallmark Channel movies tend to have the blandly picturesque quality of a Pottery Barn catalogue brought to life. The channel's first original series is no exception. Cedar Cove returns for a second season of melodramatic but ultimately life-affirming plotting. Andie MacDowell stars as Olivia Lockhart (perhaps Hallmark's answer to Olivia Pope?), a judge who lives and works in a stunning seaside town full of the requisite small town characters and drama. Part one of the two-part season opener deals with an unresolved baby crisis and the fallout of a local restaurant fire (which may or may not have been arson!). As with all Hallmark programming, this show is best enjoyed snuggled under a sheepskin throw accompanied by a comforting mug of tea and beautiful seaside vistas.
---
ALSO NOTED
Sanjay & Craig (Nick, 10 a.m., Saturday): This slightly surreal children's show returns for a second season with more misadventures of a 12-year-old boy named Sanjay and his best friend/pet snake, Craig. Unlike most animated shows, the writers merely make an outline for each episode and then let the lead voice actors—30 Rock's Maulik Pancholy and Chris "Points!" Hardwick—improvise together in the studio.
G/O Media may get a commission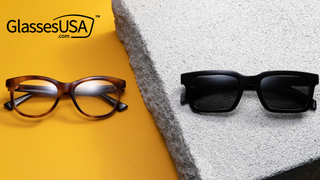 60% off frames
GlassesUSA.com Back to School Sales
Bet On Your Baby (ABC, 8 p.m., Saturday): The disturbing ABC reality show, Bet On Your Baby, wraps up its second season tonight. The show asks parents to bet thousands of dollars on whether or not their toddlers will complete random tasks. If any fans are disappointed to see it go, we recommend checking out The Hunger Games, which has a Bet On Your Baby: All Grown Up vibe.
---
REGULAR COVERAGE
Legends Of Korra (Nickelodeon, 8 p.m., Friday)
---
TV CLUB CLASSIC
Blackadder (3 p.m., Friday): Kate Kulzick reaches the end of Blackadder's second season but not before Hugh Laurie makes his first appearance and presumably tries to diagnose someone with lupus. 
The Twilight Zone (1 p.m., Saturday): Contemporary soldiers stumble into the Battle of Little Bighorn and a man de-ages in this week's Twilight Zone review. Sounds like an average day for Zack Handlen.
---
ELSEWHERE IN TV CLUB
We asked our writers to name their favorite TV shows so the year so far. They responded with everything from offbeat Comedy Central comedies to network dramas, Netflix originals, and HBO stalwarts. Sadly no one bet on Bet On Your Baby.
---
WHAT ELSE IS ON?
Car Fix (Velocity, 8:30 p.m., Friday): "I need my fix, man. My… car fix."
Fashion Police (E!, 9 p.m., Friday): This special episode of Fashion Police flashes back to 2000 and brings in Jennie Garth and Tori Spelling as special guests. There's no way this won't be a train wreck so be sure to tune in.
Say Yes To The Dress (TLC, 10 p.m., Friday): This "Big Day" special episode of TLC's flagship program chronicles a former pro cheerleader who is pressuring herself to craft the perfect wedding. Expect lots of cheerleading P-U-N-S!
Expecting Amish (Lifetime, 8 p.m., Saturday): If nobody expects the Spanish Inquisition than they really don't expect this Lifetime original movie about an Amish teen who becomes pregnant on her Rumspringa.
Supervet (Animal Planet, 9 p.m., Saturday): There's little information available for this brand new Animal Planet show which basically confirms our suspicious that it's about a superhero who secretly moonlights as a vet.
The Unknown Known (History Channel, 9:30 p.m., Saturday): This documentary on Donald Rumsfeld premieres on the History Channel. Rumsfeld discusses his career, focusing on his time as Secretary of Defense during the Iraq and Afghanistan Wars.
Lawrence Of Arabia (TCM, 8 p.m., Friday): This film is considered one of the greatest in cinema history, but more importantly it later inspired Peter O'Toole to do this on David Letterman's show.
Sleepless In Seattle (ABC Family, 8:30 p.m., Friday): Nobody makes stalking look more romantic than Meg Ryan in this 1993 romantic comedy.
How To Lose A Guy In 10 Days (Bravo, 8 p.m., Saturday): Before the McConaissance, Matthew McConaughey and Kate Hudson proved that time is a flat circle in this 2003 romantic comedy. Presumably Rust Cohle was speaking of the endless cycle of generic rom coms when he said: "Everything we've ever done or will do, we're gonna do over and over and over again."
The Tour de France: Stage 13 (NBC Sports, 8 p.m., Friday): It's been an unexpectedly dramatic Tour de France this year. The two top general contender left the race due to injuries, leaving the field wide open for a new competitor to claim the yellow jersey.
MLB Baseball: Indians at Tigers (FS1 7 p.m., Saturday): One of these team's logos caricatures a wild animal. The other caricatures a race of people who have been systematically oppressed and murdered throughout American history. Play ball.
---
IN CASE YOU MISSED IT
Married: Dennis Perkins starts his weekly coverage of Married, the brand new Judy Greer/Nat Faxon FX romantic comedy. Hopefully he'll start every review with, "Marry me!"